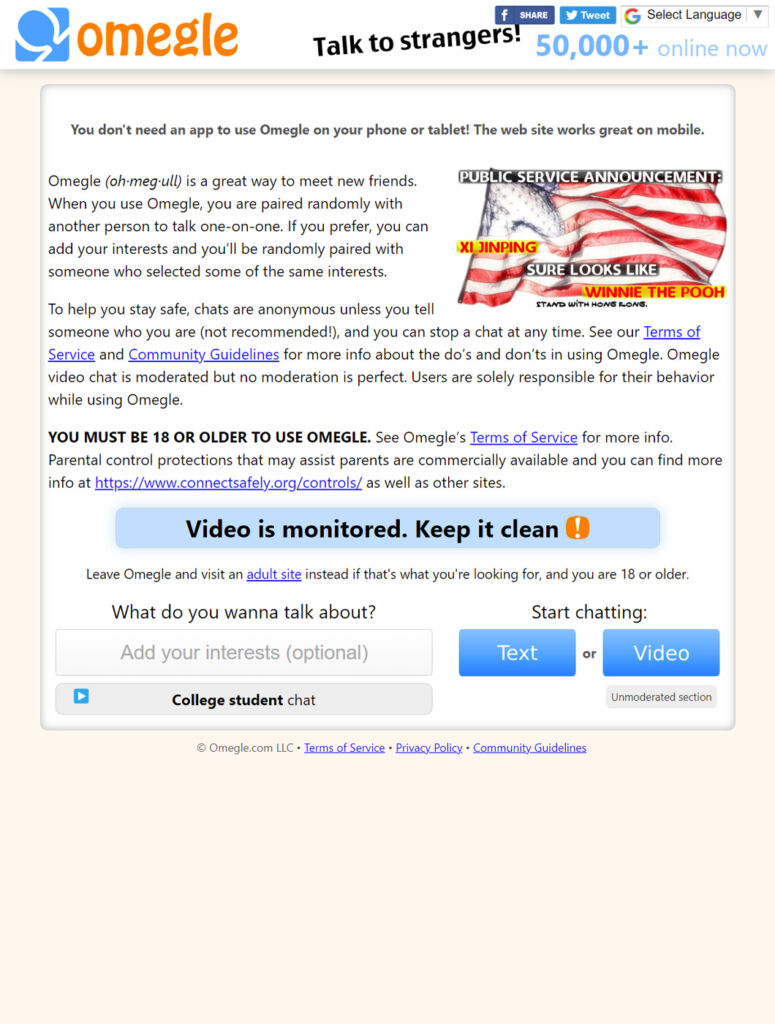 Omegle: The one and only! 
I'm pretty sure you've heard of Omegle already. This one has been around since the olden days of 2008! That was a good 15 years ago! If you think about it, so many things have happened since 15 years ago, yet Omegle is still strong and mighty. What gives, right? 
If you have yet to hear of Omegle, here's a rough preview: it's a chat site. Omegle is nothing more than a chat site and nothing less of it. Thousands, if not millions, of chat sites have sprouted within their 15 years of existence, yet people still flock to Omegle. Nothing can get better than the best, right?
Can you get something more from Omegle? The sad answer is no. The happy answer is still no. LOL. Omegle is as simple as it can get, and from how I see it, there's no way they will change their strategies. As I've said, they have been doing the business for over 15 years. And no matter how high-end or low-end your smartphone, laptop, or desktop is, Omegle will still work. No nitty-gritty is needed. Just your time of day. Unless you're talking about something else. *wink*
Blue and orange — who can forget that?
Can you still remember anything from 15 years ago? Well, if you can't, I still can. Fifteen years ago, I was still a meager tween trying to adjust to the world of high school. That's precisely when all the horniness starts to develop. LOL. And you guessed it right, Omegle was one of the sites on my bookmarks. I'm pretty sure it was one of yours, too. 
Who can forget that blue symbol as their logo and bright orange font? I'm pleased to tell you that nothing has changed to this day. It might even give you flashbacks once you get on the chat site. 
Anonymity is one of the highlights of chat sites, even with their video feature. Omegle gives nothing more and nothing less than anonymity. That's what you'll truly love about it. When they say you're going back to the basics, you are returning to the basics, and everybody still loves it. See for yourself. 
Back to the basics. 
What came to mind when I coined the term' chat site?' Is it typing endlessly or sitting pretty while waiting for someone to come on? Omegle can give you both the comfort of your anonymity. 
Omegle is the only chat site that provides the basics. All you have to do is go on the chat site, read their introduction if that's your thing, add your interests, select whether you want a text or video chat or to join in a college chat, and you're good to go. Frankly, those are the only choices you have. LOL. 
You can find the love of your life, a good one-night stand, a fancy conversationalist, a pastime, a good friend, or even some celebrity on Omegle. There's nothing more than just text and video chatting over here. Only if you share your private information or social media accounts with your chatmate, will you? *wink* Whatever and whoever you are looking for, trust that Omegle will serve him or her to you on a shiny silver platter with a few attempts. LOL. 
Around the world in one click (or more, LOL)! 🌍
No one can tell how many users Omegle already has and already has. They have been here since 2008 and will still be here until the end of the world. However, if you want to find out how many users are online at the same time as you, that's easy-peasy. 
If you look in the upper right corner of the chat site, you'll see a number. I'm online, and I see 56,000+ people from around the world looking for chatmates at the same time as me. This number grows from time to time, depending on the time you're online. The number of people online will grow during nighttime, regardless of where you are. 
Go anytime and anywhere with just a few clicks on Omegle. And by a few clicks, I mean you will have to have patience because, damn, some people on Omegle are just really not entertaining unless it's about fucking. Well, only if that's what you're looking for, too. *wink*
Got something that floats your boat?
Omegle isn't very random, like what most people think. However, it is undeniable that most people on Omegle are looking for some online sexting. It's okay if it's different from what you're looking for. Omegle has tried to control that, but alas. 
If you've got anything that floats your boat and you're looking for someone to talk to about it, you can input whatever topic you're thinking about on Omegle's interests section on the homepage. There's a question that says, "What do you wanna talk about?" over a box where you can put whatever you want to talk about. It's as easy as that. 
If you're lucky, you might be able to find someone passionate about your shared topic. If not, you might end up with someone horny who wants to flaunt their cocks on Snapchat, yet again. But with patience, perseverance (LOL), and an almost endless attempt to click the escape button on your keyboard, you'll land a good conversationalist. 
Yep, there still needs to be an app. 
I've wondered about this a few times and even attempted to look for an Omegle app on the app store and play store for Android users. Sadly, even after a decade and a half on the internet, the makers of Omegle still need to think of generating an app, even though millions are probably looking forward to it. 
However, to make up for not having an app, the chat site is highly compatible with whatever gadget you use. You have to go on Omegle.com, and you're good to go. Even pressing the exit or escape button can be done with ease. 
Do I need to sign in? 🤔
Back in the day, chat sites were chat sites. No need for all that nitty-gritty! These days, I guess the times have changed. Well, except for Omegle. You don't need to register an account or swipe your card to use all of Omegle's services. 
You only have to go on the chat site itself, input some interests if you have some, or join the college chat if you want to, and that's it. Omegle's services include text chatting, video chatting, and joining the college chat. 
Mind you; there are absolutely zero ads on Omegle. You can chat with whoever, and you won't be disturbed by pesky pop-ups. Isn't that a treat? 
If you love the basics of online chatting, then Omegle is the one for you. 
If you're looking for something with no strings attached, Omegle is your chat site. Find everything and everyone all at once, with one click at a time on Omegle. Input your interests, engage in video chatting, and do everything you've ever thought of within the comfort of consistent anonymity. 
Omegle won't divulge anything because there's nothing to divulge! No details will be involved, not even the ones you share with your chatmate. And if you ever decide to take it further, everything's up to you. No force, no hassle, and no ads. Stop the chat anytime you want, and enjoy your time with Omegle — the only chat site that ensures your full online protection. 
Do it like the good old times on the internet with Omegle. 
| | |
| --- | --- |
| Type of website: | |
| Type of content: | Live cams |
| Main Category: | Sex Chat |