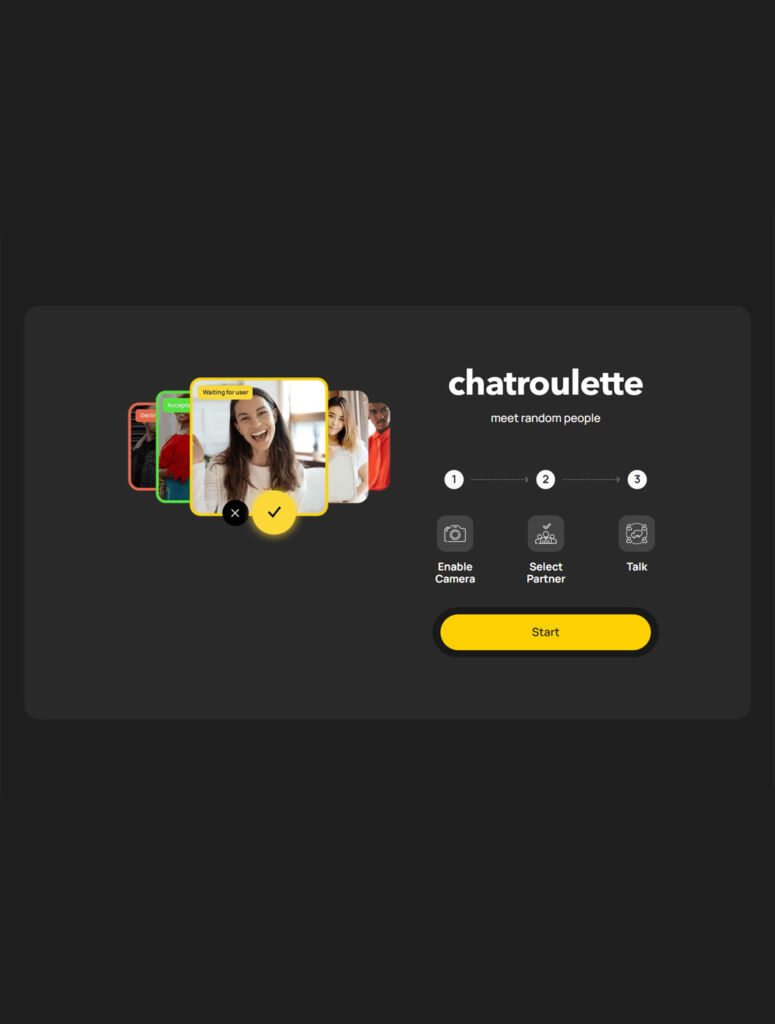 The first of many. 
ChatRoulette — doesn't it sound familiar? ChatRoulette is one of the first, if not the only, chat site that utilizes the roulette way of choosing your next chat mate. It can be a pervy site; it can not be — your experience entirely depends on you. With that being said, ChatRoulette is also one of the first chat sites to directly use video chatting instead of easing in with text chatting first. Yes, that means your web camera should already be open when you go on the site. Glam up because you might just be surprised who your next chat mate will be. *wink*
Web cameras are chosen randomly, so when you click that button, no matter your preference, you'll have to take or leave whoever's presented to you. ChatRoulette is one of the pioneer chat sites to increase the thrill of meeting someone online. Weren't almost everyone afraid to open their video cameras a few decades ago? Many claims to be ChatRoulette's alternative, or maybe even something better than that. But as you know, the claims sometimes are true to their words. ChatRoulette is one chat site that comes to mind when you're looking for a short online thrill. 
It's a game of chance, somewhat. You get to start and stop the roulette with just a few clicks of some keyboard buttons. However, with the rise of smartphones, it's slightly hard to use ChatRoulette from there. I guess we still need our good old trusty laptops and desktops. There's nothing better than the classics, am I right? LOL. If you don't have a single idea what the hell ChatRoulette is, you should read this review. If you have, well, let me tell you that nothing much has changed except that there are more horny people here than ever before. LOL. 
I know what you're thinking — is ChatRoulette safe enough? 🔞
Well, that's a good question. That's also commonly asked when it comes to chatting sites and any site related to meeting new people online. Although ChatRoulette is marketed as a safe and fun site where you can meet various people worldwide, you still need to be cautious no matter what. I'm not saying that it's not a safe space. Sure, the chat site itself is pretty safe and secure. However, the makers behind ChatRoulette need help to control the users who decide to go on the site. Do you get the gist?
I hope you get the gist. But if not, don't worry; I'll still spare an explanation. It has been well-known for quite some time that some ChatRoulette users do harmful things to their chat mates. Well, not something life-threatening, of course, although it truly depends on their actions and intentions. Be wary of chatmates who record your web camera activity. Most of all, be wary of your actions on ChatRoulette. It might seem pervy and harmless to you at first, but it might be held against you if you must be more careful. It does sound really scary, but it's better to be safe. 
Before diving into the world of roulette-based chatting, ChatRoulette already has a warning sign up front. Their warning includes being wary of scammers trying to access your online information, people who record your footage that's going to be used for blackmailing later on, and people who use fake web camera footage to further protect their privacy and hide their true identity. There are a shit ton of freaks on chat sites, whether it is on ChatRoulette or not. The bottom line is to ensure you're having a safe and swell online time and that everything will go smoothly. So, to answer your question if ChatRoulette is safe: It is if you make it safe enough for everyone to enjoy. 
You better hide ChatRoulette from Santa! 
At this big age, do you still wonder if you're a part of Santa's naughty or nice list? If you go on ChatRoulette, you might be a part of the naughty list more than the nice one. LOL. No kidding, though. A shit ton of horny people have been swarming over chat sites like this, and the video chatting and audio chatting features of ChatRoulette make their online sexventures more exciting. A few years back, we could only result in sexting each other anonymously, without any visual aids. When ChatRoulette came into view, our virtual sex lives improved a thousand times. LOL.
Is video chatting all I'll be able to do on ChatRoulette? 
Well, that's a good question. I think I've mentioned earlier that you can do more than just video chatting; undeniably, ChatRoulette's video chatting feature reeled in its users. However, if you're a little bit shy to show your face to the world, ChatRoulette also offers audio and text chatting. Think of it like a text mate or even a phone pal. Do your dirty and kind deeds with your chat mate in the comfort of your home, with your chat preference. Isn't that nice? ChatRoulette probably did that so everyone could experience talking to everyone from all parts of the world. 
Okay, that's nice. But with these kinds of services, surely I need to register an account? 🤔
Why does everyone think they need to have an account on something to be able to use it? You can use Google even if you don't have a Google+ account, right? And frankly, no one ever used a Google+ account. What was it for, anyway? LOL.
Okay, anyway, back to what we were talking about. Right. You're probably going to ask about its membership prices, too, aren't you? No, I'm not mocking you. It's okay to ask. LOL. But to answer your question about whether you need to make an account, the answer is no. ChatRoulette is free. Whatever you need to swipe your card for is most likely a scam by a ChatRoulette user. And that's why you need to be cautious all the time when you're there. 
Yes, you did read that right. ChatRoulette is free for everyone to use. Just make sure you're over the age of 18 already, and you're good to go. There are no ads, no need to create profiles and none of that shit. All you will need is a working webcam and microphone, and that's all. You'll probably need a keyboard for typing, but you get the gist. LOL. 
ChatRoulette is OLD. Are you sure it's still usable? 
Is that question offensive? LOL. Maybe not. Yes, ChatRoulette is slightly older than your go-to chat sites. And yes, it is still highly usable. You still have millions of users worldwide right at the tip of your finger. You can find out what ChatRoulette's prime time is. Because its users come from around the world with different time zones, everyone's prime time might be different. Because of that, you can go on the chat site anytime and anywhere, and you'll still be able to find someone suitable to talk to, whatever your intentions are. *wink*
Five stars for ChatRoulette! 
ChatRoulette is just the chat site for you if you're a bored single who is up for casual virtual flirting, a solo runner looking for a lifetime partner, or just a pervy individual excited with horniness. It's 100% free with no hidden charges, no hidden agendas and ads anywhere on the chat site, and you don't even need to create a profile. 
Upholding your anonymity is the least of your concern because you can trust ChatRoulette to do that for you. Add the fact that this chat site is one of the pioneers; you will certainly have the best time of your life here, one spin at a time. But again, be careful, and be mindful. *wink*
| | |
| --- | --- |
| Type of website: | |
| Type of content: | Live cams |
| Main Category: | Sex Chat |