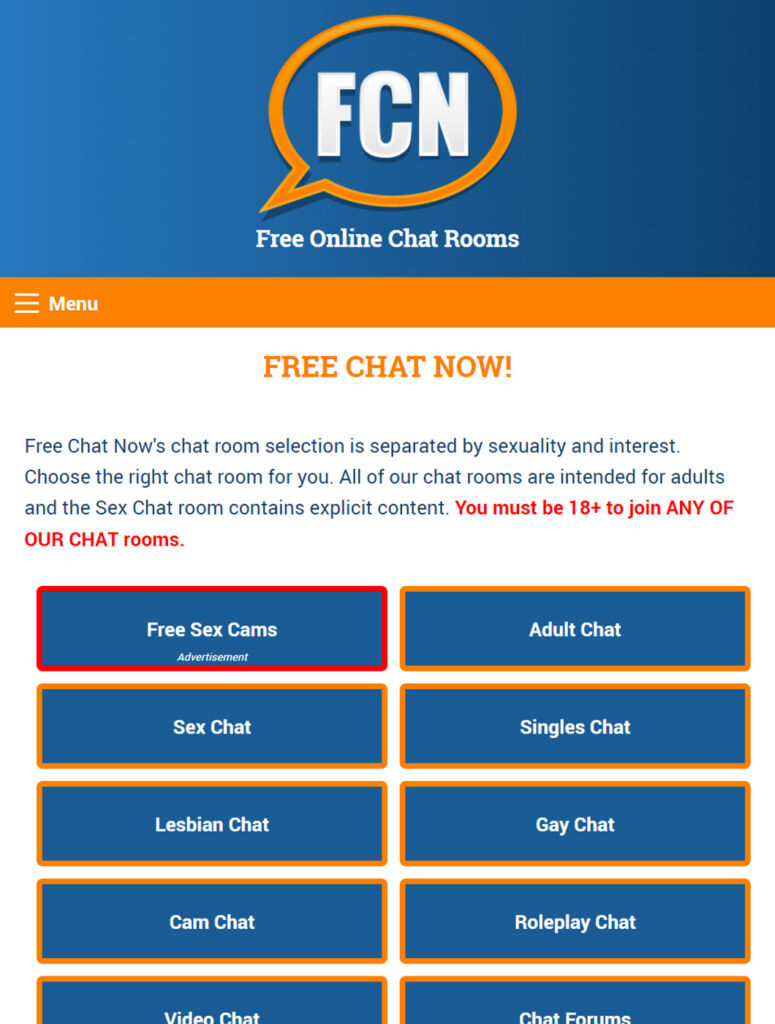 Finally — here's a chat site dedicated to nothing but sexting! 🤤
We have always come across chat sites that promote casual conversations instead of the ones we've always wanted to see. Casual conversations, my ass — all that's ever happening in chat sites like the ones we have seen are nothing but kinky, dirty shit. The kind that always makes you want to rip off your pants the moment your chat mate confirms that she's horny as fuck, too. But that's not always the case. We don't always get lucky with chatmates, don't we? At most, we get random conversationalists who scurry away when we ask if they are horny. 
I mean, if my chat mate says they're not horny, it's pretty fucking fine for me. Let's talk about anything other than my throbbing cock that wants to be stroked right now. You're kind of like that, too, aren't you? Luckily for us, we have FreeChatNow. FreeChatNow is the only chat site you will ever need from now on. And do you know why? Because this is one of the few chat sites solely dedicated to sexting! Talk about entering paradise! Of course, you get the whole package — text, video, and even mobile chatting. But a chat site dedicated to sexting? Count me in! 
The only thing that sets FreeChatNow apart from the rest of the chat sites you've turned upside down is that this one is filled with chat rooms. Being used to one-on-one chatting, FreeChatNow's interface might feel a little bit foreign to you. But don't worry; you'll still get fifteen minutes of fame here. LOL. You can freely take anyone out of the chat room once you agree. But other than that, there's no way you'll be able to get someone without entering a chat room first. Oh, here's a treat for you: FreeChatNow is LGBTQIA+ inclusive. *wink*
Chat rooms galore! 
Are you still trying to figure out how you'll be able to interact with people online? Don't worry; that's always the case for first-timers. Chat sites usually help those people open up to any interaction. But the thought of their chat mate leaving them hanging is just excruciating. That's what FreeChatNow is striving to improve on. No man gets left behind when you start chatting and interacting on this particular chat site. Do you know why? FreeChatNow is filled to the brim with chat rooms overflowing with people passionate about talking about whatever subject the room is all about. 
Now, what kind of topics do you think these chat rooms hold? Nothing but sexing up, of course! LOL. If you're one horny chap who likes to hide behind your keyboard for optimum safety or loves to chat in the comfort of your home behind a web camera, FreeChatNow is the chat site for you. Right off the bat, FreeChatNow's homepage offers labeled chat rooms to interact in. You can choose whether you'd like to partake in audio or video chatting and go on. Hearing your chat mate moan in satisfaction seems too good to be true, but it's highly possible with FreeChatNow. *wink*
I know you've encountered several chat sites promoting their chat rooms. You might be thinking that FreeChatNow sounds a bit too familiar. Well, it does sound a little bit similar to the other chat rooms you've frequented. I'm not going to sugarcoat and say this one's any different. LOL. However, FreeChatNow does have a shit ton of highly interactive chat rooms you can get the best out of. Check out the list of chat rooms below: 
Sex chat 
Adult chat 
Roleplay chat 
Gay chat 
Porn share 
Lesbian chat 
Boobs 
Mature chat 
BBW chat 
Group share 
Subs and doms 
Cam chat 
Singles chat 
Dick ratings 
Quarantine 
Kink
Horny nerds 
Furry chat 
Group roleplay 
Trivia 
What do you mean by pricing? Everything comes for free! 💯
FreeChatNow is not named free for nothing. LOL. This chatting platform comes absolutely for free. Yep, there's no catch. All you need is the ability to log in, have a working email for the account registration, and you are good to go. The only thing you must be mindful of is that non-account holders go to the chat rooms while account holders go to chat forums. What's the difference? I have no idea. All the people inside chat rooms and chat forums talk about the same old thing: fucking. FreeChatNow is probably just segregating its members and freeloaders. LOL.
If you're still starting in the world of kinky chat sites, FreeChatNow is one good website to lounge in. No hidden fees, no scams, no ads, just good old-fashioned online sexting, which also works on mobile. There's no app yet, but it's a good thing the website is optimized for small screens. Chat and fuck virtually on the go! Try it out for yourself. *wink* 
| | |
| --- | --- |
| Type of website: | |
| Type of content: | Live cams |
| Main Category: | Sex Chat |