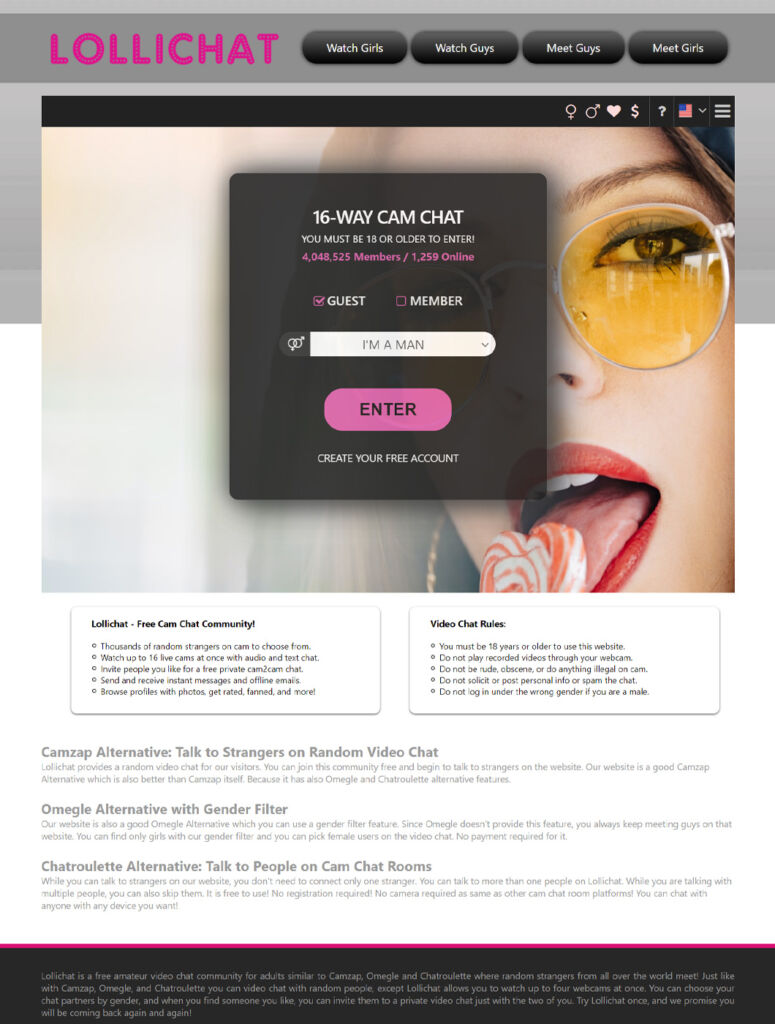 Talk to strangers with no hassle. 😉
Are you tired of going through one site after the other, splurging all of your information to get a damn account? Yeah, I feel you. Well, we can't blame the sites, though. Making an account is the only way they'll know you're not some random maniac bringing trouble to their paradise. I'm pretty sure you understand that too. If only these chat sites removed their email update features, that would be one big plus point for them, no? 
We've got many chat sites to choose from, but there's always one that stands out from the rest. It's none other than Lollichat, of course! As the name implies, it can get a bit naughty and raunchy, but it depends on you. *wink* Lollichat gives a few more options than just sitting and chatting the day away. We all know our attention spans are hanging by a single thread. LOL.
Lollichat is as convenient as it can get, if not the most convenient, chat site. Hide behind the comforts of anonymity until you can show your face, or don't show your face at all — everything is completely up to you. Find real connections or giggle about fleeting ones — Lollichat is your chat site. 
You can do more than talk, you know. 👀
Chat sites give you just that: nothing more than chatting. But I guess the makers behind Lollichat had enough of just typing around on their computers and smartphones. LOL. One of the great wonders of Lollichat is its users' ability to conceal the real deal while still being able to divulge everything. How is that even possible, right? Well, there's nothing impossible when it comes to the internet. *wink*
Have the best time of your life sending audio messages back and forth with your chatmate while maintaining anonymity. Not only that, but you can also opt for the 2-cam option to see your random stranger face-to-face! Things might escalate from there, or they might not. Who knows? LOL. But one thing's for sure: if you don't like what you see, move on and get another. As easy as that! 
Audio message sending and cam-2-cam options are great for people who want to make the most of their free time. Who knows who you'll be able to find on Lollichat? You might even stumble upon a celebrity or some famous person there! The bottom line is that you are given more than just the typing, so make sure to make things more interesting than they already are! 
Registration? There's no such thing! 
It's a chat site! Why would you be asking questions about registration? You won't need any of that! Make sure you have a working microphone and web camera if you want to venture on the more adventurous side of Lollichat. 
And though Lollichat only has slight differences compared to other chat sites you have already ventured into, remember the golden rule: think twice before divulging any private information you have! Have fun! *wink*
| | |
| --- | --- |
| Type of website: | |
| Type of content: | Live cams |
| Main Category: | Sex Chat |