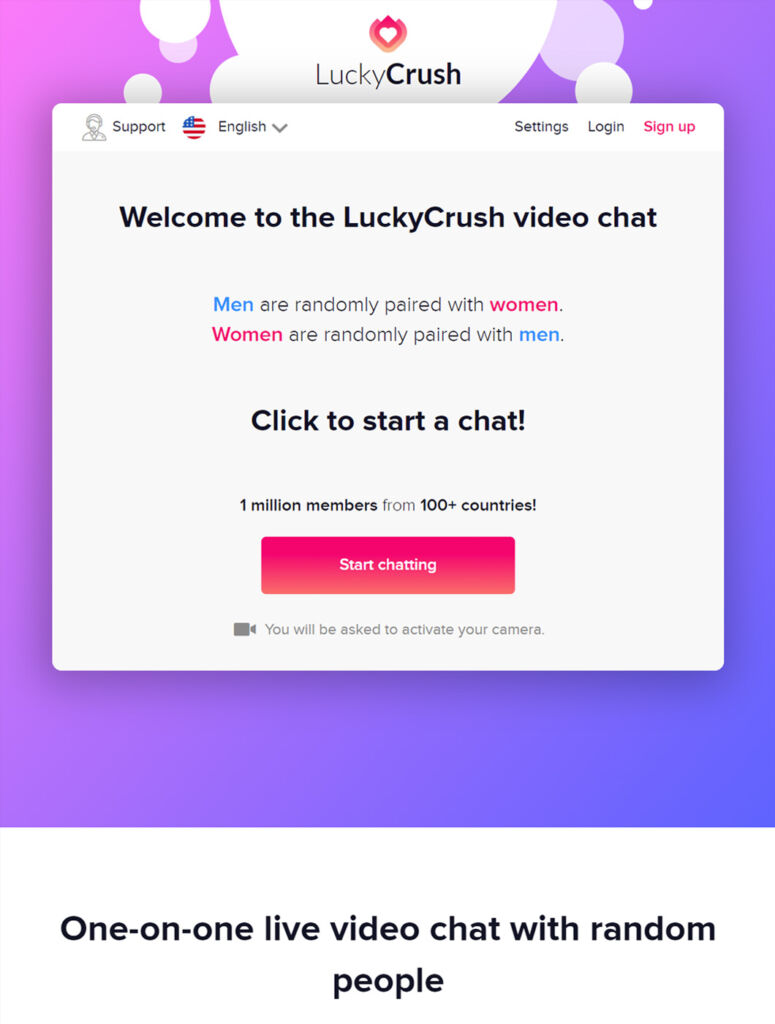 Lucky Crush — is it just another chat site? 🤔
Well, yes, Lucky Crush is just another chat site. What were you expecting? LOL. Kidding aside, Lucky Crush is one chat site you will not get enough of using. If you're looking for any feature that makes this platform distinct from the rest, I'm afraid you won't find anything. Well, I guess, except that Lucky Crush promotes video chatting like no other. That fact is not new since most live video chatting websites have been quite common even a few decades ago. However, there is one thing that Lucky Crush guarantees you will only experience with them. 
Have you taken a guess already? It's not some website feature, not even a bunch of free tokens or anything related. And yes, Lucky Crush will require you to swipe your card to get the ultimate video chatting experience. Is it that hard to guess? It's none other than your guarantee to be matched only with the opposite sex. I haven't heard about that "guarantee" before, and I know it's probably your first time hearing about it, too. Not many chat sites give such a promise, especially since it's not that easy to deliver. Or is it? Hmm.
Lucky Crush is one of the highest-rated chat sites; you better believe they deliver more than what their users can ask for. Aside from that, there are also a handful of features that will make online chatting life easier for you. With that said, all you will have to do is glam up and be ready for the random beautiful face you will get at a click of a button. However, there might be some compromises that will not be in the majority's favor. It depends on what kind of majority we're talking about. Read on to find out more! Is Lucky Crush the chat site for you? 
The pros and the cons you should watch out for. 👀
Only being able to talk to the opposite sex, a new chat mate on every click, easiness to use and navigate the website, and auto language translation for those who might encounter language barriers — do those sound amazing already? It sounds pretty promising to me! But it does not only promise; those facts are what Lucky Crush does daily. They have more pros than cons, and even the pricing is a part of the pros. But if you don't want to swipe your card like me, you can always use Lucky Crush for free, with a few benefits and features slashed out. It's still a win, though. 
If we are going to talk about Lucky Crush's members, as of writing, they have already garnered over 1,000,000 profiles. Two hundred thousand come from the USA, and the rest are from different parts of the world. You'll be mingling with over 100,000 users every day. Ain't that a treat in itself? Now, if we dive into the gender ratio, we'll have more details. But for starters, 78% of males and 22% of females are on Lucky Crush. You can say it's a male-dominated site, but Lucky Crush still delivers when they say you'll be connected to a different chat mate of the opposite gender every time. 
The users in Lucky Crush range from 18 to 55 years old. Is that shocking? Well, at least you've got diversity right there in every click. LOL. You know, older people get more tech-savvy nowadays. And here's a sweet fact for you: there are more females in the 18-25 age group. However, didn't you notice that we have only been talking about males and females since the beginning of this review? That's because Lucky Crush isn't catering to LGBTQIA+ right now. That's one con you should watch out for. If you want your pronouns to be recognized, I guess some users will understand that, but the website doesn't have any options. 
Does it get a thumbs-up? 
Only needing your gender and the ability to click on the yes button, Lucky Crush will give you a chance to hook up with people from all around the world. With its users feeling fulfilled most of the time, does Lucky Crush get the most-coveted thumbs up? Hmm, let's see. How about its pricing, right? Lucky Crush's video chatting service runs on credits if you ever become a premium member. Here are the price points you can choose from:
$16.90 for 15 credits 
$48.90 for 60 credits 
$89.90 for 90 credits 
One credit is equivalent to one minute. Yep, that means 15 credits means you will be able to talk to your chat mate for 15 minutes. Are the prices dealbreakers? It depends on you, of course. 
Now, does Lucky Crush get a thumbs up? The answer is: definitely! With its winning features (auto language translation and guaranteed to match up with the opposite gender), Lucky Crush is more than promising. Hook up, find the love of your life, or find someone to kill your time with — this chat site is the only way to go. See for yourself! *wink*
| | |
| --- | --- |
| Type of website: | Cam Site |
| Type of content: | Live cams |
| Main Category: | Sex Chat |
| Affiliate Program: | LuckyCrush |