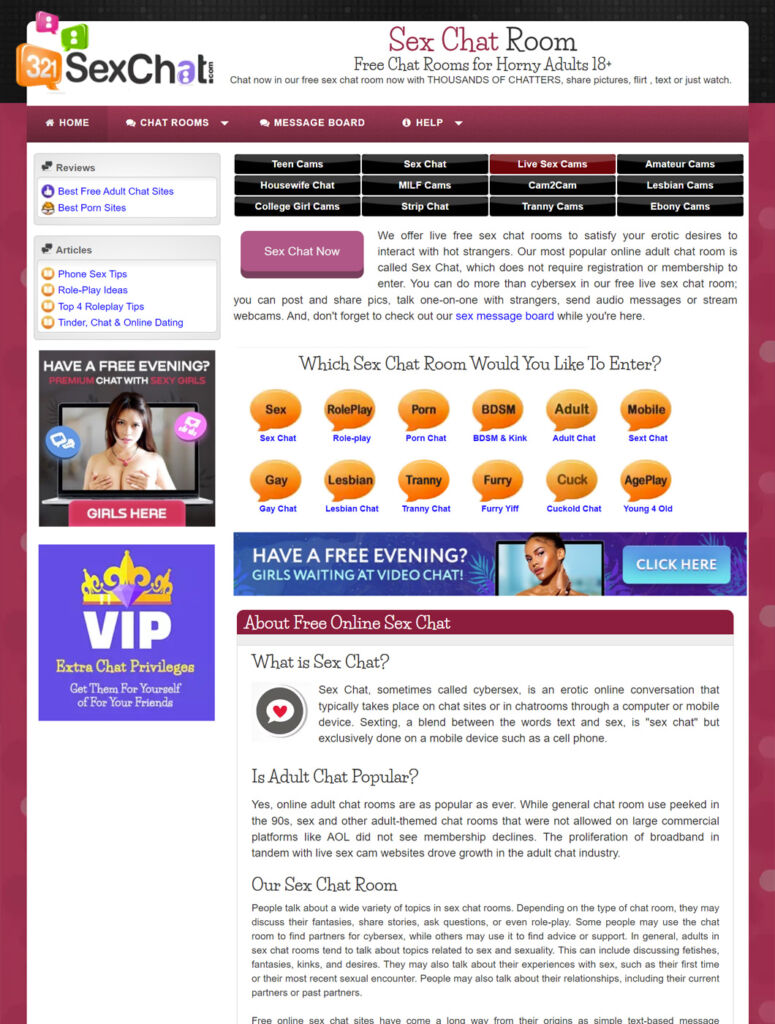 321 Sex Chat — nothing can get as straightforward as this!
We have all been used to chat sites and platforms promoting casual conversations. Nothing will straightforwardly help the hookup culture rise over the last few decades. With the rise of technology, finding someone to hook up with, whether for the short term or long term, should have been a thousand times easier by now, right? But that's not always the case. Some participants of most of the chat sites are truly looking for casual conversations, which minimizes your chances of getting laid. So what's the right thing to do now? What will make our chances of fucking and getting fucked easier? 
Fear not, because 321 Sex Chat is here to make all your erotic dreams come true. Well, not all of it, you know. Just the specific part where you get laid. LOL. What the hell is a "321 Sex Chat" anyway? First, this website is one of the chat sites you should have been frequenting. And yes, this is the most straightforward chat site you will ever be able to get. 321 Sex Chat is a melting pot of horny people looking for one-night stands, long-term romances, or short-term fuckery. Your name is already on the list. LOL. 
321 Sex Chat is filled with all kinds of chat rooms related to kinky stuff that you will surely love. It might give you an old-school vibe, like the feeling you've felt when your first computer booted and you got the chance to chat with someone anonymously. Only this time, you're in a group chat instead of having a one-on-one. Nevertheless, your chances of virtual fucking are at an all-time high, and your chances of getting fucked in real life just got even better. Whatever you're looking for, whether virtual or real life, you'll get more than what your recommended dose is here. *wink*
Your wish is 321 Sex Chat's command! 😉
Here's something that will catch your attention. More than 321 Sex Chats are overflowing with hot and spicy girls and hunky horny men; you can also use their services for free. Well, of course, you'll have to upgrade to receive a little bit more than that. We all know that premium memberships are always the star of the show, but with 321 Sex Chat, there's no such thing as a "subscription." Wait, does that mean you don't have to pay? Yeah, I know the question that's been lingering in your mind already. LOL. For 321 Sex Chat to grant all your wishes, you still need to pay, honey. 
For the meager price of $20, you can have all the best 321 Sex Chat forever. Yep, a one-time payment called a "donation" will give you the best days of your life. Twenty dollars won't break the bank, wouldn't it? And that small price you have to pay will open the gates to millions of users worldwide. And when we say users, we mean people 18 years old and above. That way, you won't have any trouble with the law. LOL. Now, with the price out of the way, what else can you do in 321 Sex Chat? 
There's not a lot you can do here. LOL. Unless you're in for long hours of chatting. You can join several chat rooms for singles, couples, LGBTQIA+, and more. But you can elevate your experience by taking the one you deem worthy in a private chat, where you can exchange photos and videos for as long as you want to. If we're talking about getting virtually laid, you might be stroking your dick every minute on 321 Sex Chat. LOL. Now it's up to you to make things hotter than they already are. Oh, I haven't mentioned kinky chat rooms, have I? Well, there you have it. *wink*
Having one of the best reputations, this one gets more than just 5 stars. 💯
321 Sex Chat is one of the oldest chat rooms in the history of kinky chat sites. The maker made a full-blown website where you can reveal yourself and whatever else needs revealing. You can join premade chat rooms such as porn, older for younger, gay, humiliation, lesbian, and more, or you can make your chat room and have fun there. With 321 Sex Chat's incredibly easy-to-use interface, you won't get lost as you navigate. But really, there's not much to navigate, anyway. Entering this particular chat site is like traveling back in time, during the early 2000s, to be exact. 
However, here's one deal breaker if you hate advertisements. Ads and donations are what keep 321 Sex Chat operating for decades. And yes, even if you donate $20 already, the website will still be filled with ads on both sides and the header. Just remember to avoid clicking any of it for an optimum experience. It can't be helped, I guess. Remember that these ads are porn-related, mainly because you're on a sex chat website. LOL. On a side note, there are no mobile apps yet, but the website is optimized for laptops, computers, tablets, and smartphones. 
For a kinky chat site as great, affordable, and reputable as 321 Sex Chat, you'll be getting only the best here. Try it out and see for yourself! Everything is easily attainable with just a click of a button. *wink*
| | |
| --- | --- |
| Type of website: | |
| Type of content: | Live cams |
| Main Category: | Sex Chat |