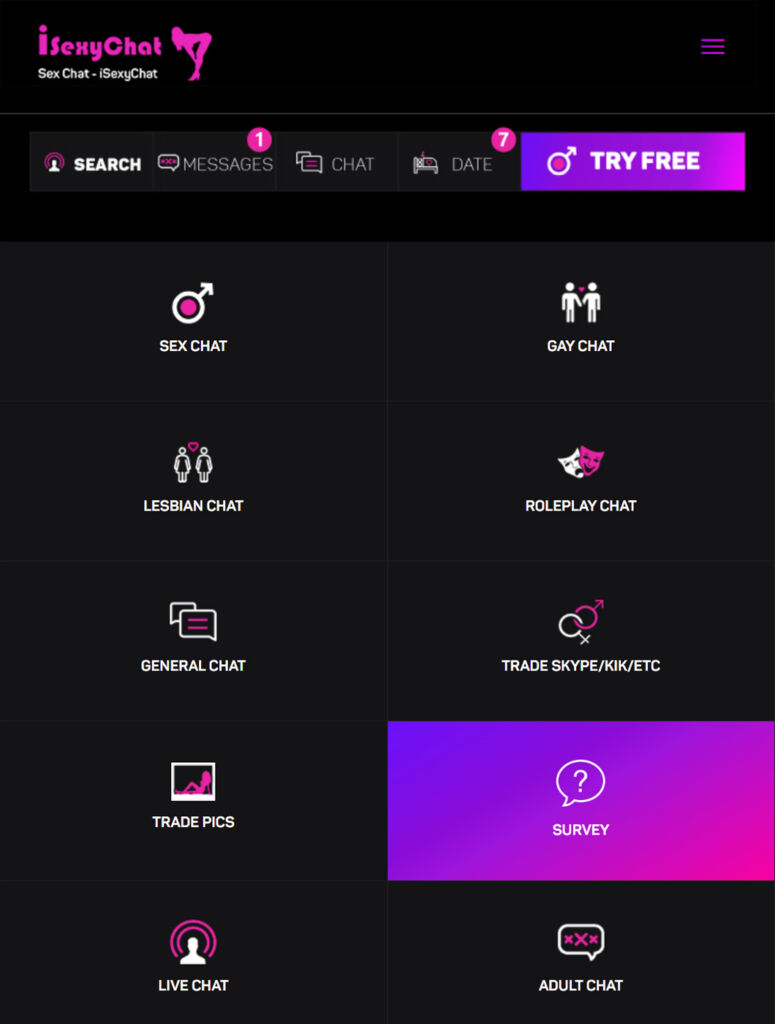 The only good thing that comes for free. 💯
iSexyChat — have you heard of such a thing? It's an online chatting platform that revolves around instantly hooking up. Finding someone to fuck with shouldn't be that hard, right? That's what the makers of this chat site had in mind while formulating iSexyChat. But before we dive into the specifics, let me get this out of the way: iSexyChat can be used for free. Yep, you don't need glasses or anything. You are reading that correctly. iSexyChat is one chat site that offers its full services for free. No need to grasp that card or wallet. *wink*
Now that I've got your attention, I'll better prepare for your next question. What the fuck is an iSexyChat? It sounds like some game that horny teenagers play. Well, you're not wrong. It does sound like some horny mindless game. LOL. However, as I said, it is a chat site. And yes, it is filled with horny teenagers. People from all walks of life, as long as they are 18 years of age, can freely join iSexyChat with the comfort of anonymity. That means you won't only be conversing spicily with horny teenagers. They are more like horny people of all ages. Doesn't that sound like a fucking treat? 
iSexyChat wants you to get down to business right away. That means you don't need to register an account to be able to use this service. Just make up a username, and you're good to go. Pretty much like Omegle, right? But this one is undeniably a thousand times better than that old blue and orange website. I hate to repeat myself, but yet, iSexyChat is available for free. You can join chat rooms, spruce it up from there, and carry all the dirty talk to a private chat which can also be done for free. Sounds pretty nice, right? *wink*
If only you could give a thousand stars for feedback. 😆
iSexyChat is a highly-rated chat site, and for all the right reasons. First, it is widely available for free. Second, you have the whole world at the tip of your erotic finger. Third, the comfort of anonymity hides you behind nasty scammers and fakers. However, be careful about scammers! There are a lot of them here. Fourth, you're not limited to only one username or nickname. This should be one of the seven wonders of the internet, right? LOL. However, be careful in switching usernames, as your chat mate might mistake you for someone else and leave you hanging. Don't want to get cock-blocked by the one who gave you a boner. LOL. 
iSexyChat allows you to choose as many chat mates as you want, enter as many chat rooms as you want, and navigate the website with ease. However, there are a few advertisements here and there, but it's not going to bother your whole online kinky experience. You can keep things behind the screen or escalate into something more personal. Whatever floats your boat, my man. But because iSexyChat gives its users the gift of permanent anonymity, you better be careful about the fakers who are using the site simultaneously. 
Overall, if only iSexyChat could receive a thousand stars for feedback, they would have received it by now. This is inarguably one of the best free services you will ever have. And yes, when I say free, I mean that there are no hidden fees or anything that will make you reach your wallet. So, what are you waiting for? Get going to get down and dirty! 
| | |
| --- | --- |
| Type of website: | |
| Type of content: | Live cams |
| Main Category: | Sex Chat |