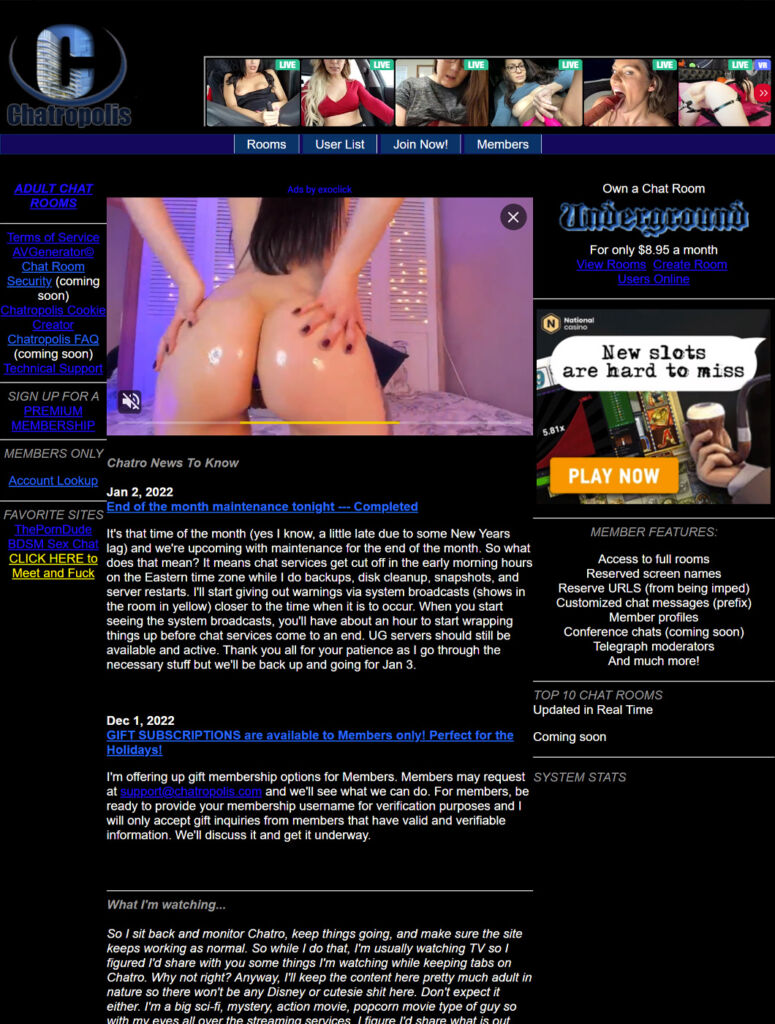 The OG chat room. 💯
Out of all the chat sites that have sprouted out of nowhere over the past decade, Chatropolis is one of the sites that remained consistent. You can consider this particular chat site as one of the originals. Being launched in 2004, you might think Chatropolis' users might have faltered for a while, but no. As I have said, Chatropolis has stayed consistently at the top of the chat site ladder, constantly providing what every aspiring chat mate wanted. Unlike the chat sites we've become accustomed to, Chatropolis offers a wide array of things you can choose from. But what are those? What am I talking about? 
Chatropolis is an adult chat site. You get the gist from there, right? They were one of the few who originated with chat rooms, interacting with a shit ton of people. More than just entering a random chat room filled with many people or only one, you also get to choose which topic to talk to and enter a chat room specifically for that topic. The possibilities are endless! And you don't even have to force your favorite topic down your chat mate's throat. LOL. And yes, most of the topics are usually related to fucking. If you're not up to that, there are some boring chat rooms along the way. LOL. 
The chances of you striking it up with someone who thinks similarly are off the roof. All thanks to the specific chat rooms labeled with your favorite topics like "adult sex," "kinky," and things like that. However, remember that Chatropolis is in no way a matchmaking site, although the possibility is still out there. Who knows? You might find it forever in one of these chat rooms. But you also might find the one you've been looking for: a good old one-night stand buddy. Chatropolis hails itself as the chat site that truly connects. See for yourself. *wink*
You won't get further without swiping that card and a handful of cons. 
Now's the part where the viewers usually say "boo." And it's not even the good kind. Most chat sites we usually go to pass our boners come for free. But apparently, not Chatropolis. You won't get far without shelling out a few dollars. Thankfully, the prices won't break the bank. But still, it's a fucking chat site. Who would want to pay for that? Even Facebook comes for free. Well, on the brighter side, at least you know this one's legit. In all seriousness, you can lounge around the site, but you won't be able to chat and type around if you don't pay. 
The monthly subscription costs only $10 as of writing. Still a pretty good price point, right? Paying this premium amount will unlock a shit ton of features that you'll be able to use once you become a member. Once again, keep in mind that you won't be able to do anything if you don't pay. But meanwhile, here are the features I keep rambling on from Chatropolis itself. Check it out:
Technical support priority 
Reserve your screen name 
Reserve up to five URLs
Chat in 5 rooms simultaneously 
Submit up to 3 photos at a time 
Prefix your message text with color 
Upload temporary avatars
Honestly, these are the things that you can do for free elsewhere. But for just a meager amount of $10 and excellent services that have never faltered for over 19 years, I guess it's pretty worth it. Oh, and have I already told you that Chatropolis conveniently works on desktops and laptops only? I'm being sarcastic right now if you can't tell. Chatropolis is optimized for desktop use and doesn't work well on mobile devices. You can say goodbye to chatting on the go if you choose Chatropolis. 
The chat site that deserves your 5 stars. ⭐️
Beyond its cons and other factors, Chatropolis is one of the few decent chat sites you'll find on the internet. The user experience is unmatched, and those testimonies come from the members. Yep, the ones who pay $10 a month can talk to a handful of people online. 
More than kinky topics, there are also lots of intriguing topics that might catch your eye. And yep, many people are partaking in several conversations that might even end up mind-blowing for you. Chatropolis says they connect people, and they truly do, worldwide. Binding each other through several topics that stimulate each other's brains. And this chat site will even take you traveling back in time because of its interface. LOL.
From fucking to planting, Chatropolis will cater to whatever conversation topic you have in mind. You're guaranteed to be connected to any like-minded individual. Check it out! 
| | |
| --- | --- |
| Type of website: | |
| Type of content: | Live cams |
| Main Category: | Sex Chat |