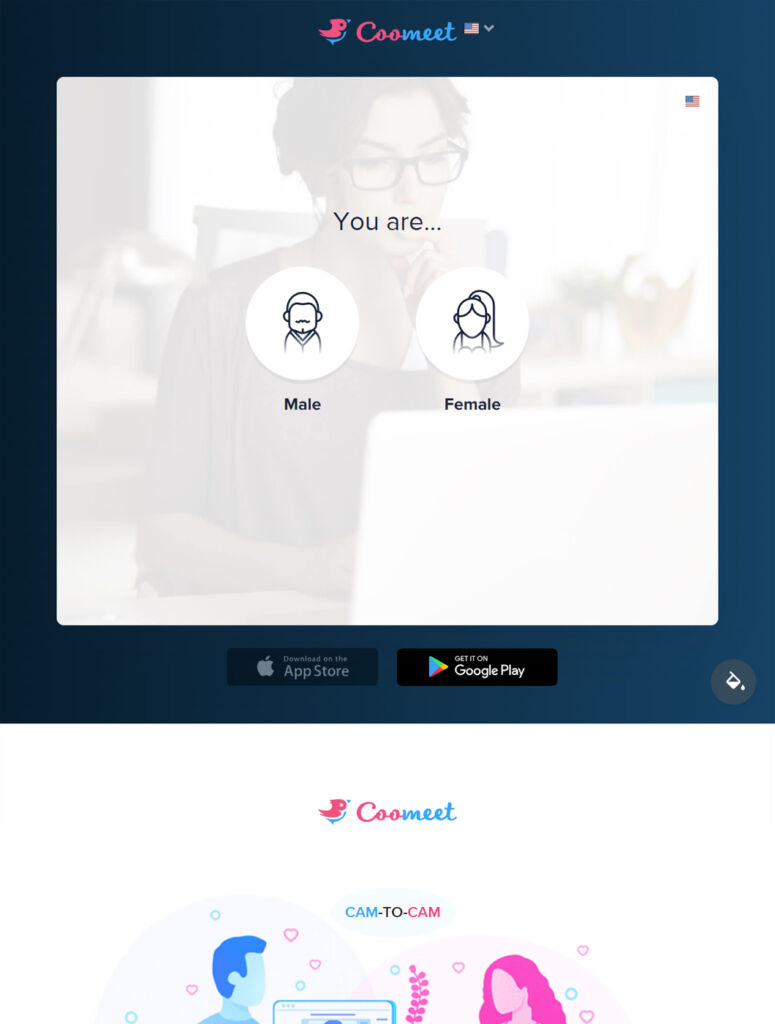 Tired of sharing in group chats? Now's your chance to keep them all to yourself. 😍
Tired of sharing beautiful girls with other equally horny men trying to block your spotlight? Worry not! CooMeet is here to make you feel like the king you are. But what is CooMeet? Is it an app filled with birds, or what? Is it something similar to Twitter? Well, that's what you're here for. Read along and find out what CooMeet is! 
CooMeet is an online video and audio chatting platform. You can also chat via texting or typing, but you won't get to do much of that here. So, come on, don't be shy and show your handsome and beautiful face and your charming voice! CooMeet is pretty awesome as it is. It's not a dating site unless you make it that way. LOL. However, a decent number of men and women are looking for something spicy. You're probably one of them, aren't you? LOL. Be careful getting all horny and comfortable! CooMeet is pretty strict with its rules and regulations about eroticism. 
Now, to focus on the highlight of the day: CooMeet only promotes one-on-one video or audio chatting. That way, you can keep the hot and sexy girl you chose all to yourself! And you don't even have to pay her to laugh at your jokes, unlike those live sex cams. LOL. This time, at CooMeet, you won't be flocking along with other horny men. The spotlight is completely yours for the taking, whether you're a free or premium member. Now isn't that a sweet thing to hear? Oh, darling, that's not the only thing CooMeet has to offer. *wink*
Dive into the pool of sexy singles, ready to mingle! 🌊
Right off the bat, let me tell you that there are far more men than women in CooMeet. That's alright, even if you're on the lookout for women only. Most users are 25-34 years old, so you don't have to worry about disobeying some law or something. You know what I'm talking about very well, don't you? *wink* 
It turns out that CooMeet is pretty strict on their under-18 rule. If you're anywhere near 18 years old, you won't be able to sign up, let alone make a CooMeet account. It's a win-win situation for the law, the platform, and especially for you. That way, you won't have to bone up with someone you can't ever meet. Now, going back to talking about CooMeet's members. 
As I said, 65% are men, while 35% are women. Fear not; there are already 348,000 users from the USA alone and 1,000,000 users worldwide. There are about 87,000 users active every week. That means you will have enough hot and spicy women to talk to. Bear in mind, though, that CooMeet promotes casual conversations, okay? *wink* Don't go around flashing anyone with your dingdong. LOL. If you want to take it a little bit further, it's up to you and your chatmate to arrange things outside the platform. Do well, my friend! 
Free or premium? Which one should you choose? 
This one has been a lifelong question since premium accounts surfaced a few decades ago: Should you take the free account or upgrade to premium? Well, the answer always depends on your usage of whatever platform you think about. But with CooMeet, is having a premium account necessary? Why don't you see for yourself? My answer will always be yes. LOL. A premium account entitles you to several more services that free accounts could never offer. But again, it depends. Read on and see if the pricing and the premium account's services are well worth it. 
As a free user, you'll be able to video chat for 5 minutes. However, if you don't upgrade to premium, all your previous chats will be deleted in 24 hours. If you don't give a damn about that, then a free account is the way for you. Free users can also like stories, view limited stories (there is a time limit on these), copy links to user profiles, and create a free profile. For premium account holders, here are the perks you should watch out for: 
Filtered search among users 
Being able to add friends 
VPN or Proxy IP usage 
Unlimited story viewing
Oh, and the messages you've had previously will be retained after 24 hours. But are the prices going to be worth the swipe? Here's what I have to say: the prices definitely will not break the bank. Check them out here:
$1.99 for one day (plus 10 minutes free on video chatting)
$4.99 per month for six months (plus 100 minutes free on video chatting)
$9.99 per month for one month (plus 20 minutes free on video chatting)
It's a man's world in CooMeet!
Men and women can freely join CooMeet on free or premium accounts. However, CooMeet seems to put leverage on the men. It's not completely a bad thing. Male users can skip seemingly uninteresting profiles, choose who they want to chat with, and so on. There are a shit ton of benefits for men, and one of those includes registering an account. 
If you are a male and want to register an account, you can easily sign up using your Google, MSN, Facebook, Yandex, or VK accounts. Does anyone still have those kinds of accounts? LOL. Kidding aside, if you are a female wanting to register an account on CooMeet, having a passport will come in handy. Yep, you'll need that passport to make an account. 
Do those facts seem unfair? Well, I guess it is fair enough. Many fakers and scammers hide behind beautiful faces and voices to get unsuspecting users to swipe their cards on them. Those baddies are not completely eradicated, so watch your back, okay? 
CooMeet meets your requirements more than anything else! 
If you're looking for a video and audio chatting platform that will give you everything you have ever been looking for and more, CooMeet is here to your rescue. Have as much one-on-one chatting with the most beautiful girls as you can find worldwide. Whether you choose audio or video, CooMeet's convenience will leave you in awe. 
Have I already mentioned that CooMeet is readily and freely available on both iOS and Android devices? All you'll need to have is an internet connection, and you are virtually good to go! 
Have the time of your life at CooMeet! The world is at your fingers. *wink*