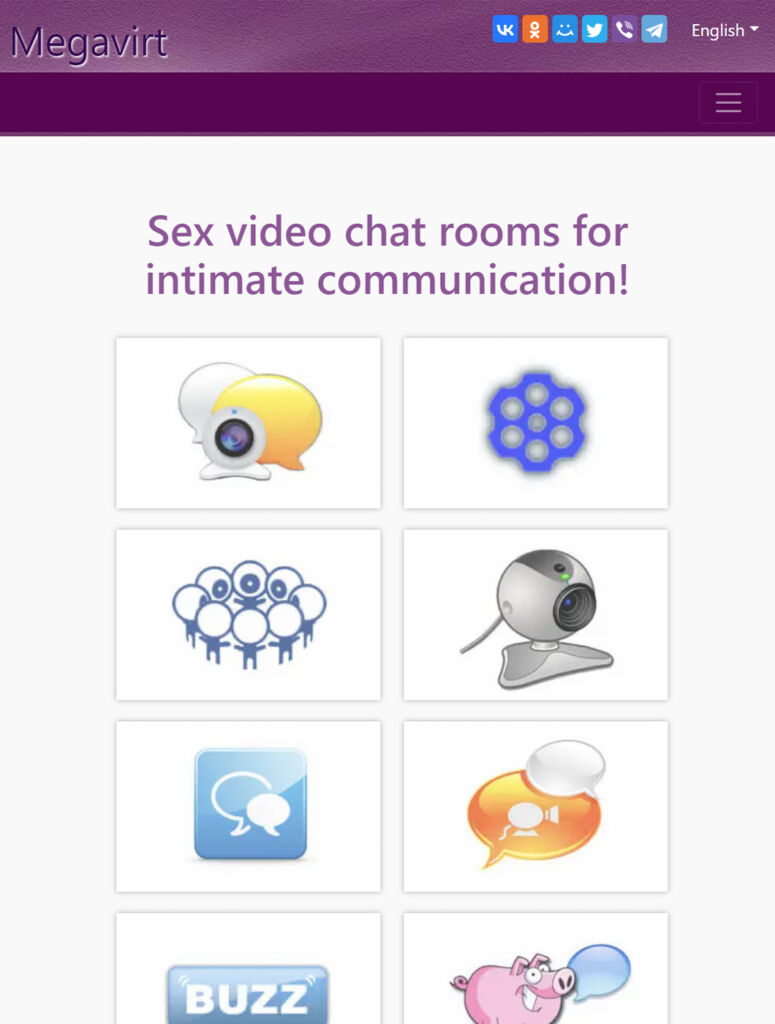 Having trouble thinking about what you're going to do? MegaVirt will give you all of the above! 🤤
Have you ever gone on a porn site, rummaged through it, and found out it does not serve what you've been craving? Yeah, I think we've all been there. When we're craving a shit ton of horny, erotic things, it's hard to pinpoint which one should come first and last. More importantly, deciding which site you'll dump your damage on is pretty hard. Should you go for chat sites, porn sites, dating sites, or what? More than that, all the kinds of sites I've mentioned almost always require their users to get a premium membership for their ultimate satisfaction. Does that mean you'll have to break the bank to get what you want? 
I already see you worrying while reading this. LOL. Please don't fret, my friend! Fortunately, there's a website where you can get everything at the right price. Yep, everything all at once. Ain't that a treat? MegaVirt is the site that you're looking for. It's a bland fucking website, but it doesn't have any pesky ads, and it will give you whatever service you are looking for in just a few clicks of your mouse or tap on your mobile screen. However, let me tell you that the website doesn't look interesting at all. So you've got to skip judging the book by its cover and go ahead to what its contents can bring you. 
MegaVirt is a melting pot of all things porn. No, it's not a porn site. It's not a chat site, either. Whatever it is, I know the makers are pretty brainy. I guess they didn't give a lot of thought to how their interface will look like. LOL. Right off the bat, MegaVirt will show you six icons you can click on. If you hover, each icon will show what it contains. The icons contain Chatroulette, sex video chat, porn video chat, adult webcam, cam chat, sex roulette, online sex, webcam sex, and free sex online. It seems redundant, but it's not. LOL. 
You'll get what you're looking for with the right price and options. 🧐
Still didn't find what you were looking for with all those MegaVirt icons and links? Worry not. You can always scroll down for more choices. Yep, just like you, up until now, I still have no idea what MegaVirt is. Let's say it's a melting pot of all things sexual. But if you ever think of settling down, guess what? MegaVirt has a say in that, too. LOL. I'm telling you, MegaVirt is one big catalog full of surprises. You never know what's coming; if you do, you still don't. LOL. 
Unlike adult video chatting, online dating, and online eroticism, MegaVirt also has online stripteasing, online masturbating, and live orgasm broadcasts. You can even opt for chats optimized for you and your preferred gender. And yes, even members of the LGBTQIA+ can be accommodated. The most common chat rooms are ones filled with lesbians, transvestites, and gays. There's even cyber sex if you're up for that. MegaVirt is a jack of all trades, and it just so happens that this site has mastered it all, too. 
Trust that you'll get less than verified content and services and 100% authentic interaction with whatever option you choose on MegaVirt. Just remember not to judge the book by its cover. Have your cards and wallets ready, and get ready to get down and dirty! 
| | |
| --- | --- |
| Type of website: | |
| Type of content: | Live cams |
| Main Category: | Sex Chat |