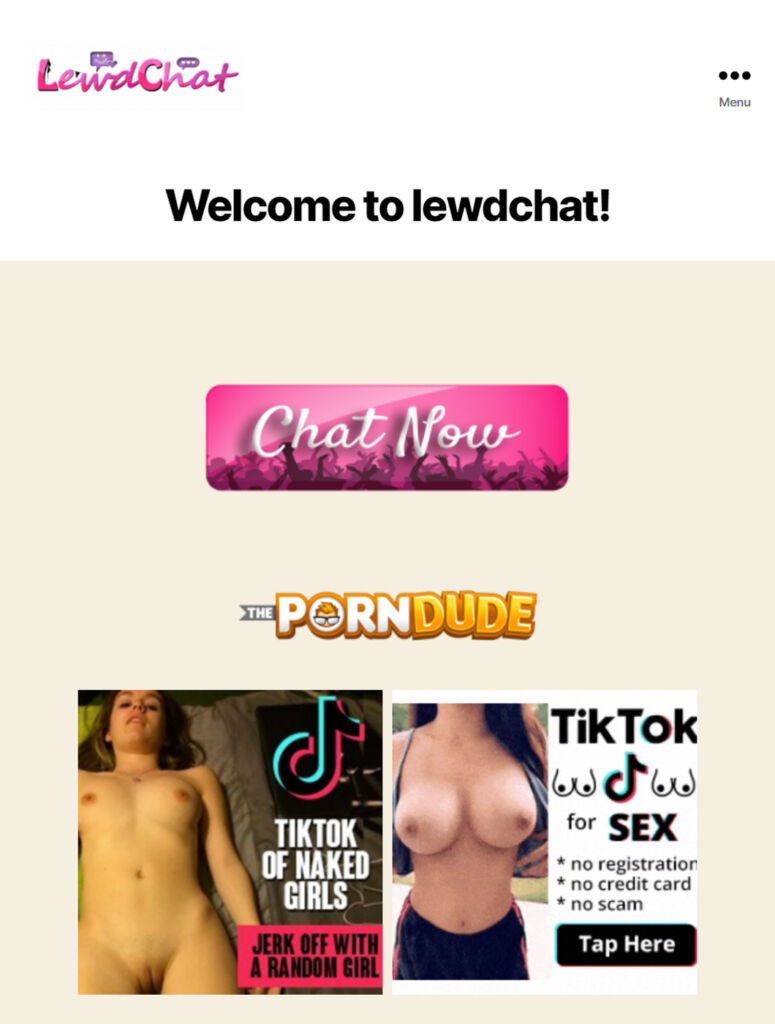 If you want something basic as fuck, LewdChat is the way to go. ➡️
Have you ever had a sudden nostalgic trip? Going on LewdChat feels exactly like that. LewdChat is that basic chat site you have been avoiding, but suddenly, you are, logging in. LewdChat does not have a catch at all. I'm saying this as someone who logged in and found nothing. LOL. If you are looking for a chat site dedicated to sexting, LewdChat is the only way to go. If you don't mind how their interface looks and website design doesn't seem to bother you, you can have a swell time on LewdChat. 
Alright, so first things first. What the fuck is a LewdChat? LewdChat is a chat site dedicated to nothing else but sexting. Although you can find a few serious conversations, most people flocking to LewdChat are down to get down and dirty virtually. LewdChat is one of the few chat sites requiring you to log in before you can participate in any action. There's not much action to see, but it is only a chat site and nothing else. LOL. Although I do commend them for having no ads, no catch, and no hidden fees. 
LewdChat's home page will redirect you to a Discord-looking website. But before you get in, you'll need to put in a nickname, your age, and the country where you're from. That's it. No need for emails and other nitty-gritty. Yep, not even your credit card details will be asked. LOL. After doing so, you'll be logged in to a chat room. Mind you; there's only one chat room in LewdChat. From there, the users will message you one by one. The users are not bots — they are real people lounging on LewdChat. Well, that's about it. Bone with each other, do whatever you want, and easily leave the conversation when tired. 
Does LewdChat get the thumbs up? 🤔
LewdChat gets tons of thumbs up. It is one of the chat sites that are super easy to use with no complications. LewdChat displays your chat mate's age, location, gender, and username, so you don't have to ask them, and there's a left button for when you don't want to talk anymore. You'll be chatting with a shit ton of faceless users, some with usernames that LewdChat gave them. But you see, there's no catch. There are no scammers, no hidden fees, no nothing. It's just filled with guys wanting to see tits and ass. So if you're a girl logging on for the first time, expect a surge of private messages. LOL. 
When it comes to the user interface, the site is fucking ugly. If you can make do with that, then there's absolutely nothing wrong with LewdChat. LOL. Their hot pink logo and the gray background will make you want to back out, but if you're on the lookout for someone who is perpetually horny, LewdChat holds tons of those kinds of girls and guys. Oh, and yes, LewdChat caters to the LGBTQIA+ community, too. However, most of their users are looking for nothing but tits, pussies, asses, and cocks. 
If you want to pass your time and nothing else, LewdChat is pretty nice. Let's hope they upgrade their interface anytime soon, though. LOL. 
| | |
| --- | --- |
| Type of website: | |
| Type of content: | Live cams |
| Main Category: | Sex Chat |