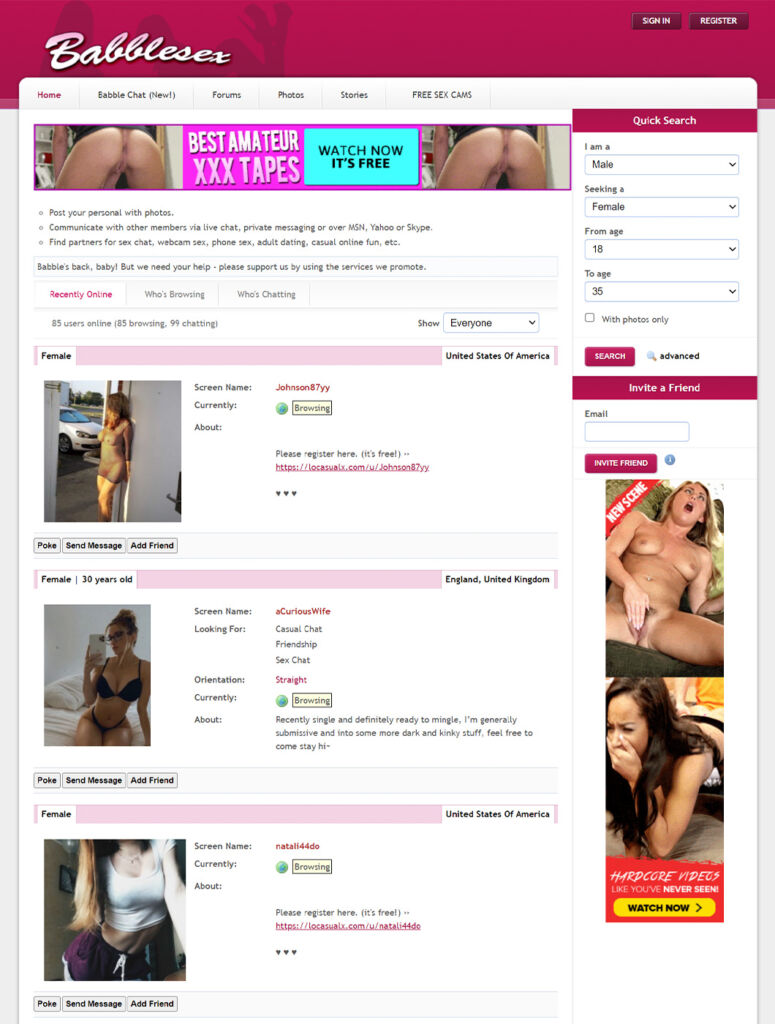 Free casual sex catalog, anyone? 😉
What's a hybrid between a chat site and a dating site? The only thing I've seen is BabbleSex. BabbleSex lives up to its name. You babble before you fuck, and that's about it. Since it's a dating site more than a chat site, it's also possible for you to find the love of your life here. However, it's a little bit unlikely since everyone who's signed up here is looking for a bunch of one-night stands and whatnot. And since BabbleSex is a dating site, the chances of you meeting the one you're boning with online go off the roof. 
BabbleSex is like a free casual sex catalog. Do you want to know why? Upon registration, you'll be presented with a menagerie of people of all genders and locations, and you get to pick one to try and be kinky with. And yes, BabbleSex operates worldwide. That means wherever you are in the world, you can best be assured that BabbleSex will be able to give you the fuck buddy you've been waiting so long for. Just input your location, and you are good to go. But let me remind you, BabbleSex caters more to casual sex than long-term loving, okay? 
This rapidly growing casual dating site is available for anyone who's over the age of 18 for free. Wait, are you reading that wrong? LOL. Nope, BabbleSex is available for free. Expect a few ads here and there, but they're usually harmless, so there's nothing to worry about. BabbleSex caters to anyone. And when I say anyone, I mean absolutely anyone in this damn world. Just make sure not to forget to input your preferences regarding sexual preferences, interests, age, body, race, sexual orientation, and gender identity. The LGBTQIA+ people are more than welcome here. Just make sure you are over 18 already. 
Babble anytime, anywhere, and with anyone. 🤤
It's pretty hard to believe, but BabbleSex is one of the few casual fucking sites that are secured. Whatever information you input in there won't get out unless you let it to. That's probably one of the reasons why BabbleSex's audience keeps increasing, aside from being a free service. More than babbling, BabbleSex also introduces one of its newer features which is the Babble Chat. Redundant, isn't it? LOL. This is where their chat site hybrid thrives. Babble Chat is for the ones who like to fuck with no strings attached, quite literally. Its services include sex chats, webcam sex, sex dating, and an online babble sex chat room. 
Premium membership will only get you so far. These are the perks that every premium member gets: access to all chat rooms, live sex shows, webcam chat, and live webcam sex. Not so much. Yeah, that's probably why there aren't a lot of members. Don't worry; even if you don't swipe that card, you'll still get all the girls and guys you've been drooling over. And yes, you can take BabbleSex up for a ride since they have apps available for Android and iOS devices. What a treat, right? 
Don't miss this chance to babble, date, and love for free on BabbleSex! Babble all you want, whether online or in real life, and get the fucking you've always been drooling for. *wink*
| | |
| --- | --- |
| Type of website: | |
| Type of content: | Live cams |
| Main Category: | Sex Chat |