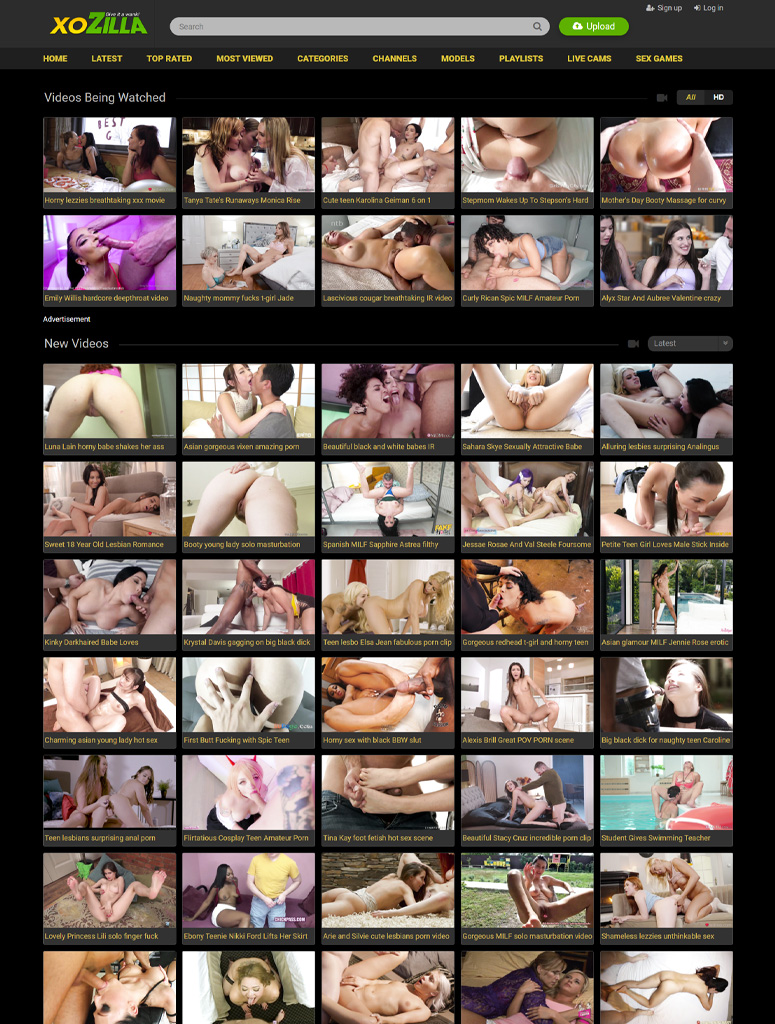 Here's the next best thing you'll ever love! 😍
XO Zilla. Does anything come to your mind when you read those words? Mine has to be kisses and hugs and a fucking Godzilla or something. That's a bizarre pair, isn't it? But you know the porn industry, everything's a bizarre pair here. LOL. But in all seriousness, have you got any clue? Okay, cutting to the chase, I've no fucking idea why this porn tube site is named that way. The only thing we should consider is whether it is great. 
XO Zilla is a very simple porn site; you'll notice that even from the first time you set foot on it. There are no complicated buttons and all that shit to see. Just a simple layout with one aim: to let you have the best wanking session of your life from now on. Would that be possible? Of course, it would be! Every fucking porn site claims to want to give you that, but XO Zilla is one of the few that delivers. 

From the get-go, I'll tell you that XO Zilla will be the next best thing on your bookmarks. Their motto, "Give it a wank" which somehow sounds like an instruction, is going to be heavily used here. From a big porn collection to everything suddenly placed on your slimy hands, XO Zilla will never let you down. Does that sound like bragging or something? Well, let's see.
There's nothing fucking subpar here.
To be honest, the first time I read about XO Zilla, I immediately thought it would be one of those stupid porn sites that would waste my time. I mean, come on, with a randomized name like that? Makers should put out the meanings or inspirations of their porn site names. LOL. But when I started unzipping my pants, that's where it all made sense. 
Contrary to popular belief, XO Zilla is nothing like those bullshit porn tube sites offering grainy porno performances with no fucking video resolution choices. You've got the best fucking deal here, but that's for another conversation. XO Zilla will never let you stroke your cock sadly to something subpar. In this day and age, who would even want that? 

Right, let's cut to the fucking chase. XO Zilla serves nothing but high-definition XXX movies. And yes, if you think that XO Zilla doesn't provide choices, they actually do. Although there are only two video resolution options, at least you have something to choose from, am I right? XO Zilla prides itself on its 720p HD and 540p choices. Even the 540p looks great enough to wank already; what more for the 720p HD?
There is quite literally a fuck ton of porno coming your way.
XO Zilla did display their stats, but I just could never be bothered to count. Not that there's not enough for everyone here, but there's just too many porno performances to count! Yep, that's a real dilemma, too. In addition to me not seeing the same thumbnail twice, I immediately found out why everything was always fucking changing when I clicked on their categories selection. 
I know the category selection needs a different conversation, which we'll get to a little later, but that's where all of XO Zilla's stats can be found. It's incredibly safe to say that you will never run out of XXX movies to shake hands with the milkman. You have hundreds of thousands of XXX movies if you need a vague count. 
Nobody knows the frequency of XO Zilla's updates which is a fucking bummer. But with the number of XXX films you've got on your lap right now, will you even look for updates? Kidding aside, judging from XO Zilla's "latest" page, where all the newest porno performances are added, they add a pretty decent amount daily.
XO Zilla gives you more than just categories here.
XO Zilla doesn't let you run out of choices. Or, it's better to say that this porn tube site will never let you run out of choices. XO Zilla has several pages you can navigate just to get to the porno performance of the day. You've got the latest, top-rated, most viewed categories, channels, and model pages to choose from if you've got a sizable time. 
The latest, top-rated, and most viewed pages provide several tags that can be clicked on and bunched right under the header. So if you fancy shaking the flagpole to a Russian teen in an anal gang bang, just click on that tag, and you'll be good to go. Of course, several tags are available on it; you'll just have to use your fucking eyes. 

On the other hand, XO Zilla's 84 categories contain a mix of all the best tags that have made their way up the ladder of categories and all the best porn vocabulary words that you know all too well. The channels include Love Home Porn, Moms Bang Teens, Lesbea, Fake Agent UK, This Girl Sucks, Fake Cop, Private Casting X, Share My BF, and more. And if you're looking for a specific pussy, just head over to the model's page and choose which will make your cock the hardest.
It's simple, it's sleek, it's the fucking best!
XO Zilla doesn't play around. They've got one of the sleekest sites ever, although it is slightly simpler than the others. Bad news first: the search bar doesn't have an advanced search option. It doesn't even give recommendations, so there's that. Although you can find everything you want to fap for without using the search bar, having one that's more functional than just a basic search bar is still nice. 
Now, on to the good news: if you have an ad blocker, it will work perfectly. No scattered ads on the site, and more importantly, there are no fucking pop-ups. That's the only thing we collectively hate, don't we? Aside from that already great news, the homepage is filled to the brim with thumbnails that play previews when you hover your mouse cursor over, and that's it. Nothing can topple over the basic bitches that serve the most pussy, right?
It has to be something on the expensive side, right? 🤔
I could understand why this question exists. Even the most basic HD selection asks for some kind of donation nowadays, so it's safe to ask. Lucky for you, XO Zilla is a free porn tube that doesn't ask for anything in return. Well, maybe, except that you'll need the best wanking sessions from this day forward. 
Go ahead and give it a wank!
No ads with an ad blocker, a great selection that excessively grows by the day, and a big fucking selection? You can even upload your sessions if you want to! That sounds like perfection already. That's XO Zilla. Go ahead and give it a wank! You've got a fuck ton to wank to right here. 
| | |
| --- | --- |
| Type of website: | |
| Type of content: | Porn Tubes |
| Main Category: | Porn Tubes |