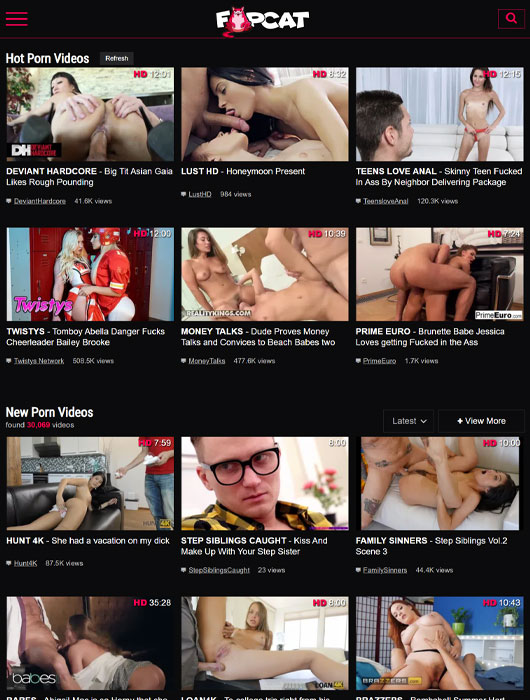 Sometimes, I think of porn as some kind of dessert. There are different kinds of desserts, and you get to try them all at your disposal. Plus, it's kind of a reward after a long day from work, after some gruesome fighting with your SO, or just whenever you feel like it, like some hungry fatso. Welcome to FapCat. If you've got a hefty appetite for unlimited buffets, then this one has got to be for you. Whatever you're looking for, I'm pretty sure FapCat has it in store for you, and probably even some more.
Let's have a walk through. Gone are the days when sites incorporate a cute animal to represent something that's not so cute, like pornos. Except if it's hentai or some Asian shit, then you get the gist. With FapCat, they just know it's gonna be a trademark even though the other sites have gone on through and switched into something so boring, like blocked letters. FapCat feels like you're entering the 2000s porn scene, only this time, it's even more diverse and with a lot of mind-blowing content, definitely.
It really is a buffet that's going to leave you drooling for more. Whatever you're looking for will be served on a silver platter, anytime, anywhere. Name any names you've got and FapCat will have it in front of you in just one click. That's how amazing it is, and we haven't even talked about the actual features yet. This porno site is probably one of those sites you'll accidentally stumble upon while on a quest for some free fucking content, and by the end of the day it'll be bookmarked and ready for your fapping sessions anytime.
FapCat is known as the wikipedia of porn. You already know wikipedia contains every single thing you want to know, never mind if the information you come across is fake or real. Much like tits, we really don't mind. As long as they bounce when ladies get fucked. Whether you've got some premium boner going on or you can go with any pussy available, FapCat makes sure you reach the heights of pleasure, whatever your requirement for fapping is. Before you go whipping that throbbing dick out, I think it's best you know that FapCat isn't so much for the ones looking for some sensual loving and softcore fucking. Although they have a few, it's only a few. FapCat is almost always filled to the brim with hardcore fucking, kinks, monster asses, golden showers, and all the wild fucking you can think of.
Are You Sure It's The Best?
Honestly, I'm not entirely sure. Maybe you're a picky eater, maybe you gobble up anything that comes your way. Either way, FapCat is a buffet made up of all pussies and dicks of various sizes, colors, and even tastes. It's the best for me, but probably not for everyone. You get the gist. I guess it floats most of our boats. Like any other porn site, you get what you came for, and it's simply filled with porn.
However, the one thing with FapCat is that it's absolutely free. What?! I know. It probably sounds too good to be true, but it's freer than any other social media out there. Yes, there are absolutely no hidden fees. You just have to bring your plate to the table to get served. Get a hold of all the Asians, Americans, Latinas, Europeans, transgender people, and so on and so forth, and that's just to mention a few. Some videos are very obviously shot by professionals, some uploaded by casting sites and auditions of ladies, and some are just simple, good old homemade goodness. There's nothing quite like it, if you ask me. I know there are like thousands of free porn tube sites, but nothing like FapCat. Although it has a few shortcomings every now and then, and maybe the ads might bother you a little bit. But what's a few sacrifices in exchange for a satisfying wanking?
FapCat's site layout is pretty simple and easily accessible, if you ask me. Whether you're on your phone, computer, iPad, or whatever, just go on FapCat.com and you're always good to go from there. All the buttons are laid out in plain eyesight. You can click on the 'latest' to find out the newest pornos (pornos of all kinds, yes) uploaded. If you're a fanboy of some porn star, just click refresh and you might even be the first one to view their most recent fucking.
If you're looking for some viral banging, the 'most viewed' section is definitely the one for you. Whether it's a celebrity leak, some good old family fucking, or just some rapidly circulating homemade sex, you're sure to find it here.
Of course, what's an absolutely free porno site without some perks? Brave of you to ask, honestly. But FapCat serves on a silver platter its categories which are filled to brim with absolutely any kind of fucking you can think of. I'm pretty sure you'll be drowning in choices much like the first time I came across this treasure chest of a site. Get your cock going with castings, double penetrations, gloryholes, public sex, and literally thousands more in just one click.
FapCat also has the models section where you can find old and new models alike, ready to perform at your disposal. Whether you like it when granny goes down or it gives you the thrills when some barely legal babe begs for some good banging, FapCat has got it all for you.
Other than that, they have the affiliated sites if you'd ever like to venture out and look for more pussies to fap to, the FapCat live sex cams which will seriously leave you drooling, porn games to waste your time on, a list of the top rated porn sites in the world, and of course, the most awaited tags section for you to be able to find the most specific fucking ideas or requests in the world. That's a little crazy if you ask me, but they've literally got every single thing. I think calling them the wikipedia of porn isn't overrated at all.
At the end of every majestic thing we've discovered at FapCat, there are still the nuisance ads that might make your boner a tad softer than it was in the beginning. But if you ask my opinion, it doesn't really bother me that much. Just click the 'x' buttons and I guarantee, they won't come back to bother your jacking off session. Plus, the ads you'll be able to see on the sidelines of the porno aren't really that bad. I got interested to click on some of it, so you might experience that as well. They're not cockblockers, so I say there's nothing so much to worry about.
Will 'Open Sesame' Work?
Sadly, open sesame will not work. You'll have to have a stable internet connection and a working gadget to access and download all of the ultra high definition fucking and photo sets that FapCat offers for free. But that's almost the same, ain't it? You get filled to the brim with all sides of the fucking spectrum and you're not even shelling out a single dime.
FapCat is even so kind to all our busy horny people out there to give out free photo sets to get you through the day. Every single content is easily accessible whether you have an account or not. But of course, making an account makes life so much easier because then, you get to bookmark and save your favorite porno to get back to later. You can even upload your own fucking if you want the world to see how you get down and dirty.
Whatever you decide to do in FapCat, whether you're looking for nude and drool-worthy photosets, free pornos to fap with, your own content to upload, or even a safe community of horny individuals to exchange ideas and comments with, you've got it all in one free porn tube site with a fat pink cat. That's really gonna get stuck in your head.
Also, do you really want to miss out on 35,000 girls getting fucked wildly for free? I think not. For a website that's kind of young compared to the tenured ones in the porn industry, you might think FapCat is one of the experts already. I'm gonna agree on that one. The kind of contents you see and the kind of activities that you can do in one free porn tube site is incredibly unbelievable
There's nothing really bad to say about it especially if you're not even going to shell out a dime. It's a great bargain even though there's nothing to bargain about. So, is it worth it? Hell fucking yes. If you've got the time to spend and a throbbing boner to fap with, FapCat's a good site to go. Who's to stop you? Definitely not me, and definitely not the ladies waiting for your cum to ooze over at FapCat. You'll definitely reach the heights of pleasure and over with this one.
| | |
| --- | --- |
| Type of website: | |
| Type of content: | Porn Tubes |
| Main Category: | Porn Tubes |
Absolutely all the free porn you can handle
Fast load times
Created by yours truly
None! It's a perfect site.