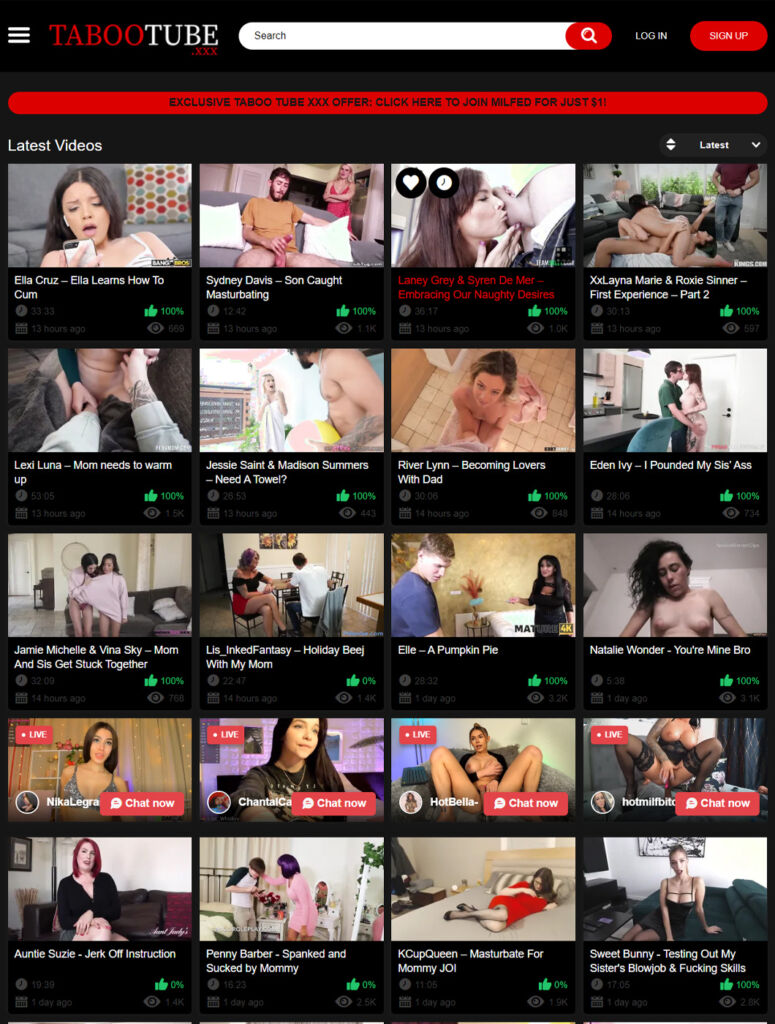 Who doesn't love family bondings? I think it's pretty amazing when families are quite close knit together because that doesn't happen very often nowadays. You know, with technology and whatnot. Good thing Taboo Tube is here to give us family bonding like no other. There's nothing as intimate as this, and if there is, it's probably already in TabooTube.xxx.
Taboo Tube, formerly known as Inzest Tube, is made up of all your incest fantasies, and more! I mean, they are pretty attainable, so I guess it's more than just fantasies, right? The guys at Taboo Tube promise to bring you only the best of the best when it comes to incest fucking, and no, it doesn't only mean fucking your step mom until she rolls her eyes with pleasure. It's more than that!
Family Tour
Taboo Tube isn't just made of sick fuckos banging their moms and sucking their dads. Of course, there's more to it than that! They absolutely didn't want to waste our precious time when it comes to fucking content. Every side of the fucking spectrum is covered. Of course we have the usual, hot MILF teaches son how to fap or fuck, dad makes his bitchy teen his personal sex toy, and the most awaited family orgy. But there's more than that for your horny minds that are beyond repair.
At first glance, the porn site is pretty straight to the point. I turned off my ad blocker, and voila! The ads aren't as annoying as I thought they would be, and on the main page, there are only four ads at the footer, which I think is pretty neat. No spam sneaking around, and definitely nothing more serious than that. Taboo Tube doesn't host their own content. It's a bunch of porno performances coming from some of the best porn sites in the world, so naturally, they'd be promoting the sites on their page to persuade you to register at a price. That's nothing to worry about as long as you don't click it, and if you do, well that's just double the fun then.
The interface is pretty simple, with just a combination of red, black, and white for the letters. It's not an eyesore, which definitely adds up to their awesome points. You get a pretty big search bar to get your specific incest fix, but more than that, Taboo Tube made sure there's one to go around for everybody. Taboo Tube has the normal mom son, dad daughter, brother sister, and the occasional throwing in of the grandparents, some uncles and aunts for that hardcore family orgy bonding. But like I said, Taboo Tube included everyone, as long as they have sick minds drooling at the thought of incest. Not like other incest porn sites, Taboo Tube included gay taboos, trans taboos, and full movies about incest bonding. It's kind of hard to believe that all of this is available at absolutely no price.
Surprisingly, a number of full movies will take you back to the 80s and 90s. Talk about riding on a time machine. We get a glimpse of some pretty old fashioned incest fucking. But you know, as long as it floats your boat, then why not? Taboo Tube needs to improve on that one. I guess nothing really is perfect. But if this is for free, then I've got nothing to yap about.
Is It a Yes or No?
Nothing's bad when it comes to family bonding. Although Taboo Tube needs a little fixing here and there, there's no reason not to like them especially if they serve hot and fresh incest fucking like no other free porn site has done. Some of the videos are in HD, some are not, but again, it's for free and they even hold quite a decent amount of content, new and old, covering all the categories in the incest spectrum. It's a yes for me. Who's to stop you pursuing your incest fantasies? Welcome to your pot of gold at the end of the taboo rainbow.
| | |
| --- | --- |
| Type of website: | |
| Type of content: | Porn Videos |
| Main Category: | Porn Tubes |
Huge selection of videos
Fast Loading Times