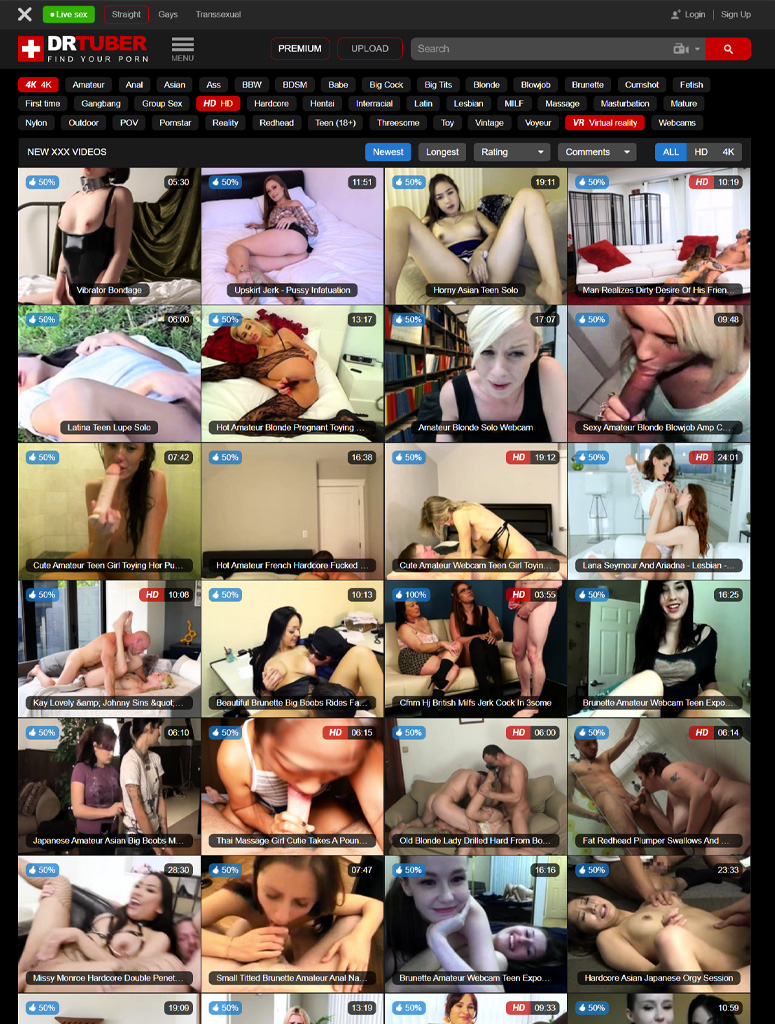 Porn site names can get so fucking creative. Will we talk you into getting an appointment with a porn doctor, or is this a porn site? Right? Dr. Tuber sounds like he knows what he will do with your throbbing cock. And with the thousands of porno performances in his roster, you bet there's more than one XXX movie he will prescribe you. 
Dr. Tuber isn't a porn doctor—there's no such thing if you're still wondering. Much like a hospital, this free (or paid?) porn tube has a little of everything. From amateur to professional and everything in between, Dr. Tuber will set it up for you. All you have to do is to unzip your pants and paint the town red. 
Dr. Tuber has been around since 2009. Having about 70 million viewers per month, you're sure this doctor isn't just some kind of quack. If you're having problems with your dingdong, whether you need it to stand, flop, cum, or not, Dr. Tuber has just about everything for you. You'll feel more than just healed at the end of your fapping session. 
Well, it's not so bad, but it's not so good either. 
Do you know those doctors who prescribe generic medicines instead of branded ones? Well, Dr. Tuber is somehow just like that. You've got a fuck ton of videos to go through and heal whatever needs healing with your horny ass, but I'm not so sure if your eyes will be satiated. Dr. Tuber is a free porn tube, after all. Or is it? We'll find out more about that later. 
In the meantime, let's discuss how Dr. Tuber doesn't provide choices other than HD and SD. All you will ever have is 720p HD, and then you'll flop to 320p. But if you ask me, there's not much of a difference. If you choose 320p, you'll just have less buffer time. Yes, there's a buffer time, but maybe because I've been looking at too much simultaneously. 
On the brighter side, you can watch nearly everything the porn industry can offer. Just sacrifice a little bit on the video quality, and you'll be good to go. One can never have everything done perfectly, after all. So, is it a win-win situation? I guess so. 
Thousands of free content are prescribed just for you! 
The basis here is that Dr. Tuber has been around since early 2009. That means if they did update their porno stash diligently, they would have accumulated thousands of thousands of porno performances right now. Dr. Tuber did not indicate any kind of number all over their porn site, except the time stamps on the XXX films. 
Still, I'm going to say even if you sit down all day and night, you won't be able to fap through everything Dr. Tuber offers. Besides, they do update their porn collection; no one knows when and how many videos they add, but I'm guessing it's a fucking lot. 
You can go ahead and self-diagnose yourself with whoever porn star strikes your fancy, or just go wild and click the first thing that makes your dick stand on the homepage. You'll end up with a good selection anyway. Nothing can go wrong with Dr. Tuber's porn collection. You won't even encounter a bad video—that's for fucking sure. 
Looking for categories? Say no more! 
Dr. Tuber has one of the nicest category selections ever. You don't even have to go to another webpage just to see what categories they have in their roster. Just simply hover over the categories button on the options menu right on the header, and Dr. Tuber will show you everything. 
The categories are divided into three: straight, gay, and transsexual. Much like their porn collection, Dr. Tuber has a wide selection of categories you can choose from. They have all the best words like ass lick, 4K, casting, close up, group sex, porn star, uniform, upskirt, shower, fingering, and more. 
As for the channels, you've got to click on them and see all the channels from which Dr. Tuber gets their porn, like All Japanese Pass, The Habib Show, MOFOs, JAV HD, Cam 4 Free, Brazzers, Reality Kings, and more. The porn star selection is the same. The only difference is that Dr. Tuber ranks their top 30 porn stars so that you can choose easily. Don't worry; all your favorite names are here. 
Every page is filled to the brim with everything that works and everything that doesn't. 🤷 
Have you ever seen a doctor's clinic that has everything for everyone? It looks a little bit tacky and messy, right? Well, that's just what Dr. Tuber's porn site looks like. You've got a little bit of everything that works and doesn't. And what does that mean? 
Dr. Tuber has several buttons that redirect you to the same site. Like the categories, you can hover over it or simply click on the straight, gay, and transsexual buttons right above the logo. There are also a few categories right under the options menu, which might come off as a little confusing to the user. 
Dr. Tuber's homepage is filled with video thumbnails, as any other porn site does, but this time, there aren't any spaces in between, which just looks like an eyesore instead of something that will reel you in. At least the search bar segregates the videos from the photos. Oh well. You can never really have it all. Or maybe the site designers can just do a proper job or something. 
There's a trap door, and you need to keep an eye out for it. 
Dr. Tuber works for free. Even if you don't have an account, you can click on a thumbnail, and it'll work fine. However, if you sign up for an account, Dr. Tuber will prompt you to add your credit card information just to check for age. I don't know what it has to do with anything on this free porn tube, but it's your choice. LOL. If it isn't broken, don't fix it. 
Dr. Tuber will prescribe what you need to get off, like your meds. 
Free professional and amateur content, a nice mobile interface, and a collection of porn and categories will surely drop your jaw to the fucking ground. What more can you ask for? Dr. Tuber cures just about anything related to your horniness. You don't have to pay a doctor's fee to get everything sorted! 
| | |
| --- | --- |
| Type of website: | |
| Type of content: | Porn Tubes |
| Main Category: | Porn Tubes |