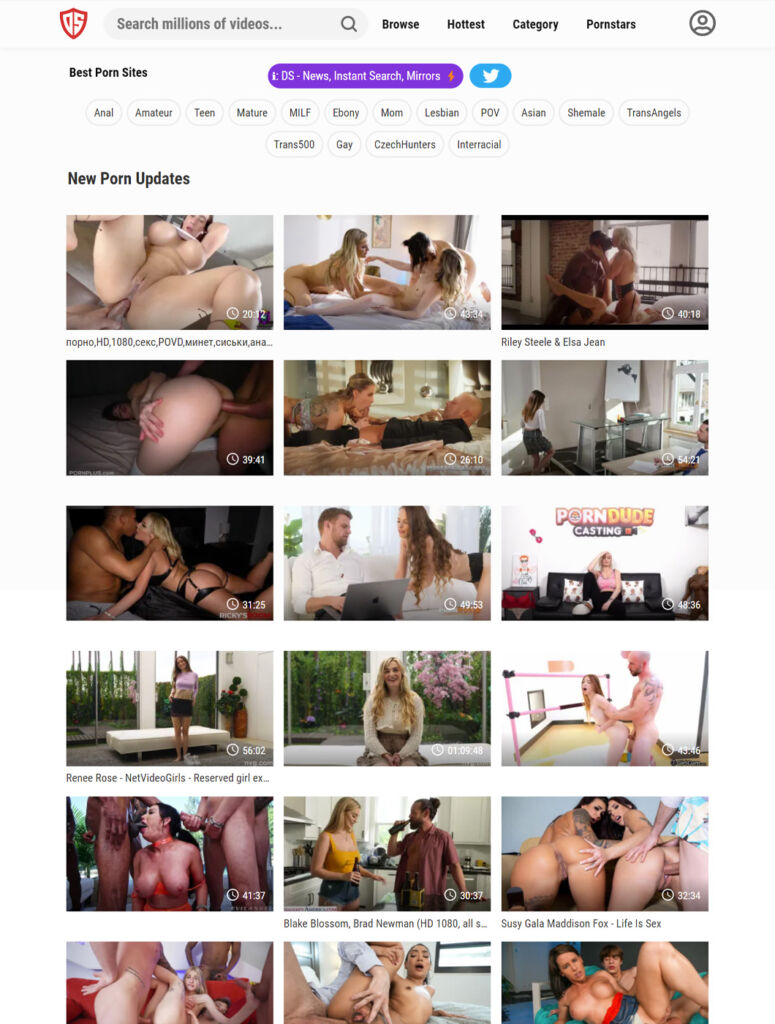 You're probably thinking that Daft Sex is related to that funky band that plays the music you've all been dancing to, huh? Well, I can't blame you. I thought Daft Sex was related to them, too. LOL. Turns out they are worlds different, and it's a pretty good thing that I perused this porn site. 
If it isn't obvious to you yet, Daft Sex is a porn site offering all kinds of porn. Yep, everything under the sun. Your usual porn tube provides each of your carnal cravings without having to shell out a single dime. Yes, Daft Sex comes for free, completely. 
Unlike most competitors, Daft Sex doesn't have a catchy name, phrase, or flashy user interface. It's just a porn tube, nothing more and nothing less. However, considering that Daft Sex has been around for years now, they are probably doing something right. I've had the privilege to unzip my pants and caress my throbbing junior to Daft Sex so I could tell you what it's like to hang in here. Let's start, shall we? 
All the best names and best scenes are yours for the taking! 
Candy Alexa, Naomi Swann, Holly Morgan, Amalia Davis, Mandy Muse — do the names sound all too familiar? These precious porn stars also hang out on the premises of Daft Punk, and they give equally drool-worthy fucking performances, too. However, unlike the porn sites where you've seen these names originally get down and dirty, you won't get full HD or even 4K Ultra HD in Daft Sex. 
Daft Sex doesn't serve anything subpar. Surprisingly, all of their XXX movies are professionally made, and that fact is made obvious by the sets and locations, the costumes, and the way two straight people fuck in front of the camera. You get the gist. Browsing on Daft Sex is like going around a premium porn site, looking at all the glitz and glamor it provides. 
Now, here's a slightly sad fact. Are you ready? Well, you always are. Daft Sex only offers up to 720p HD. All the options below 720p HD are widely available, but all the options you'd like to see, such as Full HD and up, are nowhere to be found. Well, I guess it's only fair. It's not every day that we're handed a premium porn site for free, right? 
How many are there exactly? 🤔 
There are a fuck ton of XXX movies on Daft Sex; I'll tell you that. However, they didn't display the number of their stash, so we have no idea how many are in store for you. Because they've been sticking around for years, I'm assuming you'll have more to fap for now. 
According to Daft Sex's search bar, they contain millions of porno performances. I guess that's true. Why would they display something false, anyway? While we're not sure how many explicit films Daft Sex holds, and there's no way we will count them individually, the homepage's "show more" button shows us just how many we should look out for. That button seems like an endless loop of almost unlimited scrolling. That's a good indication, right? 
However, if you're looking for breathers like a bunch of photos, you'll find nothing at Daft Sex. They serve nothing but straight-up porn movies. Those are the only things they update, too. If you want to look at stills, you can look at the thumbnails on the homepage, which are screenshots from the XXX movies you're bound to fap to. 
It's not much, but I guess it's enough. 
Years of hard work and millions of XXX movies, all organized into just 32 categories. It's not much, I know, but I guess that's enough to get you by. All the glamor shots and motion pictures are neatly tucked in an eye-catching category page filled with all the scrumptious scene screenshots Daft Sex could get their hands on. 
One letdown is that not all categories are filled with porno performances. Unlike what Daft Sex screams into the world, they don't have as much gay porn as they announce. I clicked on the gay button on their categories page and found nothing. Nothing, as in zero gay porno performances. However, if you go around the homepage, you'll find a few gay and trans scenes that don't even amount to a handful. 
I guess this is where Daft Sex should put a little effort into it. Some of us first look for organized categories before getting some lube and paper towels to initiate the solo action. We don't want to roam the homepage until we find something worth fapping. 
No shit and direct to the point — that's how DS likes to play. 💯 
The only color I've seen on Daft Sex's homepage aside from the porn thumbnails is their logo, which looks like the Warner Brothers', except instead of WB, you'll see DS on the shield. And the shield is white and orange, not whatever the Warner Brothers' logo's colors are. Aside from that, everything else is all white. Well, except for the font color, which is black, you know that already. 
Daft Sex doesn't play around, I guess. You'll find thumbnails after thumbnails with no previews, and all the other things you'll be looking for are placed either on the header or under the header. Daft Sex's porn site is as simple as it gets. There aren't any fancy functions such as having favorites or an advanced search thingamajig. If simplicity is your thing, you may get along with Daft Sex. 
How much will the damage be? 
Hmm, let's see. Glamor porno performances, a bunch of categories, some big-name porn stars, seemingly high-end XXX movies — how much do you think this will cost? If you haven't been reading properly, I mentioned earlier that Daft Sex offers everything for free. You can freely get your hands on millions of professionally-shot XXX films available up to 720p. That's about it. No damage was done, as simple as that. 
Daft Sex: Keeping you and your cock up all night! 
Looking for a premium selection without the premium price tag? Daft Sex is one of the porn sites that could give you that! Fap your cock to nothing but only the best, available in 720p HD and less. This huge and varied porno collection with regular updates will keep you up all night rubbing and tugging. Make sure you stock up on all the lube and paper towels you'll use because you'll be needing a fuck ton, that's for sure!
| | |
| --- | --- |
| Type of website: | |
| Type of content: | Porn Tubes |
| Main Category: | Porn Tubes |