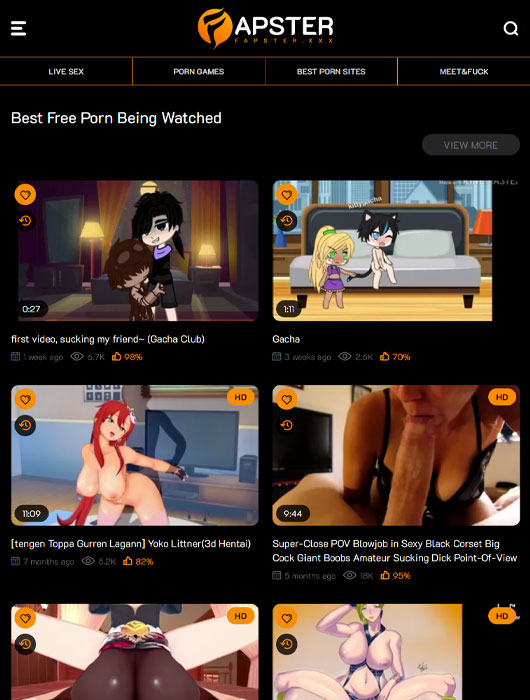 Remember Friendster and Napster? Those were the good old days until the newer, "more hip" social media came in, and then we lost the 'ster' parts. Except for Fapster. This one's here to stay for good, I guess. Fapster is as simple as it gets. If you like to fap, this one's the right door to knock on. It's the holy grail of porn tube and it hasn't even been around for so long. Well, safe to say it's not as old as the MILFs we've been dreaming about. It's that one club in high school that's got to be your favorite to stay in even after the hours of classes have long gone. Every single person with only one goal gathers here, and I don't even mean it in a bad way. That just means Fapster gets the job done whether you take seconds, minutes, or hours to get that cum out and about.
Let's lay out all the cards here. We don't really that much 'ster' anymore, and frankly speaking, when you see that connected to an actual word, people kind of lose interest. I mean, how old can that site be? Fapster has only been around since 2005. That's kind of impressive to think about since most of the sites offering pornos reach a halt after a year or three. It has been 19 years of nonstop porn already, and Fapster definitely still has a long way to go.
Right off the bat, you'll be greeted with a kind of boring front page of the website. It's like someone got stuck in the 2012 version of Tumblr blogs. Nevertheless, it's pretty organized and neat-looking compared to other porn tubes that are available out there. The colors don't really hurt my eyes. It just gives the "it's time to fap" vibe, if you know what I mean. Fapter's logo looks as if Guy Fieri took over and just revamped the whole thing. Nonetheless, it'll still leave a mark in your mind. Since Fapster is already 19 years old, you might think that the content is as boring as the early 2000s. Well, I'm not saying you're wrong, but I'm not gonna say you're right either. The beauty of something having longevity is the variety that comes with it. If you're in for some ancient fucking, why the hell not, am I right? Nobody judges you at Fapster, as long as it keeps your boner throbbing. Also, you might be surprised how many pornos you'll come across here. But that's for another conversation.
Before we move on, let me just tell you that this 19-year-old Fapster gathers around 20,000 visitors a day. Ain't that something? That's more than a handful of perverts! But more than perverts, it just goes to show how many dicks and pussies get attracted to this porno tube site that offers the most updated porn performances out there, and that's really just the tip of the iceberg.
Hot and Spicy and Free!
We already know Fapster is a pervert's haven, but there's definitely more than that. This is one of those free tube sites that will bombard you with ads, but not just yet. It's a peaceful start of the journey upon entering. It's not minimalistic, but it doesn't also maximize all the space that's given. Fapster will recommend all sorts of porn to you until you find that one shining thumbnail that your boner's been longing for all day long, or maybe during midday. Who knows?
About the thumbnails, I like the fact that it's not pretentious. Some of the thumbnails I've come across are quite misleading. I was looking forward to some sloppy blowjob but the dick didn't even touch the lips. Felt the disappointment? Yep. That's why I'm glad that whether there's a pussy close up displayed on a thumbnail, some Japanese censored fingering, or some interracial threesome, you know it'll be exactly as what it said it would be. Absolutely no disappointments. But then again, why would we be disappointed if the site's absolutely fucking free? Oh well.
Then again, because it's a free porn tube site, we all have to get ready for the army of ads ready to attack and soften that boner. I know, I know! Just arm your browser with a trusty adblocker and you're probably good to go. Ads are one of the weaknesses of free porn tube sites, and we can't really complain that much since we are served with premium-like pornos at zero price at all. To be honest though, some of the ads aren't really that big of a bother to my fapping sessions. I mean, why would I complain if I'm seeing bouncing boobs and legs spread wide like the wings of an eagle? To each, their own, that's what she said.
There's a lot (and I mean A LOT) of homemade goodness going around here, but maybe that's just Fapster choosing a few videos for my liking. If you scroll a little bit, you'll find that the selection and recommendations are actually so diverse, you'll be looking at homemade fucking to bondage, to hentai, to hardcore threesomes, and so much more. There's really no repetition here. But more than that, I absolutely like the fact that they have a 'latest' tab to show you where the perverts have been gathering. Whether it's a viral celebrity fucking clip, a college orgy, or some good old shemale fucking, Fapster makes sure you're the first one to know.
Like most free porn tube sites, Fapsters has a 'models' tab for you to choose your favorite porn star. Whether he or she or whatever you wanna call it is as old as granny or as young as a barely legal hormone-raging teen, they've got everything you've been craving for over here. Along with that, we have the 'most viewed' section so you can see that people are still raging about that Kim K and Ray J leaked sex tape, the categories section, some live sex cams, and of course, the affiliated porn sites. But just a little warning about the categories section, it's a bit bland and lacking for my liking, so you're better off typing what you want to see very specifically, whether it's a kink or a specific setting. Fapster already has an extensive collection, but not as extensive compared to other free porn tube sites. Some videos are even lost in categories that are not related to their fucking. Nevertheless, it's still porn, it'll still make jizz blast, and you'll still have your pants right down to your ankles mindlessly (or mindfully) looking for the right pussy to fap to.
More than that, you can actually save your time browsing by toggling that button right next to the Fapster logo. It'll show you the top categories being searched and the top site choices of most of the 20,000 visitors of this pervert island. You'll see just the usual "big tits," "amateur," "blowjob," and the like. It's a bit vague if you ask me, but it answers the question directly and gets the job done right away.
A Decade and Nine
Fapster might be a tad bit older than the classic free tube sites we're used to watching on, but don't underestimate them because they actually update their porn stash pretty often. Fapster updates daily, sometimes only a few hours in between. Some of the videos might be just clips and samples of full-length ones which are available in other affiliated tube sites. It fits the bill, whether you're in for a quick wanking or a jerking off marathon, you'll be able to find your fill over here.
One of the few downsides of free porn tube sites are basic video players and non-high definition content. I mean, it's 2022, why aren't you giving us HD content yet? Can't really complain that much since it's free and probably user-friendly. But you know, who doesn't want to watch that dripping pussy in ultra HD?
The footer will definitely hold your hopes up high, especially with the downloading of pornos. I found that we really can't download every single one in Fapster, which is a little bit contradicting what the site mentioned about itself. Nonetheless, it's a free porn site. We can go back to what we were watching earlier. But given the competition, you'd think they'd crank it up a bit, right?
Like what I've been repeatedly saying, we can't really complain that much given that it's free and doesn't require you to make an account to enjoy all that horny goodness. Fapster contains more than 140,000 pornos and let me just say again that that is just the tip of the iceberg. There's going to be more added, and the site probably will improve anytime now. No deal breakers and not a dime to be spent in sight. All you have to do is find the time to fap, and you're good to go. By far, Fapster is still going to be one the best free porn tube sites offering a diverse fucking content with an easy interface to tackle.
| | |
| --- | --- |
| Type of website: | |
| Type of content: | Porn Tubes |
| Main Category: | Porn Tubes |
A MASSIVE selection of free porn
Incredibly fast load times
Simple and straightforward interface
The popunders are annoying