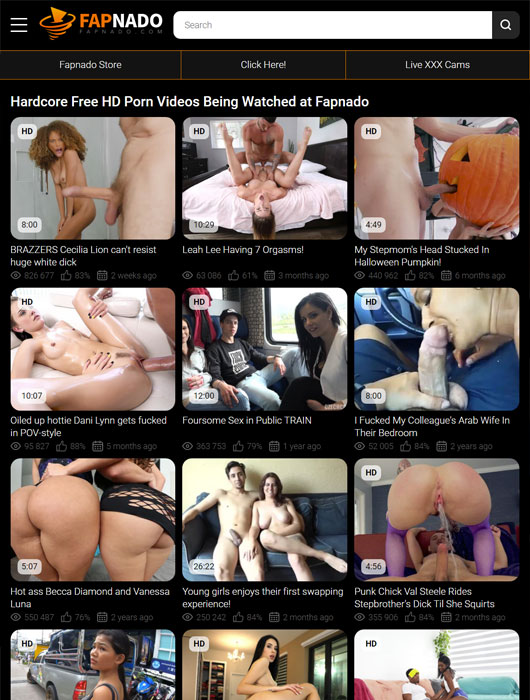 Everyone loves a good harcore fucking, and Fapnado is going to serve you just that. Welcome to the hardcore fucking, bondage, creampie, and incest paradise. But there's more to it than just that. Fapnado is like a toned down version of Pornhub, with an explicit twist to Jamba Juice's logo. Really, you're like looking at a nacho being dipped in a twirl of cheese sauce. That's what Fapnado looks like. Upon opening, you'll immediately see a menagerie of pussies filled with cum. If that doesn't set the mood, then I don't know what will. Fapnado is more than just a fapper's paradise, that's for sure.
The free porn tube site has a somewhat minimalist approach to their overall interface, which I like. It's pretty easy to navigate especially if you've been dying to stroke that throbbing dick for a while now. I know it's pretty infuriating to spend that precious time just scrolling endlessly instead of fapping away. I think it's safe to say that Fapnado will basically meet all your carnal cravings and give you even more than what you've been looking for. Not gonna lie though, Fapnado is just like one of those free porn tube sites that you'll likely come across while searching through Google about where to watch free porn. But of course they have their edge, and we're here to find out.
Fapnado provides all the drool-worthy pornos you'll ever come across. They have affiliated websites too like Brazzers HD. Surprisingly, unlike a lot of the free porn tube sites out there, Fapnado actually serves their videos on a silver platter. And by that, I mean some of the porn performances are uploaded in full-length and in high definition as well. That's definitely something to boast about this free porn site. There are thousands of pornos to choose from, and they come from all around the world as well. Get your fill of American, European, Latina, and Asian faces getting fucked and stuffed with enormous cocks. There are a lot of role playing as well, so rest assured you'll never run out of incest fucking, student-teacher set ups, college orgies, glory holes, and car sex. Your choice of content to fap on to can be as long as 30 minutes or as short as 3 to 5 minutes. Really, it's your call. Whether you're looking for a short tease or something that would leave you mind blown, this is definitely the right place for you.
Sugar and Spice and Everything Nice
Fapnado is pretty organized when it comes to their tabs, buttons, or whatever you want to call it. There are lots of choices to choose from, and it's actually nice that some of them are in pull down tabs instead of having a crowded homepage.
First off, of course they'll show you the top sites, top categories, and top models for easy access if you're in a hurry. Fapnado also has the usual videos tab, but under that you'll be able to find the latest videos, the most viewed ones, and the top rated. Next, we have the photos and categories which are just sitting next to each other. They don't have a pull-down selection and it's really just a mixture of content, but you'll essentially get to where you want to go, nevertheless. The sites section contains all the affiliated porn tube sites, whether they are paid or free, which will obviously redirect you to another porno paradise. There's also a list of models for you to choose from if you've got some time to spare.
Surprisingly, Fapnado has live sex cams, a meet and fuck section which I'm a newbie for considering this is a free porn tube site, and a premium section. Yep, that means if you want more, then you'll have to pay for it.
Dimes and Dollar Bills
Fapnado is a free porn tube site, but you can also pay if you want to get more bang for your buck. Upon opening the website, you can actually already access everything that's for free, and even play up to 30 minutes of great fucking glory. But, if you ever opt to make an account and sign up, you'll be entitled to less ads, an ability to create your own playlist of pornos, and you can even download your favorite drool-worthy videos. I say that's already a good deal. But for those gentlemen wanting more for their highbrow cocks, here's what's in store:
365 days full access streaming + downloads for only $95.40 
30 days full access, streaming only for only $19.95; and 
3-day trial limited streaming only* for only $1
Now that everything's laid out nice and neatly, you can begin unzipping those pants. Fapnado is a fapper's paradise whether you'd like to enter for free or with a cost. Your dick, your call.
| | |
| --- | --- |
| Type of website: | |
| Type of content: | Porn Tubes |
| Main Category: | Porn Tubes |
Custom Created Content - These aren't the same videos you see on other tubes
Slick interface with fast loading times
Annoying ads
Could use more content