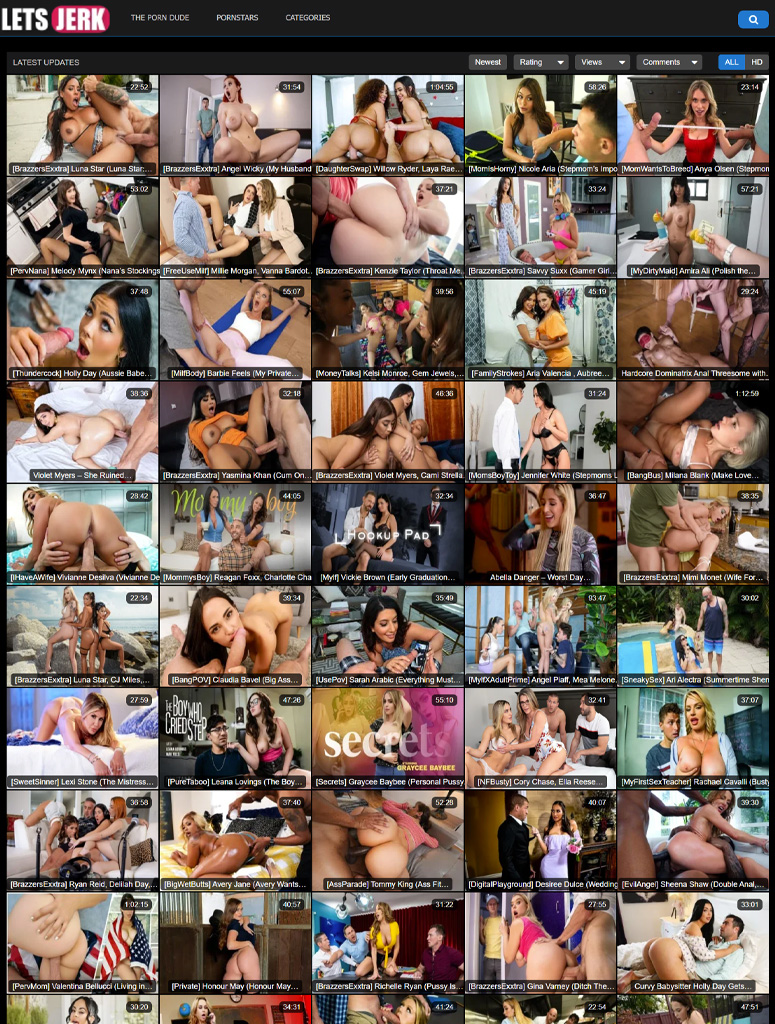 Is this something that I need to follow through on, or what? Let's Jerk might just have the best porn site name ever. Whether you're going at it with your fellow chaps or you're just going to stroke the cock alone, Let's Jerk has the selection you've been wanting to drool over for quite some time now. 
Let's Jerk is a free porn tube providing everything you want to jerk. Isn't it obvious enough? I think this isn't a request or anything; it's a fucking command! Of course, you deserve to jerk your dick to everything premium. That means world-famous porn stars get dirty in high-production-value porno performances. Couldn't find that anywhere aside from premium porn sites? Well, now you've got Let's Jerk! 
It's another free porn tube lining up in your selection, claiming to serve Full HD scenes that will leave you more than satisfied. Are you going to fall for it? Well, that's why you're reading this review! Let's Jerk command you to jerk off to some great shit, and that's just the tip of their slippery wet iceberg. 
Full HD—and they've got the real deal! 💯
Finally, here's a fucking porn site that will shove 1080p Full HD right down your fucking throat! I'm saying this because Let's Jerk doesn't provide choices. Are you comfortable enough with 720p or anything lower than that? Well, bitch, you won't have that kind of trashy video quality here. 
Okay, maybe 720p isn't so trashy. But the point is that Let's Jerk only provides many options in their video quality toggle. It doesn't include all the resolutions you've been wishing for. Isn't that great? Now all you have to do is click on a video, wait for it to play, and get to the best part—jerking. 
You can't do anything about it. At least now you don't have to worry whether the video you clicked on will have unfortunate quality. On the other hand, some Let's Jerk porno performances come in a not-so-nice resolution. We can't do anything about that as well. You've just got to take it or leave it. 
A few hundred thousand just for you
Am I exaggerating about this? Not! I'm not one to count, but I saw that the numbers were only applied to category selections. Some categories have two digits only, and some have 5 fucking digits. That said, you'll get a few hundred thousand here at best. That's more than enough to last you at least a fucking lifetime. 
The best part? You'll be jerking off mostly to the newest premium XXX movies ever. Let's Jerk still holds some old porno performances, but since they focus on the more recent collection, you'll have the time of your life jumping from one new porno to another, all in 1080p full HD by default! 
Let's Jerk's homepage holds more than enough for you to get through the day. But if you want to look for some more, you can always go to the categories and look for the specific thing that will keep your cock up for hours on end. Let's Jerk is a serial jerker's paradise, so that you can keep your hopes up high here.
They probably need to fix their categories, but it works well. 
Let's Jerk's categories page gives you a lot of choices. They are still editing the page and trying to add some thumbnails to make their selection more drool-worthy. When I went there, there were a bunch of black and default thumbnails that didn't look like they would do the job for me at all. 
Nonetheless, you can still click on the words, redirecting you to your version of paradise. Big dick, bondage, blowjob, 1080p, amateur, anal, creampie, deep throat, ebony, fetish, group sex, fingering, homemade, interracial, masturbation, public, sex party—these are just some of the categories that Let's Jerk has prepared for you. 
Don't forget about Let's Jerk's porn star selection. The porn star page is as tasteless as the categories page, with everything still looking like it's under construction. Still, all the best names are lined up for you, such as Kyra Hot, Abella Danger, Aaliyah Ca Pelle, Abby Cross, Adriana Chechik, Aidra Fox, Zoe Parker, and more. You have over 205 pages filled with porn stars in Let's Jerk. 
Let's Jerk is a basic ass site with some nice features to get you going. 
I'm guessing that Let's Jerk loves to get straight to the fucking point. They don't have that many features other than the ones you'll see on the video player. The options menu beside the header logo doesn't do much. It just contains porn stars and categories, a redirection to their site review, and the search icon that could have easily been made into a search bar instead. 
The homepage is filled with thumbnails without spaces in between. It looks a bit cramped, but it looks more like a porn adventure you can embark on than something that's an eyesore. Nothing much happens if you scroll down, and some pages, as mentioned before, look like they are still under construction. 
However, when it comes to video players, some filters will allow you to adjust the video's brightness, contrast, and all that, as well as zoom and speed options, to adjust how close you want to see a pussy get fucked and how fast you'd like to see it squirt. That's some next-level shit there for a free porn tube, huh? 
Is there anything you need to pay for? 🤔 
With all of the abovementioned things, you'd think Let's Jerk might just hit you with a bill or something, or maybe even a subscription prompt before you could watch all of the greatest porn you'll ever see. Let's Jerk will never do you dirty like that. This is a free porn tube through and through, and you won't have any troubles while shaking hands with the milkman. If you want to subscribe, you can go to the source of these XXX movies and swipe your card from there. 
Let's Jerk, literally. 
If you want to make your schlong happy with all of the XXX films coming from the best porn tubes, Let's Jerk is the only way. Apart from tons of free porn tubes that are probably already sitting on your bookmarks, Let's Jerk is the only one that will allow you to look into the porno performance as close as possible and as fast as it is permissible. It's one of the best. Whether Let's Jerk is a command or not, let's just fucking jerk to all of the best scenes you'll ever fucking see.
| | |
| --- | --- |
| Type of website: | |
| Type of content: | Porn Tubes |
| Main Category: | Porn Tubes |