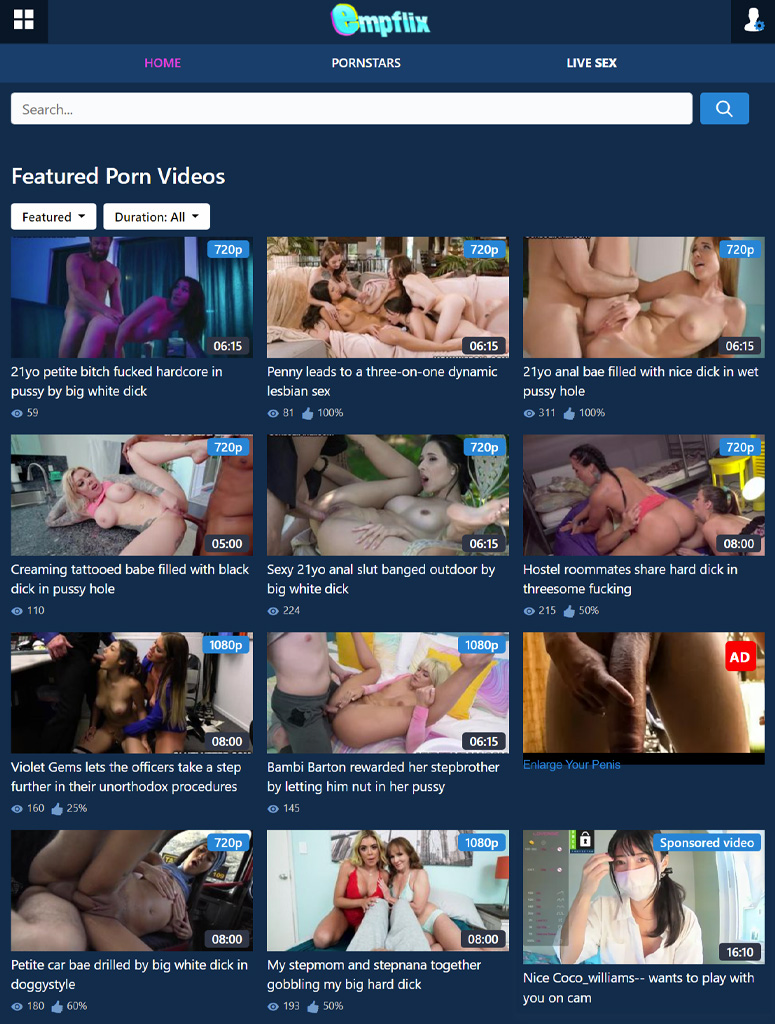 Tits and ass and everything in between. 🤤 
Empflix is one of those porn tube sites that serve everything you like. Since it has that famed "flix" in its name, you can well expect that you'll be fucking glued to your seat streaming some great porno performances until your cock runs out of fucking cum. Is that a good thing? Well, you better stock up on your lube and tissue paper supply because you'll be fucking needing that. 
Empflix is the kind of porn tube site that doesn't get the 5 stars, you know what I mean? In terms of all the technicalities and everything you'll ever be looking for, Empflix does get the crown. You'll know along the way why it will never get the top spot on your bookmarks list. It's not bad, but that fact won't make this porn tube the greatest, either. 
If you're ready to have all the tits and ass your way, read along and discover why Empflix is one great porn streaming site you'll never want to miss. Don't worry; the Paid Porn Guide doesn't recommend anything that's shitty. Rest assured, you'll get your hands on some great porno performances here on Empflix. Let's dive in!
Subpar? What's that? Never heard of that here.
Empflix is a free porn tube. You know how most free porn tubes go; they disguise themselves as one of the best, heck, even one of the greatest, and then proceed to serve some of the worst-looking porno performances you've ever seen. Okay, wait, let me correct myself. There's no such thing as a worst-looking porno performance. Everything's suitable for every cock out there. But I guess you get the gist. 
Empflix, on the other hand, has never heard of the word "subpar." That's impossible, you might say. Well, the makers of Empflix probably have heard about that word, but instead of settling with it, they chose to go the other way. Lucky for you, bastards, you're on the receiving end of that blessing. 

To cut a long fucking story short, Empflix serves everything from 1080p HD, 720p HD, 480p SD, 360p, and 240p. You've got a fuck ton of choices here. And to be fucking honest, even the lowest resolution can get do the fucking job if you let it. That's how great Empflix is. But really, they're just taking into consideration your internet speed. LOL. And to put the cherry on top, each thumbnail on Empflix has a label referring to what the highest video resolution the porno is available in. It's like magic, isn't it?
Empflix called and asked if you could handle millions. 😲
Empflix isn't fucking around. As funny as it sounds, they take their free porn tube status seriously. At Empflix, you don't need to ask just how many porno performances they have in store for you. They will be the ones to ask you if you can handle them. You get the gist. You won't get an email from Empflix or something. But can you handle millions?
Empflix's amateur selection alone already has 904,872 XXX movies. That's coming from only one category. Can you fucking imagine that? Oh, right, yes, Empflix did display their stats beside each category, so you'll be able to see how many porno performances are coming your way. Isn't that truly lovely? Now you don't have to guess whether you already have a lot or should move on to the next porn site. 
It seems that Empflix adds to its porn stash daily. Numerous times daily, at that. Because how else would they reach this number if they don't do that? But anyway, I think you'll need this many porno performances because there aren't many full-length scenes in Empflix. Yes, you're reading that right. Most of the porn scenes available on Empflix are only made of the climaxes. That's a great thing, but sometimes, we all need to see how the action came to be.
Categories? Oh, come on, just check out this bunch!
Empflix's categories can already be seen on the left-hand side of the homepage. You can freely select from there if you're too lazy to click the categories button right below the search bar. It's pretty lengthy if you ask me. As you scroll down, you'll run out of thumbnails, but you still have the categories on the left side beside a blank page. 
Like your good old porn site, Empflix has all of the categories you've likely seen before. It's not mixed up with porn star names or premium porn sites, which I would prefer, but I'll take anything free. LOL. You've got amateur, BBW, cartoon, celebrity, double penetration, ebony, extreme porn, facial cum shots, fetish sex, gang bangs, hentai, homemade, interracial, mature, and more. 
Sadly, no matter how promising Empflix's category selection is, that's all you'll ever have. They have yet to add the premium porn site names, porn stars, tags, and all that jazz that might be helpful, especially if the search bar isn't great at doing its job.
There's no need to overcomplicate things now.
If you're looking for a porn tube site that's simple and gets straight to the fucking point, you've got Empflix right here waiting for you to click on them. The only downside of this site is its extremely fucking basic search bar that doesn't do shit. Nowadays, everybody uses an advanced search bar, or even one that does recommend some good shit. Empflix's search bar only sits and gives you the bare minimum. I guess that's fine. 
Aside from that, Empflix provides a minimalistic options menu where the buttons you'll only have are the home button, categories, porn stars, and live sex. You know very well which button will lead you to spend some money, and we don't want that, especially if you're frequenting a free porn tube, am I right? 
Lastly, and this is the cherry on top: your ad blocker will work a thousand fucking percent in Empflix. Although you might see some sections intended for ads to fill in, you won't see any pesky ads anywhere on the site, which is fucking great if you ask me. Empflix said there's no need to overcomplicate things when being simple works just as greatly.
How much for this porn streaming site?
Some people pay for sites that serve only climaxes and short clips. Those are great people, of course. But when it comes to Empflix's content, it's pretty understandable why they are a free porn tube site. That said, you won't have to open your wallet. There are no bills that will pile up, and call your bank saying you've been accumulating debt on fucking porn. You're marked safe in Empflix.
You'll be glued to your seat in no time!
Millions of porno performances, thousands of porn stars, and a great fucking selection that grows by the day are what's waiting for you at Empflix. Everything's for free! All you have to do is unzip your pants and click play, and everything will sort itself out. Isn't that amazing? Don't miss this porn streaming site!
| | |
| --- | --- |
| Type of website: | |
| Type of content: | Porn Tubes |
| Main Category: | Porn Tubes |