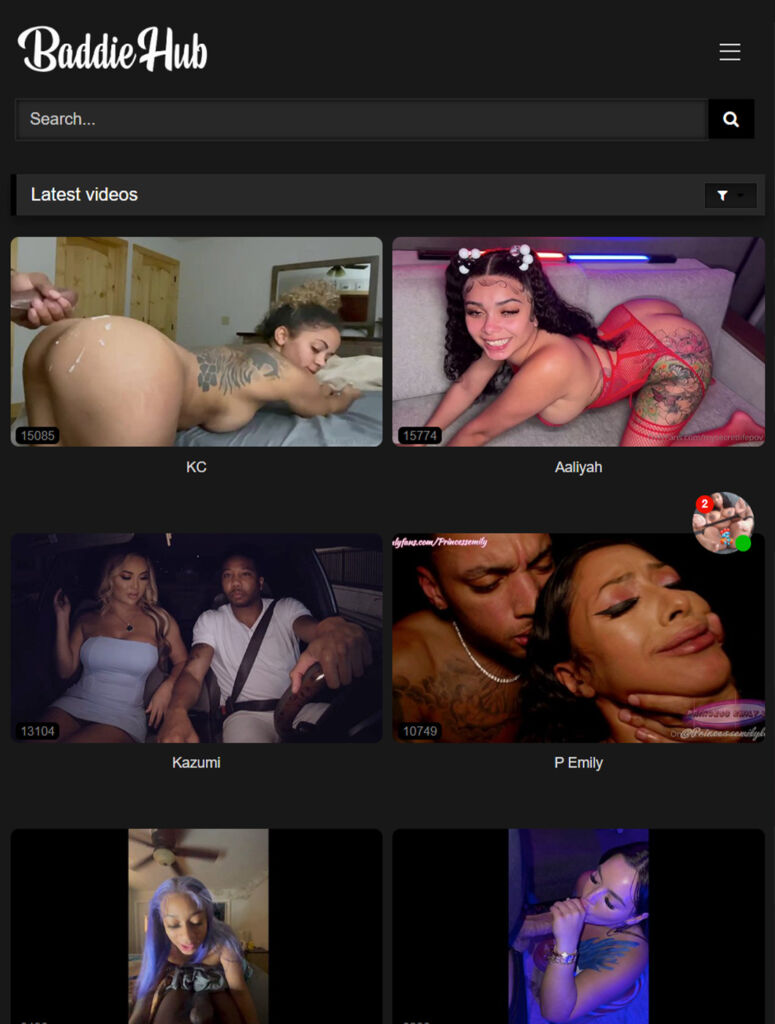 Welcome to ebony paradise! 🤤
Finally! Here's a porn site that will truly cater to your ebony cravings. Baddie Hub is a porn site on the rise that showcases mainly black baddies in their panties. Yeah, you bet I made that up. LOL. But seriously, though, most of the porn sites highlight black men with big cocks. This time, it's the black women who will showcase their prowess in fucking and more.
But wait, black women aren't the only highlight here. There are also a handful of Asians, Latinas, and a sprinkle of hot white ladies. It's a pretty good selection considering they still try to be as diverse as ever. But, of course, expect the porn stars to be dominated by ebony beauties. I mean, that's what this is all about, yeah?
First and foremost, when you go on a porn site, you'll be welcomed by a photo of a hot baddie. Well, I was. I think that's just how they do their homepage. A hot black chick kneeling on concrete holding her big fucking tits while chewing on the camera guy's short laces was what welcomed me. And boy, oh boy, did I fucking love it! Not every day do you get such a grand welcome like that, but it stops there. LOL. Read on to find out!
The quality ranges from A to Z.
Look, Baddie Hub is one of the best from their kind of porn sites. But the quality of the content? Hmm. It ranges from A to Z. Some have astounding 4K HD quality. You can see every crevice of the pussy and hear the moans in 3D. But you know, some grainy ass videos seem like they came from the 90s or something.
Well, we can't blame them. Most of the baddies here are total amateurs. Not that they are amateurs when it comes to fucking. They are no-names, trying to make it big in the porn industry. If you love nubiles and amateurs, Baddie Hub is overflowing with them. Now, when it comes to their fucking, that will be another conversation.
I'm already drooling just at the thought of it, and I'm sure you are, too! If you click on a vid, that's when the game's on. There's nothing like watching a good amateur baddie get dirty, no matter how grainy the resolution is. LOL. Their kind of fucking is truly unmatched; not even the big porn stars can do that. But you know, that's another controversial conversation. Now, back to what we were talking about.
Is a handful good enough for you?
As I've already mentioned, Baddie Hub is still a pretty new porn site. That means they're still building up their stash of porno performances. Compared to other porn tubes, the number of porno performances they have might only be a handful, but it's still a good number. How are 2,300 XXX movies for you?
Two thousand three hundred is a good enough amount if you only stroke your cock during your free time. But I'll agree if you say it's still a small number if you compare it to big shots. But don't worry, Baddie Hub is on the way to becoming a big shot themselves. The number of amateur porn stars is continuously increasing. Yep, they are continuously producing porno performances that meet your carnal cravings.
Expect more hand-curated pornos to come your way once you go on Baddie Hub. I'm sure you won't go over one thousand in one day. LOL. Oh, I think I haven't mentioned that Baddie Hub provides updates daily. So by the time you read this review, the number of porn movies in their stash might have doubled already. You see, they're a grower. *wink*
A fair amount of categories will do.
Okay, let me mention it again: Baddie Hub is a new porn site. Let's cut them some slack for having only a few categories available. But is that a good excuse? LOL. Maybe.
As of writing, Baddie Hub only contains 26 porn categories. Some of the categories you should watch out for are: 
Anal
Arab
Asian 
Blowjob 
Muscle 
Outdoor
POV
Tattoos
Threesome
You already know these are just a few of the 26 categories they already have. The categories can be found on their options menu below the header and the search bar.
Here's one thing I'd like to disclose: the categories are pretty fucking confusing for a first-timer visiting their porn site. When you click on one, say you clicked on anal, the link will redirect you to a page filled with anal porno performances. Sure, it makes sense. But they're not labeled with titles; the XXX films are labeled with porn star names. Isn't it a little bit weird? Yeah, well, it's good that it doesn't affect the quality of the explicit movies they have. LOL.
It's not like you'll need a site tour to get around.
Okay, let's get this out of the way. Baddie Hub's porn site is bland as fuck. I know our black goddesses like to season their stuff and make it delicious. I wish they would teach their developers that. LOL. Sure, you'll be welcomed by a hot ebony babe doing whatever or just being naked all plastered across the homepage, but that's it. I don't even know what's the reason for it.
Baddie Hub looks like a magazine website from the get-go. I mean, okay, a sultry photo is looking right at me. And then what? You'll be slightly baffled at first if you're like me. LOL. Luckily, you won't need a tour guide to get around this website because the buttons are self-explanatory. Above the photo, you'll see three buttons labeled "latest," "most viewed," and "random." Click on one of those, and you'll be redirected to a page filled with thumbnails labeled with porn star names instead of porno titles. Maybe that's their thing, no?
The options menu right below their official logo only contains the buttons home, categories, free live cams, meet local baddies, and a few links to other porn sites, review sites and live sex cam sites. There are absolutely no ads, even with my ad blocker off. Let's cut them some slack since they're pretty new. But I hope they'll improve it anytime soon.
Baddie Hub's site is like their porn — it's direct to the fucking point! 🏹
Just like the black girls fucking on camera, Baddie Hub's website isn't playing at all. With its basic interface and slightly confusing redirections, you're left with nothing to do but unzip your pants and start fapping away. Yeah, no, really, all you're left to do is to wank.
Do you know why? It's because there is nothing left to do on the website. You don't have to make an account; you don't have to swipe your card and read some terms and agreements of being a member, no nothing. Everything is completely available for free. Honestly, I can't think of any other porn site that offers a great range of explicit content, amazing amateur porn stars, no ads, and everything that is free. I mean, are you all crazy? LOL.
But read this before you proceed, buddy.
However, before you go diving head into all of this amazing, mind-blowing ebony content, here are some of the things you will need to know:
First of all, not all of the porno performances on this website are full-length. That means you might stumble upon a few one-minute hurdles before you can get to the real deal. I did expect a few shortcomings, considering Baddie Hub is still a relatively new porn site and offers everything for free. We can't have everything great in one handful, you know.
Second, there are absolutely no fucking ads on the porn site. But be careful! Don't click around aimlessly because even one harmful click will redirect you to an unrelated annoying website. So much for ad-free. LOL.
Yep, that's practically everything you should know before drooling all over the hot black and brown babes on this shiny new porn site. Bon appetit, my guy!
| | |
| --- | --- |
| Type of website: | |
| Type of content: | Porn Tubes |
| Main Category: | Porn Tubes |