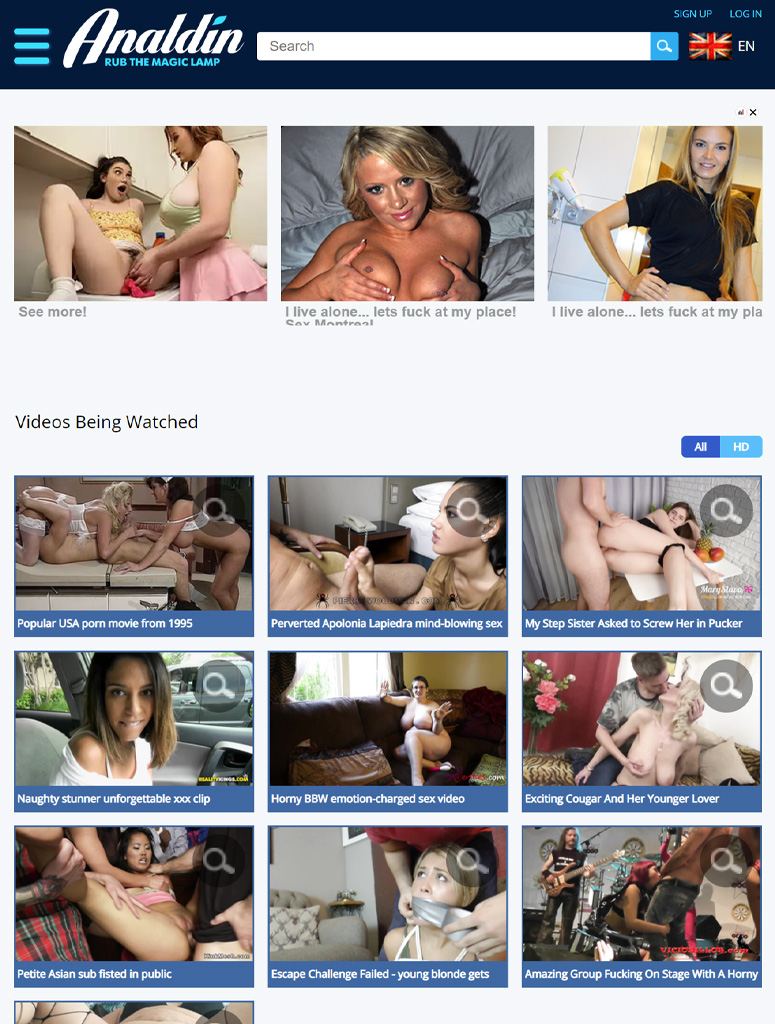 Analdin and Jasmine? 🤔
Has anyone got a single clue why Analdin is named that way? Well, the title gives it all to you. If you loved watching cartoons before, you'll quickly notice how Analdin is Jasmine's partner. Yep, that's what we're talking about. I feel like Analdin (the porn site, yes, that's the name) went through a long stretch by naming their porn tube site like that. I mean, who fucking knows?
Analdin's weird porn site name went for a great turn when the site started expecting over 25 million visitors monthly. That's a fuck ton! Imagine 25 million people monthly wanking to Analdin's best collection? Well, I can't imagine that. That fact alone just means Analdin must be serving something of great quality, and their porn site name is excluded.
If you're wondering why Analdin is named that way, if it isn't obvious yet, Analdin loves going through the backdoor. It's pretty evident in their porno performances, but now they mixed in a variety of action that you'll love more than ever. Whether looking for Analdin's Jasmine, aiming for a ride on the magic carpet, or wanting to rub your magic lamp on something drool-worthy, Analdin is the best spot. Let's dive in, shall we?
Is anyone up for HD porn movies?
If you've seen the cartoon film, the original, you'll know that even the film for noobs never lets anyone down. That should go for the porn tube site, too, right? Well, it turns out Analdin doesn't know how to disappoint. Except for that one thing, I guess that's for another conversation.
In the fuck ton of porno performances that are suddenly placed on the palm of your sweaty, cum-filled hands, you will never see anything that's subpar in quality. Wait a minute, am I bluffing, or what? I've fapped several XXX movies on this promising porn tube to answer that question and discovered that they serve HD scenes.
Let me rephrase that earlier term. Analdin serves only HD scenes. Although you won't get anything 4K here or 1080p, each porno film you'll come across will only be available in 540p or 720p HD. Don't look at me like that! At least this one gave you choices! Well, now, it's time to rub your fucking magic lamp now.
Looks like you've got a fuck ton right in front of you.
Here's the thing: Analdin did not put their stats anywhere on their fucking site. Two kinds of porn tube sites do that; the first one doesn't put stats if they've got too much to deal with, and the second one if they don't have too much to deal with. I know you know what I'm fucking yapping about. So what's it going to be with Analdin? 
Luckily, Analdin belongs to the kinds of porn tube sites with too fucking much to deal with. You'll only know that if you do not see the same thumbnail twice. Well, unless I've been going through the same category section, I haven't seen the same fucking pussy and cock banging twice. 
Sadly, you won't have any numbers to look at. Luckily, you won't have any numbers to look at. It all depends on how you see it. Do you know what I'm saying? But now that you know you've got a fuck ton of porno performances to deal with, here's another dilemma I'm going to put on your lap: Analdin adds fucking dozens of XXX movies daily. Yep, you read that right. Analdin updates its porn collection daily. That's probably why you won't see the same butts, pussies, and cocks fucking twice.
Do you know how to choose? Because you'll be having a fucking hard time.
One of the problems of serial fappers and beginner ones, or any wanker honestly, is when it comes to choosing. When you come across a damn great porn site, you'll instantly know it's fucking impossible to choose. Unless you've got the whole day and night to yourself, you'll suffer from FOMO. For the old ones out there who don't know what fucking FOMO means, it just simply means the Fear Of Missing Out. You got it? 
In addition to Analdin's possibly hundreds of thousands of porno selections, you've got more than a fucking handful of categories to choose from, as well. Aside from the fuck ton of categories, you also have the models, channels, playlists, latest, top-rated, and most viewed to choose from. So, the question is, do you know how to fucking choose? Because you'll be fucking lost here. A virtual magic carpet ride would be handy right now so you could get a bird's eye view of everything in store for you. 

Wait a minute; you've also got some tags to choose from. The top tags that are readily available are sex, blowjobs, hot, hardcore, babes, pussy, big tits, ass, sexy, and more. As for the categories, you've got anal, big cock, cumshots, doggy style, young, MILFs, oral, and more. You have Brazzers, Brutal X, CFNM Secret, Fake Agent UK, Innocent High, Mom XXX, MILFed, and more for the channels. You can check them out instead of me lining the selection here individually. LOL.
Analdin is as simple as it can get, but it does need a drop of patience.
Analdin is one the simplest porn tube sites you'll ever come across. The buttons can be seen plain as day, the logo is just a slick font with their motto underneath, and then you've got the search bar and some language preference selection. Pretty simple, isn't it? I appreciate them not including all the funky jazz that nobody wants to see. You know what I'm fucking talking about. 
As for Analdin's homepage, they don't do bullshit. Or, well, they don't know how to do bullshit yet. The homepage has eye-catching thumbnails that play short previews when you hover your mouse over. One of the perks you'll get here, whether you sign in or not, is the ability to upload your sneaky fucking adventure. 
Everything seems to be going great until you discover why you need that fucking drop of patience. Here's the fucking kicker: ad blocker doesn't work pretty well on Analdin. Well, it does block most of the ads that should be scattered over each page by now, but the pop-ups are uncontrollable. So, yeah, use your drop of patience on the fucking pop-up ads that are coming your way.
How much for the magic carpet ride? 💸
Premium porn scenes, login and signup buttons, all HD films — that should cost a good amount, right? Analdin does allow you to ride on a magic carpet as long as you're pantless and stroking that cock. LOL. But with the multitude of ads coming your way, do you have to ask if there's a membership subscription here? 

Cutting to the chase, Analdin is a free porn tube. You don't have to pay for anything. Well, I guess you have to pay with patience or something. LOL.
You'll be rubbing your magic lamp in no time with Analdin!
Welcome to Analdin, where you'll be having a fucking fantasy from the beginning to the fucking end. Rub your fucking magic lamp with all the best scenes that are made available daily, and keep an eye out for the new pornos that are coming your way.
| | |
| --- | --- |
| Type of website: | |
| Type of content: | Porn Tubes |
| Main Category: | Porn Tubes |