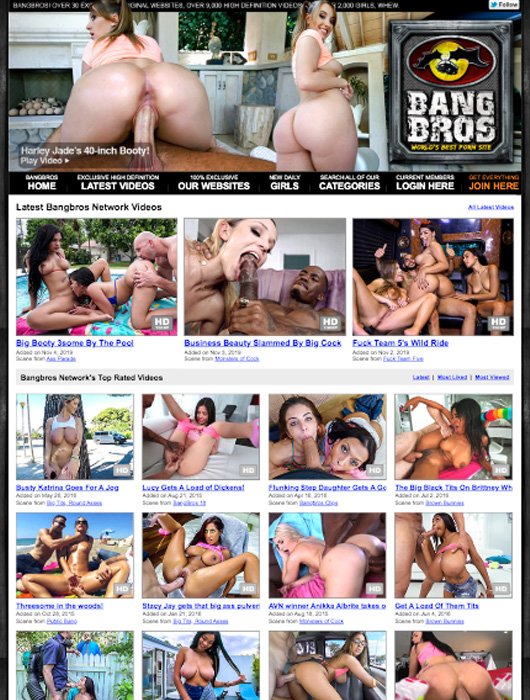 Some days it's just better to get out of bed than others. It takes a lot for me to look forward to something in the morning. By the time I clean the cum off my chest and brush the taste of whiskey off my teeth, I usually just want to go right back. Today isn't one of those days, though. There's a very good reason for me to get up and greet it with a boner. It's because today is that day that I've chosen to check out the entire BangBros network. Yeah, the whole fucking thing.
There's going to be enough porn here to keep me going until it's actually time for bed again. Saying that I've been wanting to join this site for years is an understatement. I've always known that they have some of the best shit on the planet. Now that I'm finally ready to do it, I realize that I've been thinking about them all wrong. I've always assumed the bros was meant to be short for brothers in the title. That means I always translated is to Bang Brothers and that makes no goddamned sense. These aren't actually fucking brothers. They spend all day fucking! They're fucking bros, bro! 🤣
I'm literally just putting that together and I feel fucking stupid. Ah well. I guess some hardcore fucking is the only cure for the morning stupids. It's time to check out BangBros.com!
What is it? 🤨
This is a hardcore reality porn network that does it all. These assholes have been in business for the past two fucking decades! They practically originated the whole reality porn thing to begin with! They've gone through a fuck ton of changes over the years and added tons of additional shit to their other shit. What I'm saying is that there's a whole lot of shit on this network and it's all fucking amazing!
They have over 8000 fucking fuck videos! There are over 4000 fucking girls fucking on this network! There are 52 fucking sites that are filled with fucking on this thing! All of the sites are named in a way to let me know exactly what's going on in them, too.
There's one called Facial Fest that's nothing but cum facials. Then there's one call Big Mouthfuls which is all about blowjobs and big dicks. There's Bang Bros 18 for teens, Can He Score, which mixes sports and fucking, Backroom MILF for older chicks getting cast, Bang POV for a shit ton of POV fucking, and, of course, the classics. There's the Bang Bus that started it all and is still cruising the streets, just looking for the next amateur pussy to stuff by the side of the road.
What do they do?
They do fucking everything on this network and I'm not fucking around here. It's been two fucking decades! There isn't any path that they haven't been down a hundred fucking times! There's straight sex, bisexual sex, lesbian sex, threeways, orgies, gang bangs, blow bangs, lezdom, femdom, master and slave shit, BDSM, foot fetish, ass fetish, lesbian orgies, public sex, casting sex, glory holes, and even fucking camel toes! There are blowjobs, handjobs, tit jobs, foot jobs, shared blowjobs, facials, cum shots, cum eating, cum swapping, drooling, gagging, choking, masturbation, anal sex, ass eating, pussy eating, ATM, ATP, mutual masturbation, voyeurism, exhibitionism, money for sex, cheating, hidden cams, cosplay, creampies, extreme insertions, gaping, fucking everything!
There's missionary sex, standing sex, forced orgasms, surprise orgasms, doggystyle fucking, cowgirl sex, reverse cowgirl sex, 69ing, and helping hands. There's taboo family sex, people getting caught fucking, public masturbation, sex in cars, and literally everything else on the fucking planet! If I can dream it, then I can see it right here and I'm not upset about that at all. There's always going to be a video for me to watch, no matter what I'm in the mood to jerk it to.
Who's doing it? 🤔
There's also every kind of girl imaginable on this site. I can't think of any kind of woman that I can't find here. I also know that I can find her doing a whole lot of fucking. There are roughly twice as many videos as girls. That gives me an average of two porn videos for every single woman that I can find on this site. I don't mind having options when it comes to jerking it to someone that I really like to see. I'm just selfish like that, I fucking guess. Anyway, there are teens, MILFs, GILFs, and everything in between!
There are porn stars and there are amateurs. There are petite girls, skinny girls, tall girls, curvy girls, and BBWs. There are blondes, brunette, redheads, and dyed hair girls. There are white girls, ebony girls, Latinas, Asians, Middle Eastern girls, mixed girls, American girls, European girls, and Eastern girls. There are real tits, fake tits, big tits, small tits, and medium tits. There are big asses, small asses, and bubble butts. I can see names like Nicole Aniston, Mia Khalifa, Alexis Texas, Bridgette B, Anissa Kate, Sophie Dee, and Kendra Lust. That's only naming a fucking few of them!
How do they do it?
It's always how the actual fucking happens that makes me love a site or a network. Like I said before, this network has a huge reality vibe to it. That's pretty much their big thing. From there, everything just gets fucking nuts! I can see one video where a guy dressed like James Bond corners a girl with a reciprocating dildo in his hands. That's a dildo on the end of a reciprocating saw. I don't know what the problem is, but he has one with her. He makes her suck on that dildo to get it all wet, then he turns it to high and fucks the shit out of her pussy with it.
Then there's another one where a stripper with massive tits is walking down the street. The Bang Bus pulls up and offers her a ride and money to fuck. She happily agrees and rides that cock all the way to her destination. There's even one with Brooklyn Chase on her knees giving a POV blowjob. That's it! It's that kind of simple porn that really gets my loads ready for a good send off!
It's easy to join 😀
These assholes are practically handing out their porn and making it as easy as possible to join this thing. There are four different options and that's really what I fucking love to see. It's not too many and it's certainly not too few. I can see what's in front of me and make my decision without having to do any critical thinking. That's always the toughest part of my day and I try to avoid it as much as possible.
First up is a one-day limited access trial to check things out. That's like me driving down the street and setting my eyes on a tight piece of ass on the sidewalk. Then there's a seven-day trial that comes with full access. That's me going around the block to check her out again like the pervert I am. Then there's a one month option with full access. That's me saying fuck it and pulling up next to her just so I can watch her walk by me again and flash that tight little ass for me. Finally, there's a three-month membership with full access. This is me rolling down my window and telling her to get in for a ride she'll never be able to fucking forget!
It's easy to use
Naturally, these guys wouldn't go through all of this trouble if they didn't have a site that was easy to use. There's a simple search bar that I can use to pull up videos from across the network. Just typing in the word "anal" gets me thousands of fucking videos. The first results are all from their anal sites, then I get to see all of the anal videos from the other sites as well. I fucking love that.
On search lets me mix my porn with shit like Anal and Creampie for a MILF on Big Tit Creampie. Shit, I can even see old anal in Monster Dick in Kiki's Ass on BangBros Remastered. It makes jerking it as easy as it can possibly be and they don't stop there. I can browse the entire network by either the newest videos or the top-rated videos. I can also just browse by the girls. Each one of them has a really nice write up for me to learn all about them. I can get all of her physical stats as well as her history in the porn industry.
They also all come with user ratings. I can jerk it to the girls that all the other guys jerk it to in order to feel closer to my porn brethren. Sure, that's' weird, but it's something that I can do and I'm a man who loves his options. My next option is simply to browse the network by porn site. They're all listed in one place to make it easy on me. I hate having to try too hard to find shit.
Then there's a final option that I fucking love. I can browse the whole fucking thing by category. One-click will show me every fucking video across the network with things like teens, big dicks, DP, facials, or even ass licking. Shit, even European girls are a category! On top of that, they tell me how many videos there are! I know that there are over 6,000 deep throat scenes and I didn't have to do anything more than click once to find that out! I fucking love the way that this network is set up and I always will. They have all this fucking porn and they hand it right to me!
This is everything I know 🤗
So, just to summarize this whole fucking thing, it's fucking awesome. There are over 8,000 fucking videos on this network. They've been making them for the past two fucking decades. There are over 4,000 fucking girls here and they're all fucking gorgeous. There's every type of girl on the planet from teens to GILFs! They do everything I can possibly imagine across 52 fucking sites. There's straight sex, lesbian sex, threeways, fucking everything from someone masturbating to a fucking orgy.
It's all reality porn and it's all hardcore. They have plenty of options to join and everything is organized like a motherfucker! There are pornstars and plenty of amateurs. There are brand new sites and there's the site that started it all. If I don't feel like watching the shitty quality from 20 years ago, I can just go to BangBros Remastered. That's' all of their old shit being brought up to date in 4k. I can find the shit I used to jerk it to and jerk it to it again, only this time I'll actually be able to make it all out! I can't think of anything else that I want to see on this fucking network. They fucking nailed all of it!
Join this site right now
You're going to join this fucking thing right the fuck now! I just gave you all of the reasons you need to get on this shit. The only possible excuse is that your dick just fell. Shit, maybe your pussy just closed up! There's so much porn here that women are going to be able to find shit to flick it to! There's something for every person on the planet and you need to sign up right now to experience it all!
Over 8000 porn videos and 4000 models across 52 sites
Every niche imaginable gets some time in the spotlight
Two trials available to check it all out
Ads in the member's area to ignore
No advance search filters to get around
No user comments sections to use