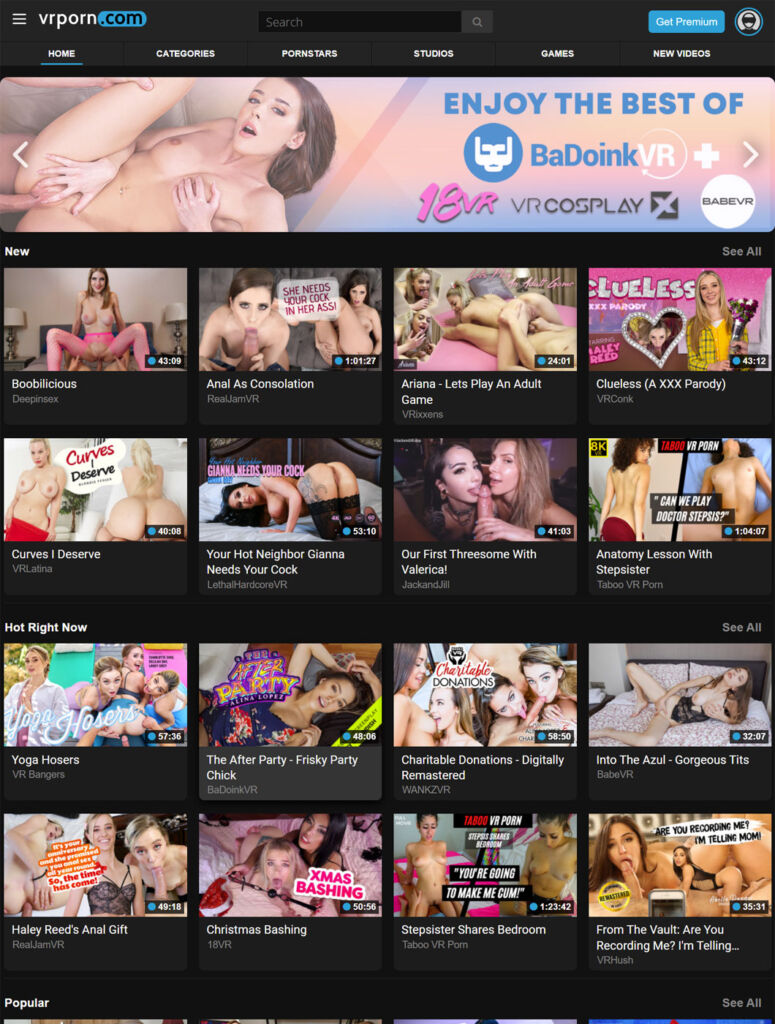 Gone are the days when sitting back and enjoying good old porn from our smartphones or desktop computers were the norm. Well, it's still happening nowadays, but people tend to find something a thousand times better than that. If you're a part of the virtual reality club, then welcome to paradise! If you're still setting up your Google Cardboard thingy and navigating around this new world, let me tell you my guy, everything is a million times better here, so wear that VR headset and let's get ready for a tour.
There are probably thousands upon thousands of virtual reality porn out there so you're probably thinking, what's different over here? Yeah, they probably told you about the high quality shit either. VRPorn.com is basically a buffed up version of any VR porn providing site out there. You can get your dick all hyped up for free, or you can go premium and get your hands on all that mind blowing content. It's up to you, really. Nevertheless, the drool-worthy ladies at VRPorn.com will never fail to seduce you. Mind you, these ladies go international. Go get that jet-setter pussy, Mr. International! But before you go about wanking that cock, there might be some bits of info that'll be useful in the long run.
Alright, let's get started! The moment you open the website, you'll be greeted with a big ass St. Patrick's Day banner that leads to a great deal, but we'll talk about great deals later. VRPorn.com's interface is quite refreshing to be honest. The minimalist approach is better than being bombarded with ads that don't really get my attention. I mean, we don't need ads for growing a dick, right? If it's a delectable damsel playing with herself in an ad preview, then by all means, display that across the website. But talking about ads, VRPorn.com hasn't got any. I turned off my ad blocker and boy was I surprised. It's as clean as it was before my ad blocker was on. It's pretty easy to navigate around if you manage to not get lost in the sea of ladies preparing to get a hold of that dick. VRPorn.com is a hundred percent ready to cater to everyone's sexual needs, and there are even some extras in the porno menu. We can say it can float anyone's boat, but just to make sure, slip in some Super Mario fucking in there for variety.
Like I said, we won't have any problems when it comes to choices because this is a sea of diversity. VRPorn.com's selection has everything for you. If you're looking for Caucasians, Europeans, Asians, and Latina faces, you've got it all in one roof. Not to mention trans, shemales, and role playing performances that'll surely get that train going. Think of whatever situation you have in mind and you'll probably see it right in front of your VR headset.
This is where VRPorn.com becomes a million times better. Of course VR prioritizes POV porn, right? But some people get tired of that shit, including me. To my fucking surprise, they offer all kinds of views curated for VR. If you want to look at two people fucking their eyeballs out in a 180 degree setting, here's a few hundred videos served on a silver platter, your highness.
Alright, you've heard about all the good things now. Before you go throwing your pants off, let me just tell you that VRPorn.com is the caviar version of VR porn providers, but caviar isn't for everyone. So sit down, relax, and let's browse the menu.
All for One, One for All
Prepare to enter a whole new porn-watching experience, and VRPorn.com doesn't just stop there. You'll be served thousands upon thousands of pornos curated for VR devices. Mind you, VRPorn.com made sure to include everyone (and everything) in their selection. It's incredibly LGBT+ friendly and like what I've mentioned before, they've included a diverse selection of performers and porno performances that'll have you drooling in no time. 
It's also important to note that VRPorn.com's content comes from 84 different studios. Whatever kink you have, specific scenes you're looking for, or a favorite model's performances, best believe they have it all under their umbrella. Erotica and pornography is a big, big universe, and it's a great thing that VRPorn.com can take you on a tour around. You might even end up in a black hole of endless pornos, but that's for another conversation.
It doesn't only stop there. I know you've already read about 1080p videos so many times already. But what if I say that VRPorn.com can give you up to 8K ultra high definition and it's also available to download? I know that sounds fucking nuts, but consider it as VRPorn.com's gift to your porno loving ass. Sadly, it's not available for free, but for an affordable price, you get to have unlimited downloads from 1080p to 8K ultra HD. I say that's definitely a bargain. But if you don't want to open your wallet or are on a budget, don't worry. The guys at VRPorn.com probably went through that phase, too. There's a toggle on the menu on the left side that says 'All Mode'. Conveniently click on it, and you're good to go. You'll be able to find free videos and premium videos' previews as well so you can get a taste of the good life for approximately 2 minutes. Not a lot of premium porno sites offer a free option, so this one's a hidden gem right here.
VRPorn.com can do that because their videos come from different studios. In terms of diversity, that's a badass thing to know. But, they don't have their original content. So if you're out here looking for something that's made by them, sorry bro, this isn't the place to go. I know it's not very major since we're just here looking for fap-worthy pornos to feast our eyes on, but it's still an extra fact to consider. Let's say you can get more for your money's worth if you get served with dishes from around the world in a buffet, instead of a few coming from one state.
If you're one of the dudes just passing by for free content, there's definitely plenty. But it's almost always comprised of 4 to 10 minutes of scenes. It's kind of a dealbreaker for me, but if you're a premium subscriber, you can just shrug that off. For our rabbit fuckers over here with fapping skills as fast as lightning, maybe it'll do, am I right? At least you can browse again and jump on to the next video right away. Or if you're in a hurry, it's a perfect match for that 5-minute break wanking session.
It's good to take note that VRPorn.com updates their stash of pornos every single day, so there's no need to worry about running out of videos to fap to. Navigating the site is easy as 1-2-3 because you can find everything in the choices just right above. Of course VRPorn.com has the trusty 'categories' and 'pornstars' buttons, but they also have the 'studios' if you get curious where they get their porn from. If you're bored, just click the 'games' button and you're good to go. If you're looking for the new vids only, the last button is the place to go. There are far more options if you click on the toggle found beside the logo on the upper left. So if you're looking for some CGI pornos and all that, just go over there and be lost in the wide variety that VRPorn.com offers. 
Will It Break the Bank?
Thanks for asking that very essential question. They only have two payment options which are monthly or yearly. Both prices are a good bargain if you ask me, since you'll be filled with mostly 4K to 8K ultra high definition porn performances that definitely will not disappoint, but I'll still spill the prices. They are currently having the St. Patrick's Day sale so the prices have been tweaked a little bit. Normally if you want to pay on a monthly basis, you'll have to shell out $24.99, but thanks to St. Patrick, it's 40% off, so it's only gonna be $14.95 per month. For the yearly subscription, it's normally $299.88, but St. Patrick went on a blast and slashed 70% off it. Now you'll just have to pay $7.50 per month, or a one time payment of $89.95 which is obviously incredibly cheaper than if you chose the monthly basis. It's a good bargain, right?
Whether you're here to shell out some dollar bills or not, VRPorn.com will gladly serve you what you're looking for, which is obviously premium VR porn that's way ahead of the times with no fussy ads and annoying pop ups.
Let me welcome you to the VR porno paradise. Feel free to roam around and do whatever you want. It's your dick after all.
A MASSIVE collection of VR content
Simple and very intuative interface
No ads!
Could use more free content