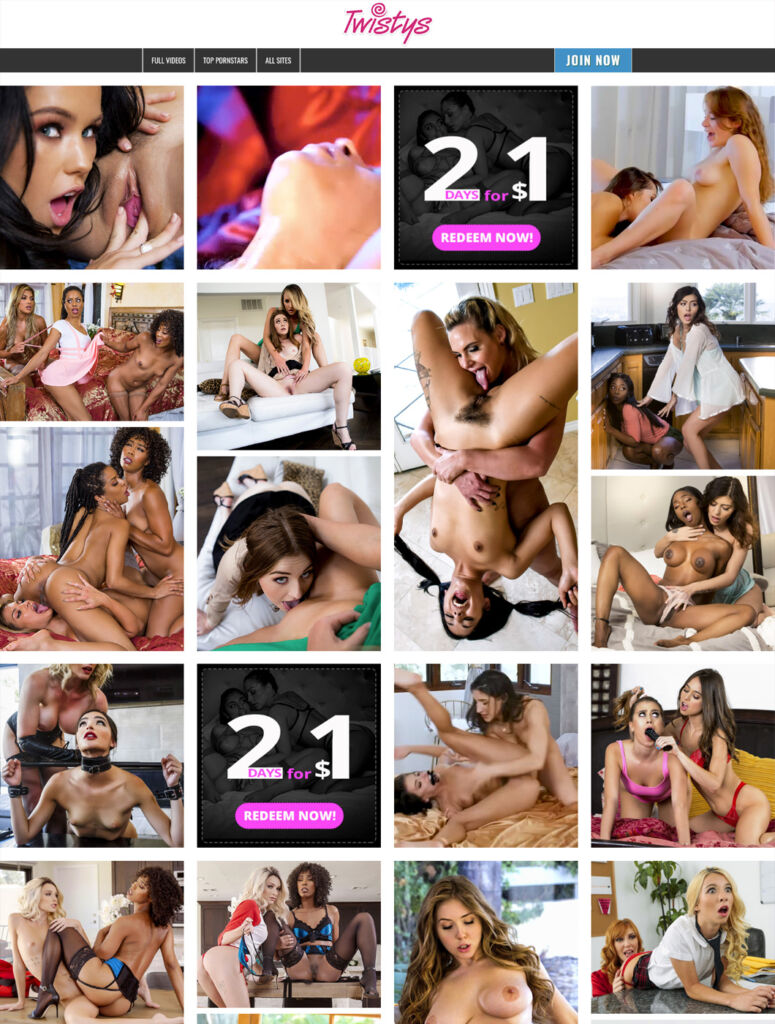 Craving for some girl-on-girl action, but you couldn't find the right porn site for it? Yeah, I can relate. All those lesbian fucking are just too repetitive and not thrilling anymore. Good thing there's Twistys to compensate for all those boring pussy action. You could say it's a buffed-up version of your normal lesbian sex-providing porn site. Essentially, that means Twistys is a hundred times better than your go-to site will ever be. Get ready to fill yourself with all the pussies you can ever handle, and that's just the tip of the iceberg. Let's have a walkthrough to find out. 
The website has a pretty out-of-date approach. Compared to the sites we have today, which are either having a minimalist approach or a maximalist approach, Twistys chose the other way by providing a Tumblr-Esque, extremely girly-girl approach that'll really catch your eye. I'm not sure if it's a good eye-catching thing, though. Nevertheless, you'll essentially get what you came here for. Twistys is basically a treasure trove full of raging horny women who only crave pussies and nothing less than that. You might be thinking lesbian sex might not be for you, but don't worry. I'm pretty sure every role-playing scenario in Twistys will have you hooked in the first minute. Twistys isn't only filled with skinny ladies. All the ladies you can think of, rub, lick, and finger here. Twistys floats everyone's boats and then some. It's still lesbian fucking, but the way they approach it will have you appreciating their efforts in catching your pervy eyes. 
Twistys has been here since the early days of 2001. Considering they're already 21 years in the industry, you already know that every year they just become better than ever. Twistys shoots in every place imaginable, so you'd better prepare yourself to witness some lesbian fucking outdoors, indoors, and in other different places that suit their preferred role-playing for the day. They have pretty Asians, Latinas, Americans, and Europeans ready to get down and dirty at your disposal, but that's just to mention a few. Expect that almost (if not all) of Twistys videos are shot professionally, complete with props, costumes, and all, to help you reach the peaks of pleasure. Some shots might even be familiar to you already, but don't worry about it because there's definitely a Twistys twist to it. For those of you who go crazy for erotica, Twistys has a handful of pornos just for you. Of course, most of the videos reveal all the skin you could ever think of, but some, to cater to our lingerie-loving individuals, contain just the right amount of erotica to make you go loco.
But before you go unzipping your pants, here's a friendly reminder that Twistys contains only lesbian fucking – nothing more and nothing less. You can satisfy your pussy and girl-on-girl cravings here, but you won't see any dicks penetrating these cunts unless it's a strap-on or a dildo. Twistys is essentially the caviar of all of the lesbian sex-providing sites, so if you want anything less than that, you'll have to scoot away. 
What's Inside Pussy Paradise?
Gone are the days when you'll have to scour through each porn site looking for the perfect lesbian sex that you'll fap to. Even the act of finding the right video was longer than the actual wanking, which is a pretty sad thing to say and experience. If you haven't yet discovered Twistys, now's the best time since they don't really cease making and uploading new content. Just to give you a heads up, Twistys uploads one porno film, and one photo set almost daily. Yep, that's absolutely not a typo. You'll have to catch up on a lot. 
Currently, Twistys is boasting around 8,047++ lesbian porn films in their stash. You can actually start jacking off as soon as the sun rises, and still, you won't be done by the end of the day. How's that? Oh, and just to put it out there, Twistys doesn't impose a download limit, by the way. You can actually download all these glorious videos and stroke your throbbing cock to it anytime and anywhere you like. Does that sound amazing? Wait till you hear about their photo galleries. 
For someone who's only 21 years old in the porn industry, you'd think they're pretty young to be serving your gourmet in a world full of 5-star performances, right? Wrong. No one can ever really tell how good a porn site's performance will be. Considering that Twistys lasted that long already, you just know they're pretty damn amazing at serving pussies on a shiny silver platter. Anyway, to cut the chit-chat, as of writing, Twistys currently has 18,452++ photo galleries. Are your jaws on the floor already? Because mine definitely is. Experience time travel as you go through thousands upon thousands of their photos from the beginning until now and see how the girls sex up themselves back in the day. Yes, there are also no download limits on their photo galleries, so you essentially have nothing to worry about. Download all the photos you can in every device you have and wank the day away. Twistys is all about sexual satisfaction and actually no disappointments at all. How can you ever go wrong with a good pussy? 
I think I forget to mention something.. Oh, right! Over the years, Twistys has accumulated a total of 1,183 models exclusively strip teasing, fucking, and doing whatever drool-worthy and mind-blowing thing you could think of. Some of the names have probably become famous in the industry, but most of the beautiful girls here are exclusively for and by Twistys. That's just how astounding they are. Of course, they are as diverse as they can be, having teens, MILFs, soloists, classmates, ebonies, family fucking, and definitely a lot more. You can also choose from their categories such as squirting, strap-on, scissoring, masturbation, and whatnot. Everything's possible with Twistys. 
Pussy Pricing and Membership Plans
Nothing good in this world ever came without a price. But don't worry, Twistys prices are as flexible as they can be to accommodate your budgeting needs. Currently, Twistys accepts payments from Discover, MasterCard, online checks, and VISA. Their credit card processors are Probilling and SegPay, just to put it out there. 
Twistys has four kinds of membership plans as of the moment, some are recurring, and some are not. Let's go over them:
First, they have the $1.00 limited access. This lasts for 2 days, and it's for streaming only with limited access to recent scenes. This will recur monthly for $39.99 each month.
Second, they have the $29.99 monthly plan, which will recur for the same monthly price. 
Third is their multi-month subscription for only $65.99. This lasts for 6 months, and it is non-recurring.
Fourth and the last is their annual membership, which costs $119.99 and will recur annually. 
These are pretty good price points already if we consider all the content we're set to get once we sign up and register. Not to mention how frequently they update their photo and video roster, you'd never lost a single dime to Twistys. However, if you don't really want to shell out some hard-earned money, you'll have to get used to viewing their previews on the site or trying to look for some of their content on different porn sites that release limited or even old Twistys videos. You might not even appreciate that, to be honest. 
So, what do you think? Will this one be worth the swipe? Fap it out to find it out.