Digital Playground Review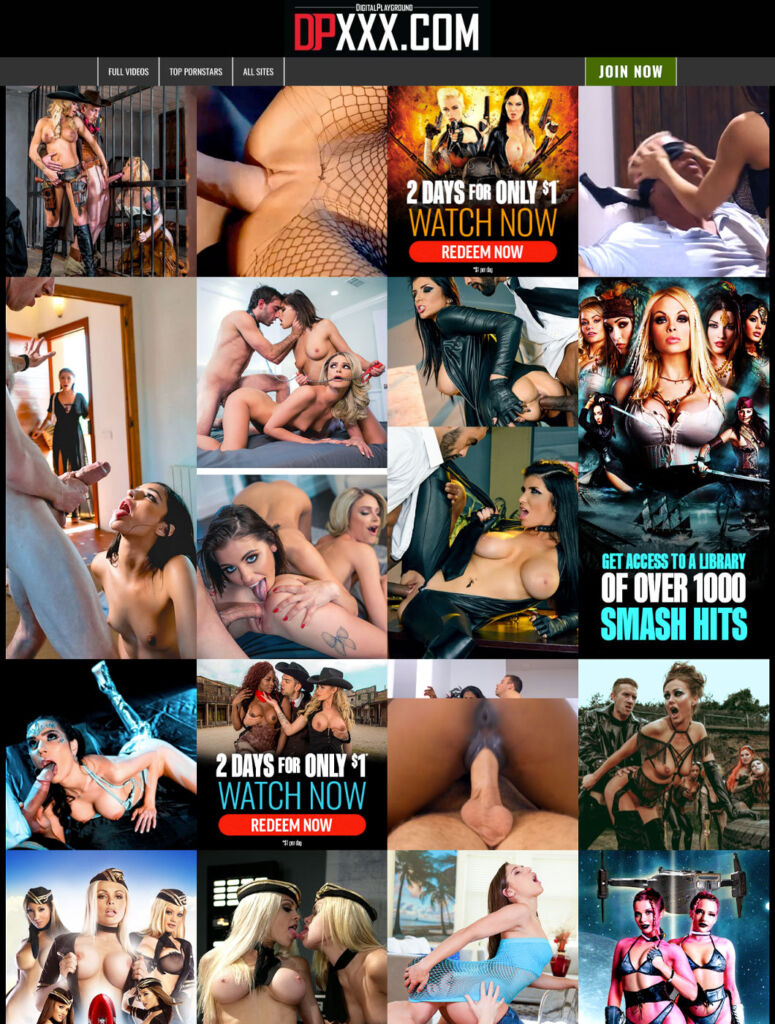 Take a trip down memory lane, or not, with Digital Playground. This glorious porn site will serve you anything and everything under the sun as long as it's naked, horny, or already fucking. You might even think you're visiting a site made for booking movie tickets or whatnot, or maybe it's Netflix? But nope, you're on the Digital Playground – your one-stop site for all things porn. Get a hold of all the porno films and photos you can get and fap your way through the generations' worth of horny content. Of course, you'll only be able to find this in Digital Playground, so stick with me and let's have a walk-through. 
The website has an incredibly straightforward approach, serving you immediately with all the dicks and pussies your eyes could ever handle right off the bat. You can somewhat say it has a dash of minimalism with it because you couldn't pinpoint what's going on. You'll be welcomed by hundreds upon hundreds of photos displaying naked babes, chicks clad in lingerie, girls and boys in fucking scenarios, and every sexual position you can think of captured in stills. Obviously, these shots, previews, and films are all done by professional videographers and photographers since you could well see them in extreme high definition, unlike no other. Consider this your lucky day, stumbling upon a pretty old website that is still incredibly diverse and not to mention updated to the current trends and fetishes in this new era of the porn industry.
Nobody knows when Digital Playground came to be, but they have all kinds of horny drool-worthy content dating back 25 years ago. Yep, that old. Digital Playground has all sorts of content containing Asian, American, European, Latina, and even digitally made faces. Primarily, Digital Playground serves DVD porn just like the old times, but we always have to take it up a notch to stay in the harsh wet game of porn. Whatever kind of porn you are craving right now will be met and exceeded by this gem of a site. If you're looking for a specific porno or not even looking at all, everything from XXX games, old fucking pornos, and the newest porn trends are here in Digital Playground, and that's just the tip of the iceberg. 
Now, before you go stroking that already throbbing cock, here's a reminder that Digital Playground is as complex as it is diverse, and we will have to have a little walk-through to understand better what's going on with it this treasure chest that we've just found. But if you're already horny to bits, nobody's stopping you. So anyway, let's start the trip to porn memory lane. 
Let's Go Down Porno Memory Lane 
Digital Playground has been in the adult entertainment industry for well over 25 years now. If you haven't heard of their name yet, it's understandable since all the newer sites were our go-to when we learned how to wank. However, now that we're aging, it's time to revert to the classics. Digital Playground is known to produce full-length adult DVDs containing all your favourite niches and even porno parodies. Whether it's stripping, casting, sci-fi, fantasy, or whatnot – they've got everything under the sun. They even have taboo and cosplay, to name a few new ones. Before they ventured into making full-length adult DVDs, they used to make x-rated video games that you might have played before. 
One of Digital Playground's perks is that their fucking series are literally series. It's not just a string of episodes of sultry porn stars fucking and getting fucked; there are actually a lot of enjoyable and maybe even relatable scenes before the fucking begins. Their most famous parodies are the Game of Thrones parody called Crowns of Fury and their very own version of Ghostbusters – Nutbusters. Although it's been well over a year since they released a new film, there's nothing to worry about running out of content. You have 25 years' worth of content in a click of your finger. 
Playground Perks and Prices 
Digital Playground currently holds 3,332+ porno films in its roster, with updates being provided approximately once a week. With thousands upon thousands of non-downloadable videos, I reckon you'll run out of cum before you run out of movies to wank your dick to. However, you read that right; the contents in Digital Playground are not downloadable – even the photo sets. As for their photo gallery, they currently have 2,441+ galleries containing an average of 80 photos each, and they still update their photo sets once a week – the same time their new videos drop. You can screenshot them since Digital Playground's website is adaptable to any gadget you use. It's also nice to note that Digital Playground currently has 1,155 models in its lineup. Their model index contains their bio and stats for further information; you can favourite or rate them if you want to. As an added perk, you'll be getting 100+ BTS videos containing the pornos' bloopers, short interviews with the porn stars, and other fun things to watch. 
Of course, all good things come at a price, and it's a good thing that Digital Playground's pricing isn't as hefty as we think it should be. They currently accept payments from BitCoin, Discover, JCB, MasterCard, and VISA. Digital Playground only offers four kinds of membership plans as follows: 
$1.00 limited access for two days which recurs for $39.99 per month 
$29.99 for the monthly recurring subscription
$59.99 for the 3-month recurring subscription
$119.99 for the annual recurring subscription
These prices are reasonable for someone who's already incredibly tenured in an industry that changes faces a bit too often. But, of course, it's up to you to fap it out to find out. Have a good trip through the adult entertainment industry's memory lane and see if it'll suit your sexual cravings.