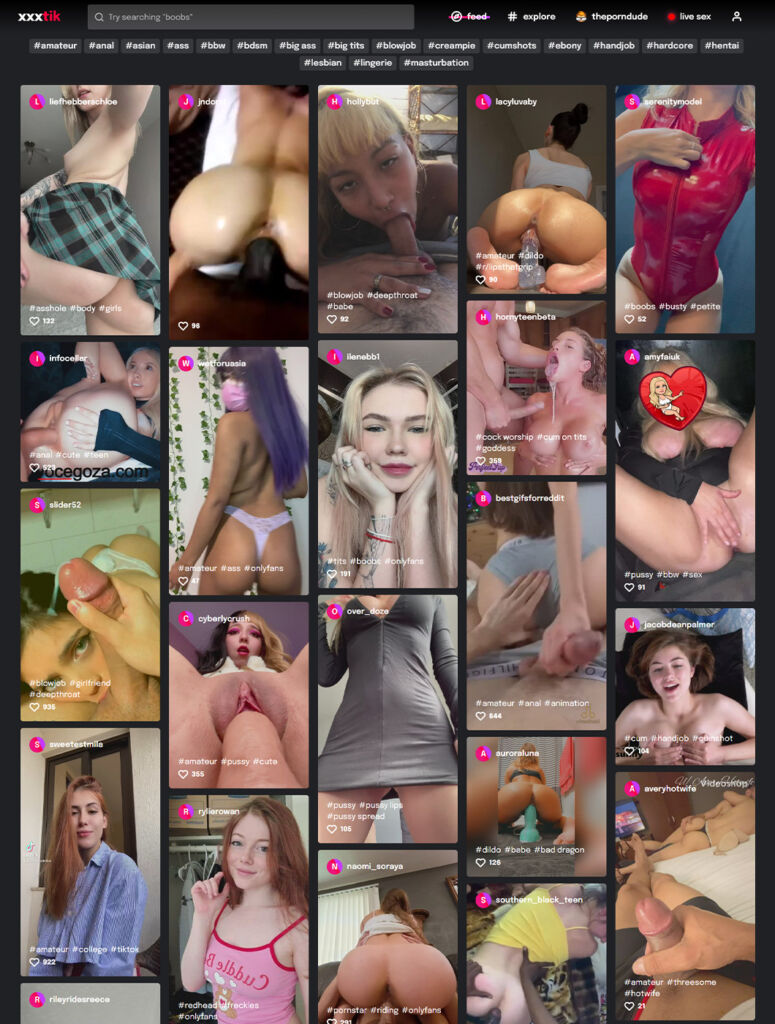 Who here wanted to have an XXX version of TikTok? I bet every perv did, including me. TikTok's easy-to-use interface feels like the app is tailor-made for porn. The future of porn is fast approaching, and it looks like we're collectively turning our heads away from watching traditional porn. You know, politely sitting in front of your computer or browsing your go-to porn site on your phone. Sooner or later, it will be a thing of the past. 
Nowadays, it seems like social media influencers have been influencing differently. Flaunting their pussies, asses, and tits for all the world to see – it's like they've found their true calling in life. I'm all up for that, and I'm pretty sure you are too. But that means we won't be able to witness that on our go-to porn sites. It's also pretty annoying to see cropped porn performances because they don't adjust well even if we're using our phones already. 
TikTok comes into view. Sure, TikTok is becoming stricter regarding pornography, let alone plain nudity. But do you think that'll stop us? Nope. That's why XXXTik was registered early this year. It's an explicit version of TikTok. XXXTik will be why you can't seem to put down your phone. Better put some lube on that stick shift to prevent chafing.
Putting the XXX in TikTok
As I mentioned earlier, TikTok has been putting off the XXX quite strictly. They've been trying to maintain their app's appearance as clean as possible. So far, so good. But you can't stop us from making TikTok's evil twin. Sooner or later, XXXTik might even reach TikTok's level of popularity. 
XXXTik's interface is much easier to use than TikTok's. TikTok's nonstop feed of various videos is what made it so popular. The same goes with XXXTik. Once you load the site on whatever gadget you're using, you'll be greeted with a stripteasing lady, two people fucking in public – basically any porno imaginable. All you'll have to do is to scroll up or down while you stroke that dick in the same direction. 
This wonderful porn site can be loaded on the computer, but it's better viewed if you're on your phone. It's optimized for the mobile, so we all won't have to worry about video proportions that leave us with unsatisfactory fapping sessions. XXXTik is designed after TikTok, after all. But, you better brace yourself. XXXTik doesn't have any buffering, so once you open the site, you must be ready to say hello to some drool-worthy babe's pulsating pussy.
A melting pot of amateurs 🤤
If you've been living under a rock, we've thrown away camcorders and let the porn stars and amateurs use their plug-and-play webcams and mobile phones. Hence, that's why we have OnlyFans and TikTok-inspired porn sites. However, I think the daring amateurs are more knowledgeable about phone cameras than professionals are. 
XXXTik will serve you an army of amateurs who confidently display their smoking hot bodies for all the world to see. These luscious ladies and gents are just incredibly horned-up individuals looking for the same people. They upload videos on XXXTik wearing skimpy lingerie, hot lacy nightwear, dresses, and skirts with nothing underneath or not wearing anything at all. Yet that's just the tip of XXXTik's iceberg. There are no cameramen, no lights, and no professional editing. Just good old homemade goodness. Because of this, you'll often come across solo videos – chicks masturbating, basking under the sun, or whatnot. 
If you're getting tired of solo amateurs, don't worry. There are still thousands of ever-increasing porno clips waiting for you to stroke your dick to them. XXXTik will serve you your fair share of hardcore twosomes and threesomes. All amateur content, of course. Once you see these short porn clips' thrillingness, you'll never turn your head to traditional porn again. Now and then, you might see some professional porn stars trying to make your stick shift hard. Of course, it does the job, but compared to the amateurs in XXXTik, the professionals are just the minority here.
Categories aplenty 💯
TikTok holds millions of categories, and some of them are even unknown to man. You'll be surprised how versatile people are, and porn is no stranger to that. With traditional porn, we usually see the categories we've drooled over and fantasized about since we discovered how to masturbate. You know, categories like hardcore, family fucking, MILFs, DILFs, GILFs – everything that we've already wanked to. 
XXXTik serves us a wider variety of categories. Of course, the usuals are still included, but they've managed to narrow down to the specifics. So if you're a meticulous fapper, XXXTik might be the one you're looking for. Categories like these make sure you get the fapping you deserve.
#agegap
#nude
#hotwife
#tittydrop 
#pawg 
#pigtails 
They've got thousands of categories, some even made by the users who upload their clips on XXXTik. They come in the form of hashtags instead of separate words so that we can find them easily. XXXTik's categories, just like their content, are ever-increasing because of the easy interface and the number of users getting lured into this cum-oozing website. 
Porn feed made just for you.
One of the features of TikTok is that they base your news feed's contents on the videos you've liked, saved, and reposted. XXXTik carried that feature with them. So if you saved a barely legal banging video or liked a solo masturbating video, expect to see more of that in your porn feed. 
XXXTik takes pride in putting its viewers first before anything else. This makes your fapping experience more personalized, and you don't even have to lift a finger to tweak things. No more mind-bothering moments where you try to remember what category the porn performance you're looking for might be stashed in. 
Have I mentioned that XXXTik is completely ad-free and also free of charge? So the next time you plan out your lone rangering session, try this one out, and I'll guarantee you, you won't even bat an eye to your previous wanking habits.