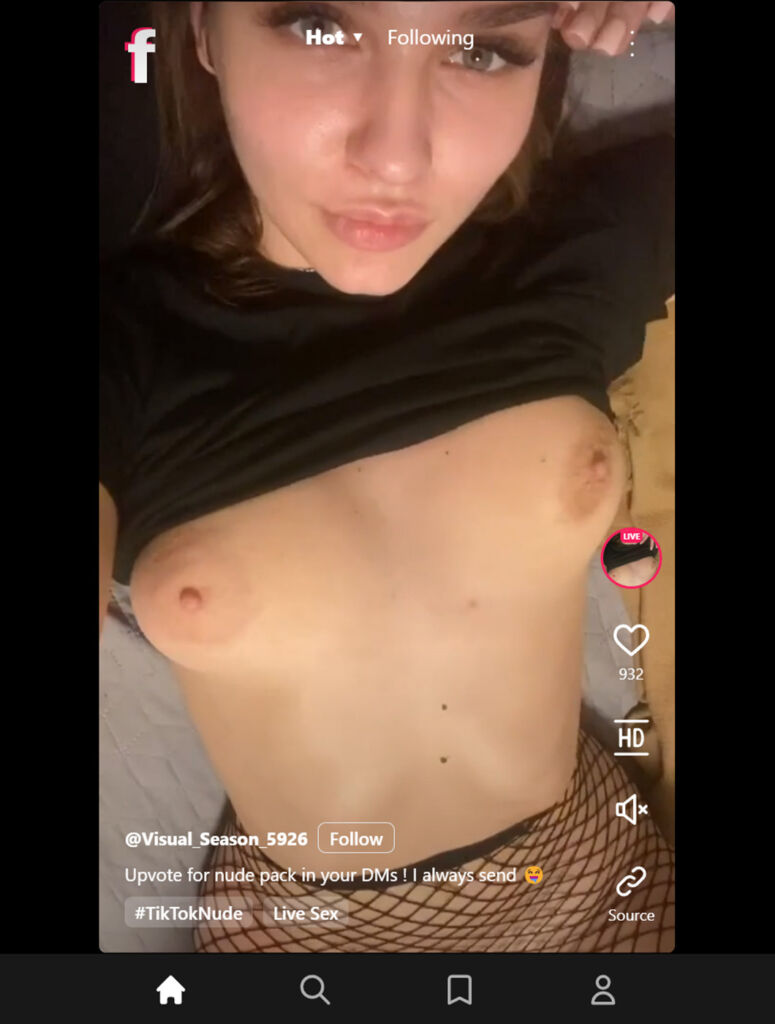 TikTok is the app that keeps on giving. It's been creating a buzz on the internet since its release. It's the most instantaneous app ever. TikTok is also the easiest app to use. All you have to do is to sit back, scroll up or down, like a video, bookmark it, add a comment, or follow a user. That's it. You don't have to write paragraphs like on Facebook, and you don't have to briefly explain things like on Twitter. It's like Snapchat but a thousand times better. But wait, do you remember the good old times in Snapchat? Sending those spicy snaps made your boner almost burst in your pants in the middle of the day. I've had my heyday on Snapchat, and I'm pretty sure you did too. 
We're all thinking the same thing about TikTok. Since it requires a little more detail and maybe some background music or a voice-over in each of its video clips, we're pretty sure sooner or later, TikTok will keep things a little more interesting. I wish we were right, but nope. TikTok imposed strict rules about nudity, stripteasing, profanity, etc. Every single lewd video uploaded gets wiped out instantly by TikTok's management. As I said, it's the most instantaneous app ever. That's why when you browse around it, all you'll be able to find are girls and boys dancing or lip-syncing to some trending song, some older person's pasta recipe, or whatever mundane things other people are doing. Disappointed? Yep, all of us are. 
But lo and behold, a group of experienced web developers just made a website filled to the brim with video clips similar to that of TikTok's. It contains nothing less than TikTok porn, and we're excited as fuck about it. You can say it's a hybrid of porn and TikTok. That's the best fucking idea to ever exist. According to the makers, they noticed that there aren't really any good apps for porn, so here comes FikFap.com.
Your superior porn experience is only one scroll away. 
Sitting in front of the computer and watching porn the traditional way has always been our go-to situation. Even with smartphones doing everything for us, fapping in front of the computer with your pants on your ankles to traditional porn is usually the way to go. I think we can all agree that nothing can replace that situation. But, recently, it's been getting too tiring to do that. Who wants to spend most of their wanking time finding the right porno, waiting for the climax, and vice versa? Not to mention going through hundreds if not thousands of categories to find that single video to satisfy your sexual cravings. It's too tiring. 
All these years of wading through potentially millions of porn before you can fap have finally ended. FikFap brings you your superior porn experience. Like TikTok, you must sit back, prepare for the fapping of a lifetime, and scroll away. You can like the short porno performances on FikFap, choose whether to view them on HD or SD, go to the source, or see more of it through the tags on the video. Every single short porno clip on FikFap will tug at your balls. No more waiting time. Hell, there's even no buffering time. 
FikFap, quite literally, is the easiest porn website on the planet. It's the only porn site that doesn't leave you hanging, doesn't bombard you with pesky ads and pop-ups, and doesn't require you to do anything. It might sound too good to be true, but I'm only stating the facts. 
The best parts of porn are saved for your liking. 
The best parts of porn can be found in the climax, right? Sadly, with the usual porno films, we'll have to sit through approximately a few minutes of foreplay, acting, or whatever it takes for someone to get naked. That's what we were used to. It's too lengthy sometimes, especially if you don't have enough time to wank. I know the feeling all too well. 
FikFap changes your porn-watching habit by cutting massive amounts of time and giving you only the best parts. Yep, you read that right. That means you won't be able to see those acting parts anymore. No more of that boring old piece of porno where someone is trying to get someone naked. There is still a little foreplay to keep some of the thrills, but you'll be bombarded with thousands upon thousands of jaw-dropping clips that focus only on the climax. 
FikFap serves over 139,268 porno performances of both horned-up amateurs and professional porn stars getting hot and steamy on the website. All these clips contain only the best parts where everyone is already naked, getting naked, and getting rammed with throbbing cocks. Apart from that, thousands of stripteasing video clips are also on this glorious porn site. Whether it's done in public or in the comfort and privacy of their own homes, there's nothing that will stop these pervy individuals from exposing their drool-worthy bodies. 
Don't even get me started with the categories. There are only a few hundred categories in FikFap, but these categories are continuously increasing. You might even be surprised with some of the categories because you'll only be able to find them in FikFap. They are grouped in hashtags instead of the words we see on our go-to porn sites. They're called hashtags instead of categories for that modern twist. Some of the hashtags you'll find on FikFap are:
#girlsinyogapants
#collegensfw
#burstingout 
#goodgirlsswallow
#holdthemoan 
#beforeaftercumsluts 
#clothedtitfuck
#repressedgonewild 
My favorite is the #holdthemoan, where the girls get fucked or fingered in public, and they'll have to hold their moans to save themselves from embarrassment. FikFap's menu items, as I like to call it, direct the blood to all the right places and even induce cum without you touching your cock. FikFap is the way to go if you're looking for something newer, more adventurous, and more updated with the NSFW happenings. It's wilder now. 
Give yourself a break from watching hours-long porno films. You deserve only the best parts, and FikFap is here to give you that without any catch. FikFap is completely free, by the way. Have the fapping of a lifetime, ad-free. FikFap is the revolutionary porn site that will change the face of porn, one short video clip at a time. Trust me; you'll never go back once you go on FikFap.