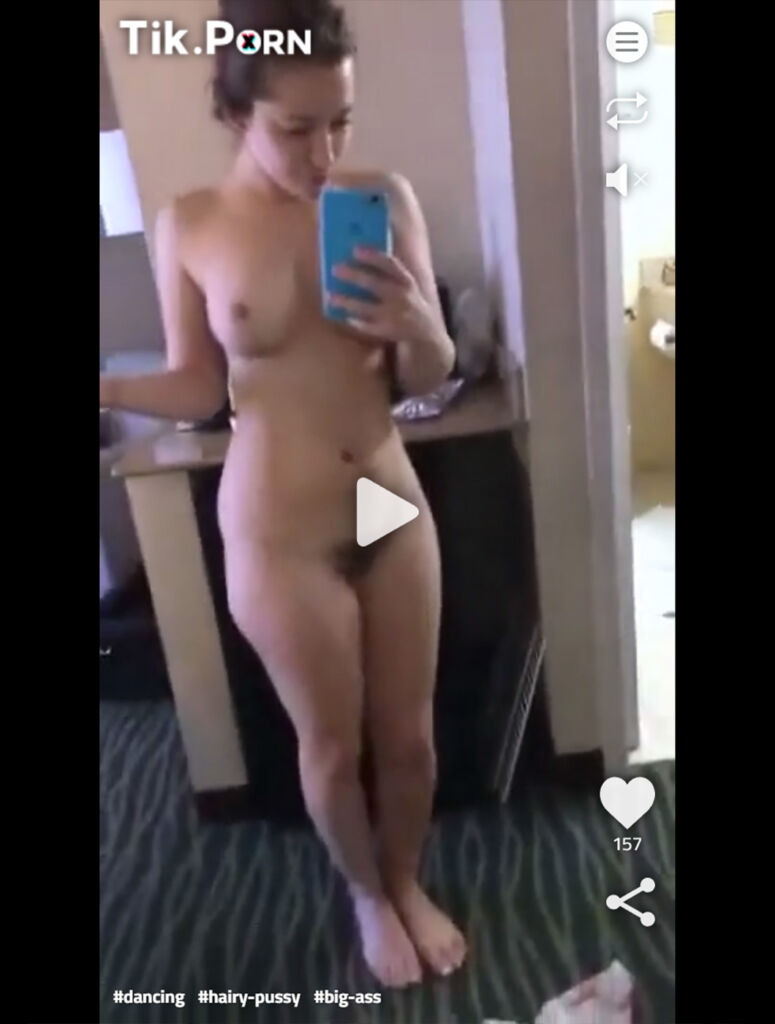 Would you believe me if I said that TikTok now holds more drool-worthy, fuckable babes than all of the porn sites combined? Probably not because the porn sites have been here since the first guy on earth learned how to stroke his dick and TikTok only launched a few years ago. But TikTok being the host to millions of porno clips is pretty inevitable. That was until TikTok heightened its restrictions regarding nudity, pornography, and profanity. This is why we can't have nice things anymore. 
Luckily, a few programmers and developers figured out what everyone was rooting for. You know TikTok porn is bound to happen whether uploaded on the app itself or outside. Besides, the app can't control how users want to use it. TikTok makes us drool for porno content even more with the length of its clips – from a mere 15 seconds to its maximum of 10 minutes. These time frames aren't enough to accommodate a full porno performance, but that's the point. 
TikTok's clips usually consist of ladies dressed in short, tight clothing, lingerie even, or bikinis, dancing or posing to some trendy pop music. For the beginners, those video clips are enough to immediately go to the bathroom and wank the shit out of their cock. But for the fapping experts, these whores are just beginning their lifelong porno career. Everything and everyone starts with PG, and it's only a matter of time before they level up to explicit.
Tik.Porn: The fun side of TikTok 😉
To get this out of the way, Tik.Porn is in no way related to TikTok. Tik.Porn also does not collect explicit TikToks from the app. The porno clips you'll see are money shots from porno performances that you're too tired to sit through. However, you might have seen some familiar faces there. Tik.Porn holds a mix of amateurs and professional porn stars, just like your friendly neighborhood porn site. 
So now that it's out of the way let's talk about Tik.Porn. I know all the fun TikTok provides, and that's precisely what you'll see on Tik.Porn. This TikTok-inspired porn site is as easy as 1-2-3. You'll have to type it on your computer or phone's browser, and you're good to go. The website adjusts its proportions to whatever gadget you're using, so you don't have to worry about pesky ratios that ruin your fapping session. 
Similar to TikTok, every single one of Tik.Porn's video clips are on a loop, so if you find the porno clip you'd go loco for, you can continuously watch it without any interruptions. You don't have to wait because there's no buffer time unless your internet connection sucks ass. Tik.Porn allows you to like a porno clip, share it, or find more of it through the hashtags on the bottom side. 
Unlike other TikTok-wannabe porn sites where you'll only be able to see repetitive video clips, Tik.Porn has an options menu. You'll be able to find that on the button located on the upper right. It's a drop-down menu containing a few helpful buttons like the account, porn stars, studios, actions, tags, and incognito shortcut button. Sadly, there are no comments sections, so you won't be able to see how people reacted to that video you've been drooling for. Use it like you use TikTok; scroll up or down, but not sideways, and you're good to go.
Money shots and nothing less 🤤
You know the part of porn where the acting takes place, and you have to wait for a few minutes before the porn stars go naked? That's too boring to sit through. You won't have to go through that boring part again with Tik.Porn. 
Tik.Porn brings you only the best parts. You won't scroll away your day for nothing. This amazing porn site makes sure you see only the best, making the most of every single stroke you do on that throbbing cock of yours. Now you don't have to adjust the video player to your most-awaited part, and you must scroll up or down while wanking your dick.
However, I hate to disappoint you, but Tik.Porn only serves our usual porn. Yep, it's not the usual porn site, but it does serve the porn we see every day – but only the best parts. Tik.Porn seemed to ride along the madness of TikTok porn, but it doesn't hold an army of horned-up amateurs slowly stripping down in front of their cameras. On the brighter side, you can watch more porn in a minute now. 
There's a lot of variety going on in Tik.Porn. Because the video clips come instantly, you'll come across different categories in less than a minute. Some categories are #threesome, #anal doggy style, #reverse cowgirl anal, #sex toy in the mouth, and thousands more. You're wondering why my hashtags aren't properly made, but that's how it is in Tik.Porn. They go quite specific with their categories, which I like, instead of clicking on one vague term and searching for that one porno performance you'll fap to. 
Well, that's about it with Tik.Porn. So, what do you think? Tik.Porn is one of the many sites that challenge traditional porn. One great thing about it is that you can fap on the go if that's your thing. No ads, hassle-free, no payments needed. Tik.Porn is one hundred percent free. All you have to do is to prepare some lube if you need it. But don't go fapping your dick too hard because of Tik.Porn's library is continuously increasing, and you don't want to lose a shitload of cum in one go.