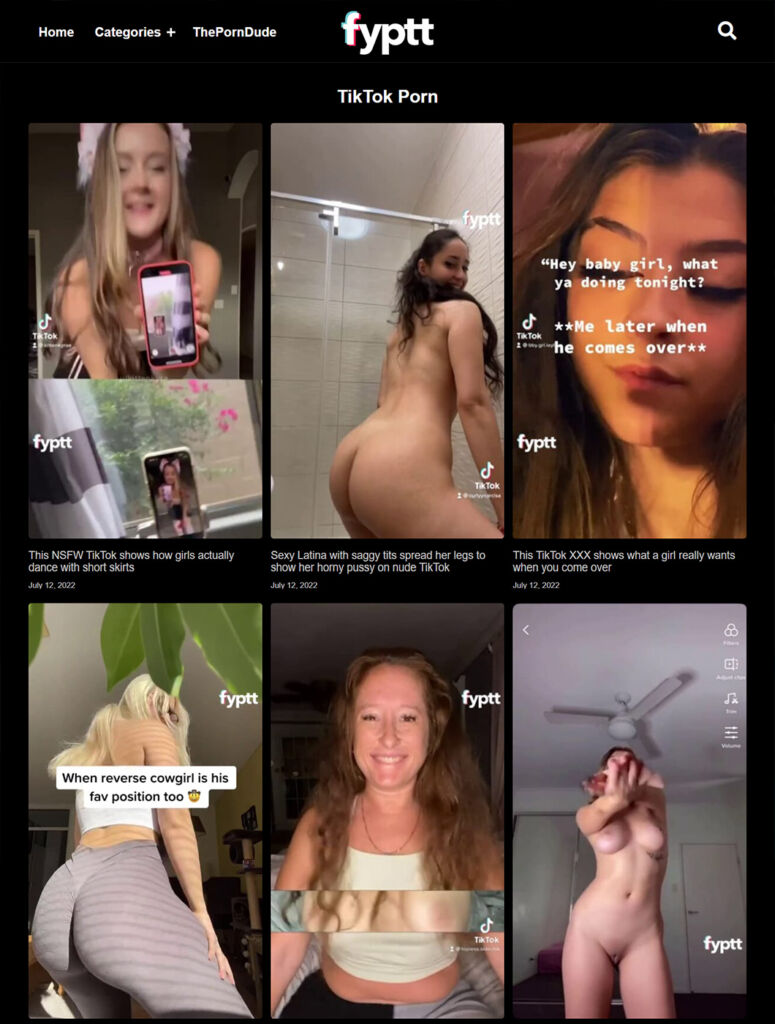 TikTok – the easiest social media app to use, is quickly reshaping the world of porn. Gone are the days when we have to sit down and fap through 25 to 50 minutes of good old traditional porn. Everyone wants instantaneously recently, which is the one thing TikTok can easily give. TikTok's videos last a maximum of 10 minutes only. Even then, no one's interested in watching those 10-minute long videos unless it's instructional.
The only downside of TikTok is that it prohibits its users from uploading explicit content. Its strict rules and fast action of deleting pornographic videos from the app prevent award-winning porn stars and horned-up individuals from expressing their feelings online. That's the sole reason why FYPTT is made. If you closely follow hot TikTok babes and wish to see them beyond what their skimpy clothing covers, then FYPTT is the right place for you. 
FYPTT is for the skimping fappers who don't want to shell out money yet still see an almost unlimited amount of naked bodies anytime they want to. That means FYPTT is a melting pot of naughty content that's completely free.
TikTok but a thousand times better 
If you think TikTok moves fast enough to remove the nude videos posted on it, FYPTT is even quicker to act. FYPTT downloads TikTok-deleted explicit videos, adding them up to their collection of short naughty clips. Now's your chance to treat yourself with an abundance of short clips to which you can wank your dick or entertain yourself with ladies flaunting their fuckable bodies. 
FYPTT holds various kinds of clips that'll surely satisfy your sexual cravings. From stripteases, solo masturbation, lingerie-clad babes – you name it! Although there are only a limited amount of categories, the videos are ever-increasing, and the categories list won't hinder you from ticking off everything in your list of sexual fantasies. To finally put the cherry on top, most of the ladies featured in FYPTT's contents are amateurs who want to show the world their curves, pussies, and skills. Of course, you can find some world-renowned porn stars here, but compared to traditional porn sites, there are only a few. 
Just like TikTok, FYPTT is also filled with sexy girls wearing tight, skimpy clothing while dancing to whatever song is trending at the moment, with its corresponding dance steps. But there's a plot twist to that. FYPTT won't let you fap to just that; it's too boring. These girls show their nipples, pussies, and asses as they go about in their videos. Most of the time, it's not accidental, though. It's worth noting that most of these videos, if not all, are not scripted. The ladies at FYPTT genuinely want to display their horny side for all the world, without camera operators, lights, locations, and scripts in tow. 
Navigating can be as easy as 1-2-3
FYPTT made it a point not to give its users a hassle in navigating their site. The site looks like a Tumblr blog if you're familiar with that. It's incredibly minimalistic. FYPTT emphasizes its content more than anything else. That's why when you go on the porn site, you'll be greeted by well-arranged videos containing naked and semi-naked girls ready to make your wet dreams come true – nothing more and nothing less. 
Their menu options contain only the home button and the categories button. Although as I mentioned earlier, FYPTT contains only very few categories. Here are the ones you'll find on their list as of writing:
Nudes 
Boobs
NSFW
XXX
Ass
Pussy
Sexy
Thots 
Yep, that's all. But unlike traditional porn sites, which are a bit slow-moving due to the production procedures of their contents, FYPTT updates its stash daily. For serial fappers like us, this is just the right site for us to stroke the milkman too. 
FYPTT takes pride in meeting the needs of all kinds of porn lovers out there. Even though the categories list is incredibly limited, you'll be surprised that the videos you'll come across on the homepage have enough variety to be placed against a traditional porn site. If you think their content is still lacking, you can upload your explicit TikTok video without holding an FYPTT account. 
The verdict 
TikTok and porn have got to be the best combination in humankind. You'll never see something as astounding as this. Even YouTube is no match for it. Porn sites are adjusting to the fast-paced world we're living in. FYPTT is one of the few porn sites that are fast adapting to it. This is the future of porn, whether you like it or not. 
Easy navigation, free videos, ad-free porn, amateur ladies and gentlemen, unlimited amount of porno performances to watch, compatible with every gadget we use – what more can we ask for? You deserve to fap your heart to authentic amateur content without breaking the bank.