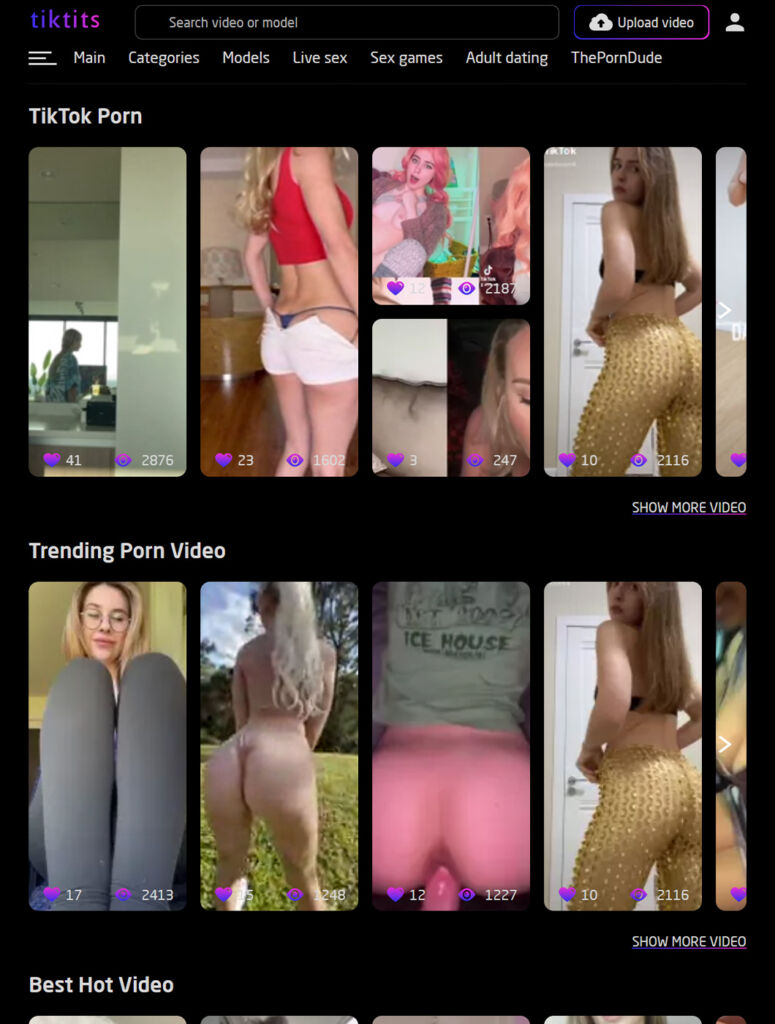 Whoever thought and bought this domain name is a genius. Tik Tits is as catchy as TikTok. Every perv imaginable will have this porn site name memorized in no time. As you might have guessed, Tik Tits is another TikTok spinoff. These TikTok-inspired porn sites are sprouting out of nowhere and changing the fate of porn as we know it. 
Who can blame them, though? TikTok has been the talk of the town since its launch. It's inevitable that this would happen, especially since TikTok is the easiest app to use. No introductions are needed, and the content will welcome you immediately as you get on the app. Only this time, Tik Tits is a porn site you can load on a computer or your phone instead of an app. 
There are already lots of TikTok-inspired porn sites, so what makes Tik Tits any different? Well, starting from its name, Tik Tits focuses on tits more than anything else. Among the rest of similarly-made porn sites as well, Tik Tits is the only one whose name will stay in your mouth. It's quite catchy, isn't it? But that's not all this amazing site has to offer. Let's have a walkthrough.
Amateur models for days 🤤
Among all of the TikTok-wannabe porn sites I've visited, Tik Tits is the only one that looks like an actual website rather than an app. Because of that, Tik Tits is the only one with an options menu on the site's header. Instead of scrolling around not knowing what's in store for you next, this porn site has organized everything so you can specifically navigate what you want to see and where you want to go. 
Tik Tits included a model button. If you click that, it'll redirect you to several pages containing approximately twenty models each. Currently, they have over 180 models you can fap to. Don't worry; this is an ever-growing number because they add models and video clips to their collection daily. You might have already seen the models included in Tik Tits' list, but most are daring amateurs trying to reach porn stardom or just plainly horned-up in the model's section. 
Once you click on a model, you'll be redirected to her page. Each model's information contains their pen name, age, gender, zodiac sign, boob and booty size, pussy hair, sexual preference, and a short bio. Most traditional porn sites don't hold this much information regarding their models, so this is a surprise. The model's profile also holds all of the porn clips the model star in. This way, you don't have to retype their name on the search box to look for their videos. A short preview will show you what happens in that clip when you hover on the video's thumbnail. Tik Tits likes to ensure a hassle-free lone rangering session for all us horny people.
Welcome to the meticulous fapper's paradise ✨
Tik Tits is one of the porn sites that are too easy to navigate. It'll give you the fapping of a lifetime in no time. Compared to TikTok, this one is more organized, and you can see the categories in a neat list instead of guessing what category a porno clip belongs to. Usually, with Tiktok-inspired porn sites, categories are often typed in hashtags. But to keep the classic porn site feel, Tik Tits' categories are compiled in a button on the options menu at the header. 
Tik Tits' categories are as follows: 
NSFW
Ass
BBW
Hot
Porn stars 
Cosplay
MILF
POV
Celebrity 
Non-nude
Naked
Boobs
Teen 18+
XXX
Sexy 
It's not a lot, but like its contents, it'll grow by the day. Tik Tits has got to be every meticulous fapper's paradise simply because everything is organized and placed where it should be. The site isn't crowded, and the visuals don't hurt my eyes. Tik Tits' color combinations are just black and purple, which is pretty nice. There are no distractions, only very few ads on each page, and you'll be ready to wank in one click. 
Have I already mentioned that Tik Tits personalizes your homepage? Like TikTok's algorithm, your Tik Tits homepage will be filled with everything you're drooling and fantasizing about, based on your liked porno clips. Aside from that, you won't have to experience buffering anymore because the videos load as soon as you click on them. It's a hassle-free porn site that's also completely free, by the way. You'll need to prepare some lube, have a few tissues by your side, and prepare for the best wanking session.