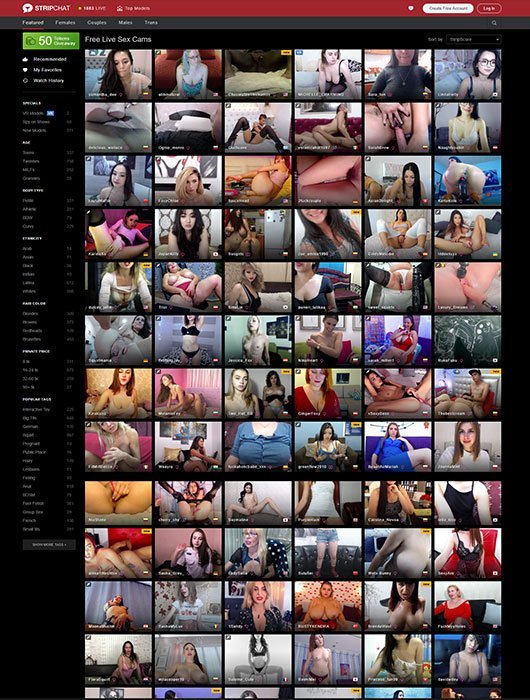 I'll give you 3 guesses at what Stripchat is about.  Hint: It has the word "strip" and "chat" in its name.
Unless you have the IQ of a goldfish, you should have figured out by now that its a site where girls strip for you live on webcam.
I hear that Stripchat is operated by the same people as Xhamster.com. That tells me this is no amateur operation, my friends. It makes sense they would create a site for guys tired of jerking off alone to porn. It gets boring. I like to switch it up with some cam-2-cam sex with random horny girls 😀That's why that pervy hamster launched Stripchat!
My first impression of Stripchat
There's nothing innovative about the layout. It looks like every other cam site out there. Thousands of thumbnails that lead to cam girls ready to make my dick hard as a rock.
On the side, I saw they had some search options, as well as on top.
The 4 major categories
The first thing I do when I visit a new cam site is looking for what makes my dick twitch with anticipation. Stripchat offers 4 categories at the top of the screen: Girls, Couples, Boys and Trans.
I start with the girls because I love pussy (obviously). I start using some of their filters to narrow down the results. Note: They should really add a filter that says "No ugly chicks".
I tried the filtering the girls by age (teens, twenties, MILFS, and grannies), body type (petite, athletic, BBW, curvy), ethnicity (Arab, Asian, Black, Indian, Latina, white), hair color (blonde, brown, redhead, brunette), and, perhaps most conveniently, by the price of private shows (8 tokens per minute – 90+ tokens per minute).
I also checked out the couple's section. I think it's hot as fuck to watch two people fuck live on cam as I sit back and direct the action. 😎
Great search options!
As I started browsing, I first thought that there were only a couple of search options. The ones I basically already listed… but to my surprise, there was a lot more than that.
On the side of the site, you can start by selecting the sluts age, then ethnicity, then hair and so on. As you can see, they like to go in detail as to what kind of shows they have to offer, and as a webcam fan, I can really appreciate this.
My favorite search section was the bit where you could select different categories. I mean, that is why the fuck we are all here, right?
There were loads of naughty categories, and it was nice to see that there is a cam website that actually tried when it comes to this shit. So, no matter what you are searching for, I am pretty sure you will find it here.
Check out their profiles
When you click on any of the shows presented, you will also be able to view their profile, and that is actually very important. Check out their profiles and learn more about them in general.
Pay special attention to their self-introduction and overall rules, since some chicks prefer to be a bit uptight, and if you get on their wrong side you can also get banned.
Below the rules, they will often have the tip menu, where you can obviously see all the crap they are willing to do during their live cam shows.
Also, most models will have their own personal galleries and videos that you can purchase with tokens, in case you are feeling extra thirsty.
Many gorgeous women!
My initial thought about the site is that they must have great performers since the site itself looks bomb AF. Well, I was right to think that, because the performers here are fucking hot.
There are many beautiful women who are ready to do whatever it takes to please you. This means that you are about to see some of the hottest shows out there.
One of the first women I checked out was a gorgeous blonde with glasses, she basically looked like my teacher from high-school… and let me tell you, that teacher was sexy.
There was also another babe who got my attention because she was licking her own pussy… I am not joking! This slut was so bendy that she was able to lick herself, and again, the session was fucking amazing.
When it comes to the sluts, you have babes of all shapes and sizes, as well as ability. I mean, I have just said that I have seen many different women, so you can expect diversity.
Handsome hunks and slutty trannies…
Ah, I am not that into dicks or even chicks with dicks, but of course, I had to check out these two sections as well. Now, I am very sure of my love for vagina, so I can easily say that these dudes were handsome, and some of them were even fuckable.
From my own experience, most of the dudes just like to jack off. But, from time to time you can find a couple of lads who also like to stick it in the backdoor, and isn't that why we are all here?
Now, now, now… the trannies were quite freaking adorable. I mean, I have said a couple of times that I am not into dick… but man, these trannies made me question my sexuality.
My wife agrees, in case you were wondering. Turns out we both want to test out a hot threesome with a naughty tranny, and I will keep you guys updated on how that goes.
Anyway, let's get back to the topic. The chicks are sexy, the dudes are handsome and the ladyboys are fuckable… that's all there is to it.
Couples really like to spice it up on StripChat
Sure, I prefer to watch solo girls… but couples are my second preference. There are many horny couples here, and they all love to get naughty and fuck each other.
Don't confuse this with the boring mainstream couples who just do oral and fuck. I mean, you have them as well, but I am talking about the couples who like to take it to a whole new level.
Do you want an example? Well, there was one show where you could see four sexy girls bent over, displaying their pussy with the toy, as one of them did what comes naturally; there was lots of slapping and pussy licking.
There was another trio, with a dude, beauty and a ladyboy; now, that was a combo that gave me a pulsating boner, and I am proud to admit that they made me nut as well.
Variety of fap-worthy shows.
But, what kind of shows can I expect? Well, if they have so many different performers, isn't it obvious that they will offer that many different shows as well?
Let's put it this way. When I first opened the site, there was a solo girl masturbating, a naughty couple banging in costumes, and a tranny wanking off while having her asshole rammed by a dildo all in the same row…
That right there proves that they indeed have an amazing selection of cam performers who like to put a twist on their performances.
I've seen kinky shows, BDSM hardcore porn, simple solo masturbation, dudes trying anal for the first time… and so on. As I have said, they have a little bit of everything for everyone.
To register or not to register… that is the question!
Well, it is actually very simple if you ask me. Do you want to have the experience I have already talked about throughout the whole review? If you answered yes, then you should fucking register.
Without the registration, you are allowed to watch all the shows that are offered, until the beauty goes to a private. But, if you choose to register you get a lot more privileges overall, and isn't that why we are all here?
Once you do become a member of the site, you should also purchase tokens, which is the webcam currency of Strip Chat. With those tokens, you can ask beauties for special favors that they will do in front of everyone, or you can invite them to a private cam session instead.
Simply put…
Do you like to watch sexy girls spread their legs and pleasure themselves? Or maybe couple as they experiment with new toys or friends? If so, you are bound to be satisfied with what StripChat has to offer.
This is a free webcam website, and even though you can purchase the tokens, you do not really have to. There are loads of different shows for you to check out and many naughty performers… go wild.
Free site.
Great search filters!
Lots of horny performers.
Girls, guys, trannies, couples…
Some ads.
Cams could be of higher quality.