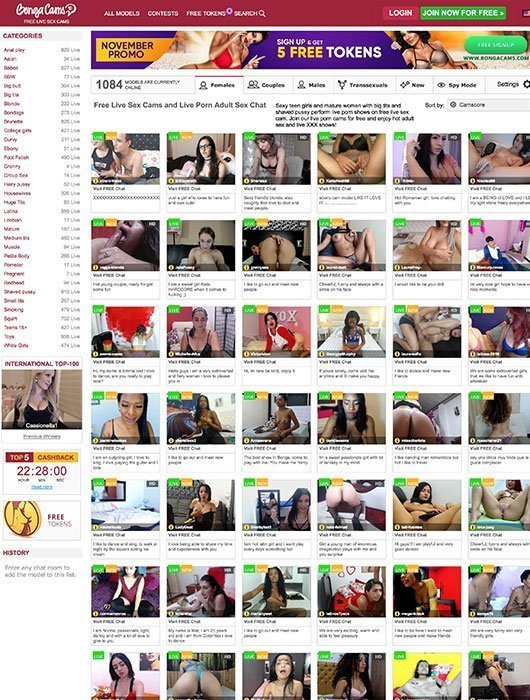 As I entered bongacams.com, the first thing I encountered is one of those shitty warnings that I am entering a porn site, like now shit, I highly doubt ever found an adult cam site by accident while looking to buy a camera on e-bay or some shit.
After clicking enter, boom, I get a bloody pop-up to register for an account. What the fuck is up with that, I don't even get to see the cams for a few seconds before I am annoyed? I clicked the "remind me later" button for now, and I decided to check what the homepage actually looks like.
Decent homepage
Honestly, I went through quite a lot of cam sites, especially recently, and I must say, that the homepage is pretty much what I want to see from a cam site. A bunch of hot models were immediately on the homepage.
As I hovered my mouse over the thumbnails, I was extremely glad that the thumbnails turned into a live feed of the cam show. I really fucking hate when cam sites use profile pictures for their models.
It often feels like a kick in the balls when a model has an extremely photoshopped profile picture and upon entering her live session she turns out to be extremely ugly.
Registering is extremely quick and easy
Before I registered, I decided if I can access the cams, and of course, it was an option. However, if you are an unregistered user, quite a lot of experience is lost on pretty much all cam sites, so I decided to register anyway.
I got to say, that registering on this site definitely had to be one of the quickest and easiest out there. I simply picked out a username, and I logged in right after registering, no need to confirm the e-mail or any of that bullshit.
Immediate promotion pop-ups
Now, as soon as I logged in, I was immediately got fucking annoyed by a couple of pop-ups, asking me to purchase tokens in order to get a couple of extra ones.
Other than that, there were a couple of tutorial pop-ups, such as "the follow option will notify you when the model comes online" yeah, no shit.
Only people who live under a rock are not aware of what a follow option does in a time when pretty much everyone is on at least two social media platforms.
Variety of models
Once I dismissed all the fucking annoying pop-ups and notifications, I could finally see the homepage again. Upon checking out what kind of models the site offers, I noticed that there are a couple of preset categories.
The default one is obviously set to female models, since those are the most popular one, duh. However, besides hot babes, you can also watch couples, gays, and transsexuals.
Decent number of models
Of course, the number of other cams besides the female ones is only about 10% in numbers when compared to the female ones, or at least that's how it was when I checked out a couple of times throughout the day.
With that said, the average number of female models that you will get to find at bongacams.com is about 800, which is a pretty damn number of attention-craving babes.
Amazing browsing options
Something that a lot of live webcam sites get wrong are the fucking browsing options. That is because they either don't exist at all, or they have a tag system that gets abused by everyone, I am looking at you chaturbate.com!
The first thing I tried when it comes to the search engine is typing in a keyword, and honestly, I was not surprised when the results were only matching model names and nothing else.
Luckily, my short-lived disappointment vanished once I checked out the categories that the site has. There are about 30 different categories to pick from, and while they do kind of work as a tag system, it actually works as intended.
Live shows work as you'd expect
Ok, so after checking out all the options, I finally let myself into a live show. The interface is pretty good, with the camera being on the left, and the chat is on the right. It does kind of blow that you can't resize anything, but it is what it is.
The girl I decided to check out was one of the most popular ones, she had about two thousand concurrent viewers. This, of course, meant that I could just sit back and relax as someone tips in with a request where she would reveal her tits, her cunt, or play around with her toy.
However, while I do enjoy free porn here and there, I am definitely not a moocher. Once the tipping menu notification popped up, I decided to tip for her to put on some black stockings.
As soon as I tipped, the sex toy that she had in her love tunnel started vibrating, and she thanked me for the pleasured that I have provided her.
It is always nice when models do this, so you can be sure that it is not pre-recorded footage. She immediately put on those stockings as well, and she looked fucking amazing.
Live room profiles could use some work
Honestly, at first, I didn't even notice there was a fucking profile section as I entered a live show, even if it is immediately under the video. That is because it is really fucking small, and the whole thing just blends together.
I thought that the girl I checked out first just didn't really work on her profile, which was weird considering how popular she is. However, once I checked out a couple of other profiles, it was the same overcrowded shit that probably no one checks out.
Great site, in various languages
Something that I forgot to mention earlier, is that I noticed that there are all kinds of languages available for the site, and they all translate the English version beautifully. Bongacams.com is a really cool site, however, the fucking pop-ups for promotions can sometimes really ruin the experience.
Great browsing features
Diversity in models
Site available in multiple languages
Annoying promotion pop-ups
Model profile section is bad