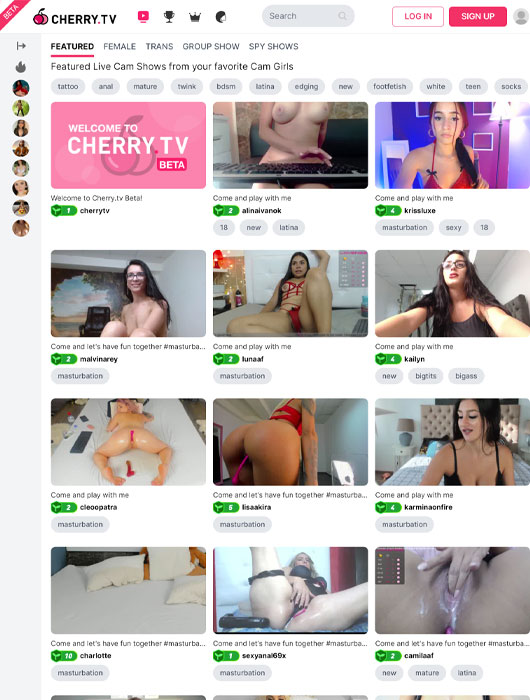 Cherries are delicious, right? Well, that's a pretty subjective question. How about pussy? Is that universally delicious? We think so. However, if you disagree, this review may not be for you, and you should probably slag off to somewhere else that suits your fancy.  Go on now.
For those who didn't "slag off" (been loving that term lately for some reason), how about live pussies on sex cam? Even more succulent, right? You might even find some of that famed "cherry pussy" (virgin puss) that everyone loves so much on Cherry.tv!
Okay, Nice Build up Dude, but, What the Eff is Cherry.tv?
It's a sex cam site, silly. One filled with lots and lots of delicious pussy to not only fap to but also talk with! Yes, you can talk with vaginas in real-time on Cherry.tv. Considering many of the sex cam models aim their webcam closeup to their vag while chatting, the site really does give you that impression, sometimes. The ladies, gents, and trans folks do show their faces, too, of course. In fact, there's quite a lot going on at Cherry.tv
What can I do on Cherry.tv?
Well, obviously, you can wank off to live sex cam girls but is that it? Nope, that'd be pretty lame. There's a whole experience to indulge in here. For one, got a favorite sex cam model in mind? Cherry.tv, while they have thousands of models to sift through, and the home page is organized by currently active models, so you don't have to pester yourself with sifting through inactive cams, also has a "top models" section, where, users like yourself have spoken and decided that these babes, dudes and trans performers are the best of the best. Checking out that section will give you online thrill-seekers the fix you've been seeking.
Step Right up and Pick a Gender, any Gender.
Most people enjoy watching live girls perform nude on sex cam. There's a whole category dedicated to just solo babes working their magic at home. Your only job would be to pick the one who you love the most.
If you're into gay cams and love watching hot hunks, twinks and bears whip their dicks around. There's a section dedicated solely to male performers.
Trans cams, while the term exists in the navigation menu, clicking it didn't yield me any results this time around. Maybe that section is under construction, but to find the silver lining, it's certainly something to look forward to for all you trans sex cam lovers.
Is Cherry.tv free? Because, y'know, I'm a Cheapass.
The quick answer to this question is "yes, kind of, but no, not really". Trust me. It makes sense. Just keep reading. If you want to watch free live sex cam girls, no prob. You can enter rooms for free, watch the shows (and yes, there's lots and lots of nudity in them.), which if that suits your fancy then no prob, fap and be done with it.
Of course, for more discerning customers, there are exclusive and premium features. Which, of course, costs money. You get what you pay for, right? So, if you pay, what do you get? If you've tried the Cherry.tv free version, then you'll have noticed folks chatting with the girl live and sending her fun gifts along the way.
These are the things that you pay for. Live interaction with the performer. It's about as close as we can come in this day and age to pay for sex without having to leave our house or do anything illegal. As a paying customer, you get to be the big boss and utter commands in the live chat such as "show me your ass!" or "rotate a dildo counterclockwise around your pussy, and then dip it in a chocolate pudding and eat it". Fun, right? It's always fun to show everyone in a room how pimp daddy you are.
Alright, so If I want to become a Big Daddy on Cherry.tv, What's It Going to Cost?
Okay, so let's break this down nice and simple. First, you can sign up to Cherry.tv for a monthly charge which gives you all kinds of premium features, not otherwise accessible to regular users.
It costs $17.99/ month and includes:
200 free tokens
Animated entrance and badge to show to flair up your chatroom clout
Model private messaging
Free animated gifts each month
Extra special chatroom privileges
What are Cherry.tv Tokens and how Much do They Cost?
Tokens allow you to interact with models in the live chat, and it mostly has to do with sending her gifts or making requests from her.
Here's the token cost breakdown, and afterward, we'll breakdown what tokens actually do:
100 tokens – $9.99
210 tokens – $19.99
320 tokens – $29.99
550 tokens – $49.99
900 tokens – $79.99
1,150 tokens – $99.99
Here's what gifts those tokens will get you, the higher priced the gift you send, the more you'll impress the girl, and chatroom and more likely she will be to obey your filthy requests:
Cherry – 1 token
Cucumber – 2 tokens
Eggplant – 10 tokens
Rose – 25 tokens
Sunglasses – 50 tokens
Heart box – 75 tokens
Teddy bear (VIP Only) – 100 tokens
Stilletos – 100 tokens
Laptop – 200 tokens
Watch – 300 tokens
Diamond – 500 tokens
Ring – 750 tokens
Crotch rocket – 1,000 tokens
Racecar – 2,000 tokens
Yacht – 3,000 tokens
Private jet – 5,000 tokens
Depending on how pimp of a mofo you want to be, will determine what kind of gifts you send the girls. It's all public so I can imagine gift battles between alpha males happening, starting with a cherry and escalating to a private jet, vying for the model's attention, and maybe even love! Fun to watch, and if you have the scratch, fun to play.
Aside from sending gifts, you can also request that she does stuff for you by clicking on the "action" tab. Here's a little breakdown of some pre-loaded actions, but if your kink isn't listed, you can always private chat with her and custom request your perverted desires.
Flash boobs – 50 tokens
Flash pussy – 60 tokens
Squirt – 1,000 tokens (lots of effort here!)
Show feet – 25 tokens
Insert butt plug – 100 tokens
Wear heels – 120 tokens
Dance – 80 tokens
Spank ass – 33 tokens
Oil boobs – 75 tokens
Dildo BJ – 110 tokens
Dildo play – 197 tokens
Finger ass – 123 tokens
Finger pussy – 111 tokens
Final Thoughts on Cherry.tv
Go, visit Cherry.tv right now. Why am I such a pushy used car salesman? Because you have nothing to lose. If you actually read the whole review rather than skim the bullet points, you'll have understood that you can hang out at Cherry.tv for free, fap to live girls, and enjoy yourself without spending a dime. So there's no loss to visit the site. After that, if you want to have some fun with real, live girls, then it's your call.
Either way, Cherry.tv is a well-put-together sex cam platform. There's no malware or hard upsells. What you see is what you get. It's a completely legitimate website for you to play around with and peruse. So, go, and have some fun!
New, never-before-seen cam girls
Highly competitive rates
User-friendly interface
It's a new site, so the number of girls available online is limited