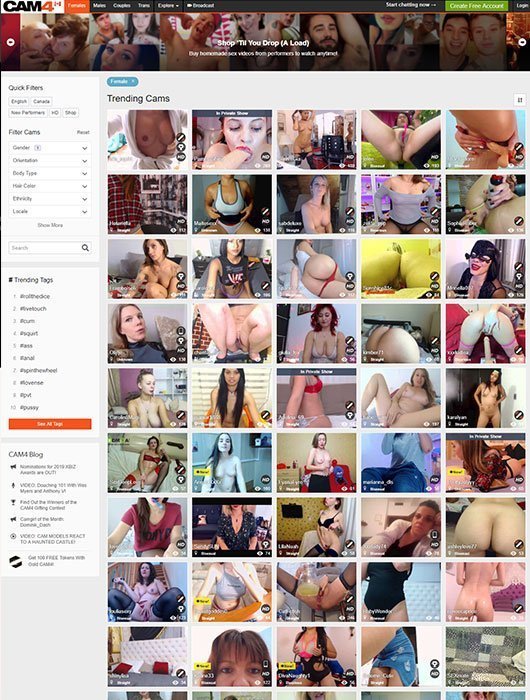 The pornographic scenes can often become repetitive, especially when talking about the premium websites, right? I can't be the only one who gets bored with their predictive outcome, every time.
Well, when I am not watching professional pornographic videos, I like to dive deep into the webcams, and today I would like to talk about Cam4.com.
This is a simple webcam website that stands out for many reasons, which you will get to learn if you start reading. So, sit back, relax and get to work.
Girls, guys, and trannies…
When you open the site for the first time, you will be asked to select which kinds of cams you were hoping to see. This is a nice feature since I prefer not to get hard dicks all up in my face, thank you very much.
So, you can choose whether you want to browse girl cams, guys, trannies, or you just like to browse everything. Once you select the shit you are into, you will gain access to the site.
You don't have to register, but you should!
First of all, do you know how webcam sites function? I should assume that you do since if you do not you might be a bit too young to browse all of this.
When I opened the site, I was able to check out everything without the registration. This includes the option to view the live cam shows that were not in a private session.
Of course, I spent a lot of fucking time browsing through everything… I mean it is free. How can one not take advantage of that?
However, if you choose to register, you get a lot more privileges. You can customize your own account; you can tip other performers and do that kind of crap. The usual.
Thousands of live cam shows
What I really enjoyed about Cam4.com is the fact that they have thousands of live cam shows for you to enjoy. On top of that, their content is so diverse, that I am pretty sure that you will find whatever you are looking for.
From the first glance, however, I did see a lot of dicks. No, I am not drawn to dicks or any of that shit, but when I browsed, I wanted to browse all their cams. That resulted in a lot of dicks everywhere.
Lots of horny girls, sexy trannies and handsome hunks!
I am not sure whether this was just at the time I visited the site, or Cam4.com is just a place that has a lot of males doing what they do, but apparently, there are lots of dudes jacking off currently…
With that said, I cannot deny that the dudes who were featured here were actually quite hot (nohomo). I browsed through some of their live cam shows, but they did not do much for me, to be honest.
I also ran into lots of hot shemales who almost made my woody hard. I am not ashamed to say that I could definitely fap to most of the tranny sluts here… I mean, there were just so attractive.
What is there not to like about a gorgeous tgirl who loves to get naked, masturbate or get rammed? Oh yeah, she does have a dick… I guess that is a deal-breaker for some.
And of course, we have the gorgeous female models. We are all here for the girls, I am pretty fucking sure… and it is good to know that they have loads of beauties for you to choose from.
Now the hotties here are bound to get your attention right off the bat, especially since the site is known for offering a nice diversity.
Models of all shapes and sizes!
While the porn industry does tend to offer a variety, they often have models that look, perfect. So, having a variety when it comes to the models is a big plus, or at least it was for me.
I saw babes who had a lot of chunk, as well as toned alethic girls. There were brunettes, black-haired beauties, blondes, redheads, chicks with huge tits or ass, and so on.
The same applies to the male and tranny models. You had dudes of all shapes, fit and fat, you had tranneis with big dicks or small… I think you get the gist, right?
One of the first beauties I checked out was a gorgeous older beauty with two horny girls by her side. They had a trio on camera, and you could see them enjoying every moment of it.
We both know that I stayed on that scene for the longest time because there was just something mesmerizing about watching those sluts squeal in pleasure, as the older slut was fingering them.
The fuck is up with that search system?
When you see a site, that is as popular as cam4.com, you expect that they have their shit straight. That they know what the fuck they are doing, right?
Well, apparently, they do not know how to create a simple search system, that will allow the users to find the shit they are searching for. I mean, if you are not picky, then this is probably not an issue for you.
But, I am sure that everyone has something that they are very into, thus having proper searches could make our life so much fucking easier. Come on lads, step it up, it ain't rocket science.
Basically, they have some options on the side, and while those options are doing a solid job of helping me get my dick hard, adding filters or more categories would make a lot more sense.
Some of the categories that they included are gender, orientation, hair color, ethnicity, body hair, and so on. They do cover the basics, but overall, they are really lacking… shame.
Another thing that bothered me is something that my hot wife pointed out. And that is the fact that you cannot filter the shows by the prices… some of us ain't hella rich, so it could be incredibly helpful to have this option. Wouldn't you agree?
Cam4 has a lot of different shows
I think it is safe to say that Cam4 is a site that offers a little bit of everything for everyone. You have a site that is solely dedicated to the naughty webcam community, and you get to enjoy everything they have to offer for free.
As I have mentioned a couple of times, it is pretty obvious right off the bat that they offer a variety, since there are so many cams for you to check out that you are bound to find whatever makes your dick hard.
So, what are you actually looking for? What kind of shows is your dick interested in? Is there anything specific? Once you can answer those, you can start browsing and trust me… Cam4.com is surely going to satisfy your desires.
When I started browsing more and more, I encountered a lot of shit. For example, while I could see some solo girls pleasuring their cunts, I also saw a lot of BDM shows or some kinkier scenes. I guess, it all depends on your personal preference.
Also, I think it is worth mentioning that their live cam shows are not really streamed in the full HD quality. The quality is not really bad, but I have seen better.
They make VR possible
One dope option is the CR cams. You can actually enjoy the full VR experience with these gorgeous cam girls if that is what you prefer. But, of course, you need the proper VR headset or whatnot.
If you have never experienced porn in the Virtual Reality environment, you are in for a treat. So, make sure that you actually check them out… it opens a whole new world!
Tokens are needed for that extra spunk!
I think that this should be acknowledged without me saying, but if you want to enjoy the shows to the fullest, you do not only need to register, you also need to purchase tokens.
Can you enjoy the shows without registering? Sure, you can. But that means that you will be waiting a lot until something happens, or you might end up losing the whole show if the model is taken to a private session.
However, if you purchase tokens, you and the rest of the viewers have gift tokens to the girl, dude or tranny and make them do loads of kinky shit. Now, doesn't that sound better?
Check out their profiles
Below every live cam show on Cam4, there are profiles of these babes. So, once you actually open the show, make sure to check that out, as there you can see what the beauty has to say about herself.
Often times the hotties will include some of their personal info, naughty images/videos, or the usual to-do list, or however you want to call it.
I think that this should, again be pretty obvious, but don't be a dick. If you find a chick, dude or tranny you like, do not hesitate to say hi. But, also, do not be a fucking moron.
The sluts here have all the right to ban you if you choose to be stupid. So, if you are interested in what kind of kinky shit they are willing to do, it is always better to ask first. Common sense, bro.
Invite them to private!
As I was watching many of these sluts perform, I just had to invite them to a private session as well. I think that this is not really surprising as the private sessions are basically like the live cam shows, just 10x better.
In the private cam sessions, I was able to ask all these sluts to do random naughty crap, just for my pleasure. I mean, it was fucking magical.
The first slut I decided to invite to a private was a horny babe with pierced tits and many tattoos. She loved to use her huge dildo and making her cum was rather fun.
The active toys were great!
Did you know that many cam sites today, have those active toys, that allow the viewers to control the vibrations? The sluts stick them up to their ass or puss, and you have the option to make them cum.
Basically, they are connected to the tokens, so you can donate a certain number of tokens for the vibrations to be harder or softer… and honestly, making a babe cum by gifting her tokens on live cam shows, is fucking magical.
I am sure that many of you are wondering, but not… I have not actually seen that many men or trannies have that toy, but then again, I have not browsed that much through those sections, so I could be wrong.
Prices vary…
While we are on the topic of private cams, you might want to know that private shows are a lot more expensive than giving tokens as it is… but at the same time, it all depends.
I mean, in the private webcam sessions, you are billed by the minute, and some models can really spice up the prices. While that ain't always the case, you should know what you are getting yourself into beforehand.
So, how does this all work?
If you are a newbie when it comes to hot cam shows, you might be incredibly confused as to what the fuck you are supposed to do. However, it is very simple, trust me.
No, I am not going to explain what you need to do. If you have read my review, you should already know what steps you need to take to enjoy hot live cam shows.
Conclusion
What is my overall? Well, I like what Cam4 has to offer. Whether you will like it as well, does not really concern me, to be honest. I am pretty sure that those who are not extra picky will enjoy their content.
There are loads of gorgeous models who love to get down and dirty in the naughtiest of scenarios, from BDSM fucking, to orgies or swinger parties… you name it. So, take your time and browse… what else am I supposed to tell you?
A variety of shows.
Exclusive VR shows.
Girls, guys, shemales.
Thousands of cam models.
Webcam quality ain't the best.