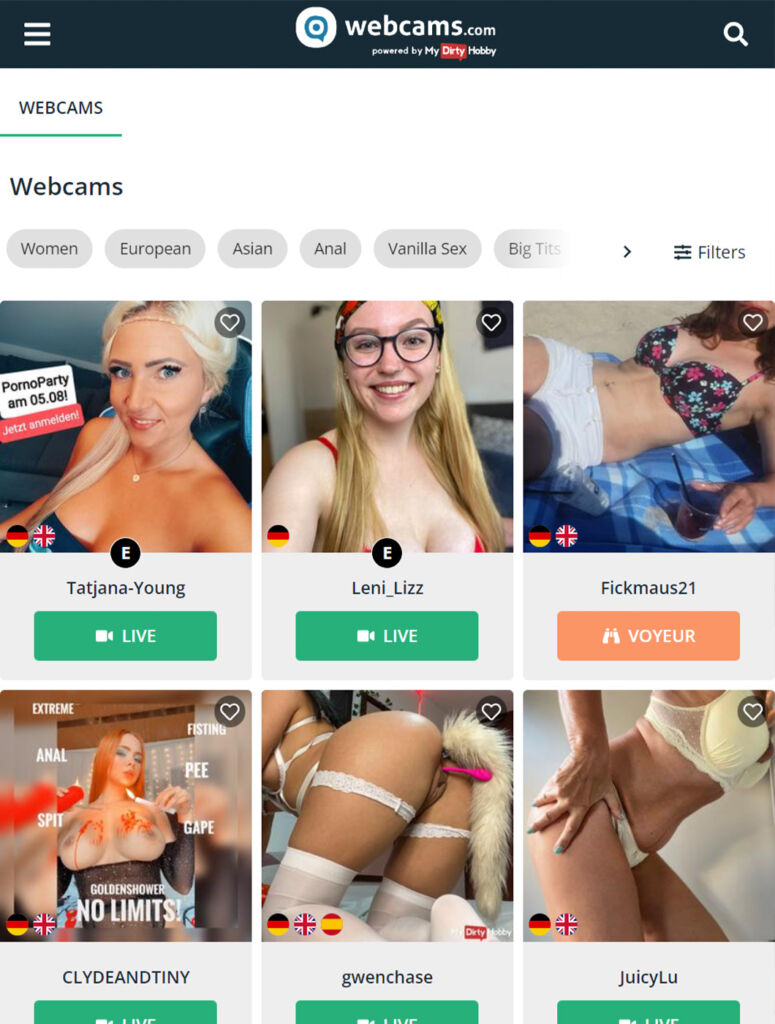 Ever heard of webcam porn? It's the same as live sex cams; the models only use webcams. I think not all models do that, though. Nevertheless, you'll never go wrong with this live sex cam site because its domain name is Webcams.com. 
It's as general as its domain. Webcams.com holds everything you can ever think of regarding live sex cams. Although they're one of the newbies in town, their selection is one of the most commended in the porn industry. Understandably, live sex cams and cam girls increase faster than traditional porno films and porn tubes, and you'll easily get why Webcams.com's content has it all. 
With the rise of live streaming, live sex cams, and live sex cam sites, it's going to be a dilemma which one to choose and which to pass. Just like their domain name, Webcams.com is determined to make every fapping session as easy and pleasurable as possible with none of the bullshit. 
Hundreds of cams available at any time ⏰
Live sex cam sites have people thinking that they're always available any time, just like your go-to porn site. Some of us forget that live sex cam sites are comprised of people who decide to go live at their given time. Many constraints hinder us from watching a certain model's live stream, one of which is different time zones. 
If you want to watch a kinky Japanese cutie, you'll have to sacrifice a bit of your beauty sleep to get into her time zone. You'll always find the replays, but it's not nearly as good as when you're on the actual live stream. As of writing, Webcams.com will currently serve you at least 200 live sex cams during its downtime. If we compare it to other live sex cam sites, it's not even near their numbers. But Webcams.com offers variety instead of numbers. Nothing to worry about, though, because as members and models increase, so will the number of live streams available at any given time.
Although small in number during their downtime, these live streams will have you going crazy because of the models' performances. The categories you'll come across here are as daring as they can be, even offering bondage and fulfilling all your sub-dome sexual fantasies. But that's another conversation to be tackled. Let's talk about Webcam.com's models first. 
Thousands of models right at the tip of your finger 👉
Webcams.com is home to 4,800 models from around the world. But, unlike most live sex cam sites nowadays, Webcams.com doesn't have a lot of variety. There are more cam girls than guys and trans people on this site. Nevertheless, Webcams.com still serves a good selection of cam girls that'll surely make that stick shift of yours go crazy. 
One of the reasons why horned-up people keep going back to Webcams.com is because of their models. The number isn't quite at par with their competitors in the porn industry, but the selection is to die for. Here are some model categories you need to watch out for on Webcams.com:
Cute Asians
Black babes 
Blondes
Latinas
MILF
Yep, you guessed it right, these are just the tip of Webcams.com's selection. You can find more in the categories where you'll see more models as well. Surprisingly, there's a good Asian model selection on Webcams.com that you won't want to miss. The Asians we usually see look like Westerners already, which is a bummer if you're looking for that pixelated type of fucker like in Japanese porno performances. Like me, you'll get your hefty fill of Asian live sex streamers on this platform. 
More than that, Webcams.com selected only the cream of the crop. Maybe this is one of the reasons why their number of models is a little bit low considering their age. They should be getting on pretty fast for a live sex cam site, right? But the opposite is happening. Webcams.com offers a nice selection of naked women who have smoking hot bodies. If they're MILFs, best believe they aged like fine wine – they only got better with age and their fucking skills. 
What sets them apart from the rest is this attribute: you'll see Webcams.com's models' masturbating to homemade sex toys that are much more massive than the ones we can buy. That's fucking jaw-dropping, I'm telling you. These ladies never say no to a good sexual challenge, especially about how much their fat pussies can handle. Satisfy your hardcore fucking cravings and even get a bonus pantyhose sex game performance if you feel like watching some. Anything goes on Webcams.com, meaning you must prepare to tick everything off in your list of sexual fantasies. 
Drool-worthy categories 🤤
As I mentioned, Webcams.com's models never back down to a good fapping challenge. This is one of the reasons why their list of categories expands faster than their list of models and live sex cams. You'll see these ladies doing anything and everything under the sun, even the unthinkable, as long as it fits in their juicy pussies and tight asses. 
Here are the categories that Webcams.com offer:
BBW / Plump
Big tits 
Couples fucking 
Babe on babe 
Asians 
Bondage 
Lesbians
Interracial
Mature 
Pregnant
Threesomes
Tranny 
Of course, you'll find more on the website. Even the mundane categories are included, and you'll be surprised how many people partake in that action. I guess life is truly boring, huh? I'm saying that whatever your fapping preferences are, Webcams.com will surely fulfill all of those. It's guaranteed. 
A paradise for fetishes and kink-lovers 
This is one of the reasons that sets Webcams.com apart from other live sex cam sites. They offer real kinky performances, and their models fulfill your fetishes based on your preferences and commands, and nothing less than that. Most sites declare the same thing, yet we don't see their models doing footjobs at the very least. 
Webcams.com will fulfill all of your kinks and fetishes through their models, who are more than glad to do everything. You can chat about your desires with them for free, surprisingly. However, some services that require going further or even going on a one-on-one session with each other require a specific amount you'll need to shell out. Don't worry; it doesn't break the bank unless you want to have a lone rangering session 24/7. Completely doable; it just might overturn your bank account. 
Registration and membership fees 💸
Registering an account on Webcams.com is as easy as remembering their domain name. Like most live sex cam sites, you'll only need your email and a trusty password. However, Webcams.com requires a small subscription fee upon registration. You'll also have to input your credit card info on the site.
Nothing to worry about; all billings are as discreet as your fapping sessions, so nobody will know that you're paying for high-quality pussy regularly. Again, this is a live sex cam site, which means you'll never pay for any other service on Webcams.com unless you initiate a one-on-one session. Their models all have pre-selected fees, but it depends on the model's popularity, reviews, and the quality of the camera they are using. 
For their private shows, Webcams.com's prices range from $1.99 to $3.99 per minute. Nothing that'll break the bank, that's for sure. If you want to casually watch or browse through, you can always look at the models' uploaded photos for free. 
Webcams.com offers 25 free credits upon registration that members can spend as tips in the free chat or pay for an exclusive private session. That way, new members can taste what it feels like to have their every command followed and even requested. It'll take you on a whole different level of wanking, which not even porno performances can give. 
However, it's important to note that Webcams.com doesn't have a reliable refund policy. It's common across almost all live sex cam sites, so I'm not entirely surprised. Canceling or deleting an account is as easy as 1-2-3, but expect that there will be no refunds, especially if you just paid for the small subscription fee they're requiring. In some rare cases where the refund was successful, members usually got it through Webcams.com credits. That means they'll still have to fap it out to get the most out of their refund. Not bad, huh?
Fulfill all your sexual desires one live sex cam at a time 👨‍💻
Webcams.com offers an incredibly unique camming experience. This live sex cam site makes a ton of ways for all our kinks and fetishes to materialize, albeit virtually. I wouldn't mind paying a small subscription fee if it meant I'll have jaw-dropping ladies at my disposal waiting for me to command or request them. 
It's truly a paradise waiting for you to enter. Quit fapping through traditional porn that only makes your head throb while waiting for the climax. It's high time you reward yourself with something tailor-made to your preferences. Don't even think of missing out on this because Webcams.com is that one live sex cam site that's pretty hard to come across. 
Have I already mentioned that you'll be canoodling online with amateur chicks and raging horny housewives? Webcams.com is as authentic and as amateur as it can get, and here's your chance to stroke your dick to these glorious ladies before this site gets infiltrated with porn stars. Not that there's anything wrong with that, but you get the gist. Nothing and no one gets as horny as the women on Webcams.com.