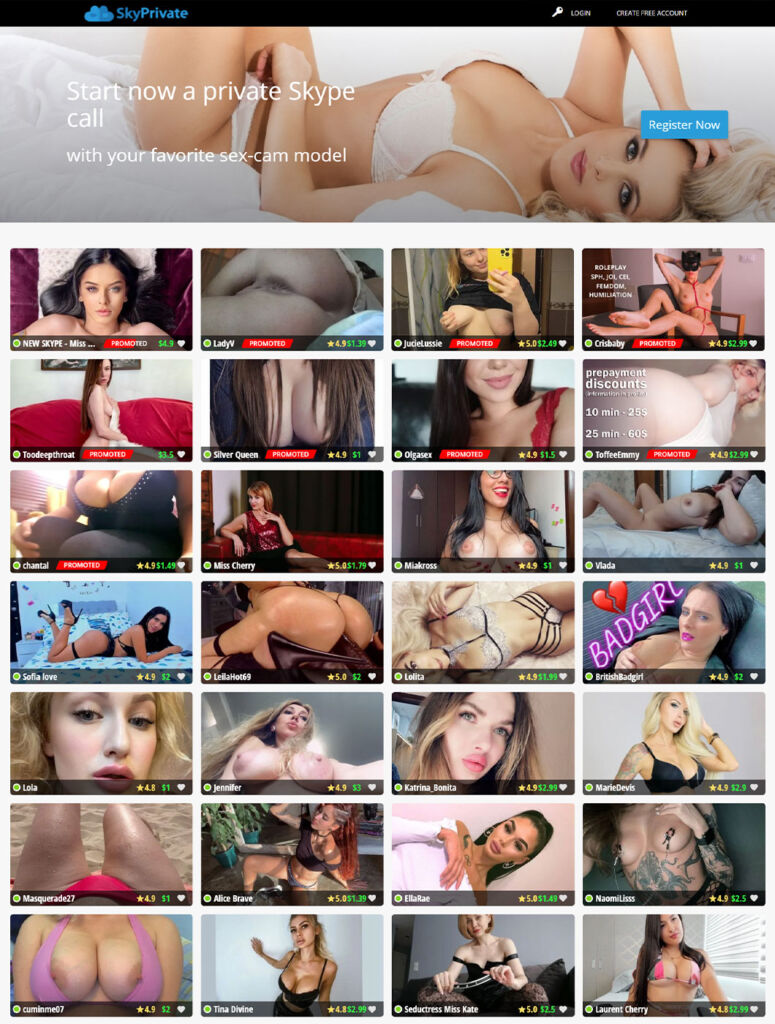 Have you ever dreamt of having a one-on-one session with your favourite porn star? Those were the days, man. Imagination was the only thing we had and it was definitely free. But times do change so drastically. This time, you can enter and feel heaven for a fraction of the price. It's fully up to you.
I came across this website that offers stellar live sex cam services. Saying that this service provider is a pro is definitely an understatement. This was my first time coming across something like this, so you can definitely feel my surprise through this review. Everyone knows what live sex cams are, right? Man, we love those. It's a live fucking show and the hot bitch on the screen follows whatever you type on the comment box for like a dollar or a star or whatever. But then you get so many competitors watching the same shit as you, giving the same commands. It tends to get a little boring for a while. Except if you have fingers as fast as lightning when it comes to typing, some random guy will always out-type you into giving commands and requests to the cam girl to make her squirt, rub her pussy, whatever he wants the pussy to look like. You also get all kinds of distractions because the live sex cam site probably has tons of pop up ads or ad placements on it, and the additional annoying commenters on the live sex cam. It's a chaotic world we choose to live in.
But then here comes SkyPrivate. I mean, what the fuck is it? Upon reviewing it, it's definitely not an airline. Nothing of the sort, whatever you think it is. SkyPrivate does the unthinkable. It's fucking crazy, but some guy really decided to just leave the live sex cam and create a whole new world with it in mind. Think I'm bluffing? Think again, buddy. Here I am hoping this is some kind of clickbait shit with a weird title, but nope. This is what dreams are made of, and just typing about it makes me drool like crazy. As someone who spends a great deal of time fapping, I'd definitely highly recommend this. There's not a bone kidding inside of me right now.
Remember Skype? That platform has been here since the dinosaurs and it has been one of the most useful apps to get during this dreadful pandemic. Better remember your password again because it'll be the most useful thing in your life from here on out.
Virtual Lap Dance and More
I've been yapping on and on about how live sex cams have been the best thing to ever be created in this world and how the commenters have been the next worst fucking thing. What's the worst of the worst? Pop up ads during live sex cams. Those were invented by the devil himself! I understand these sites gotta live. But man, please consider my fapping time is incredibly precious to me, and probably to the thousands more watching the same bitch like me.
Have you remembered your Skype passwords already? Here's when it'll come in handy. Let's have a walk-through about SkyPrivate. 
When you open this paradise, you'll be greeted with lingerie-wearing girls seducing you to guess who the fuck she is. For all I care, but you bet my eyes are already fixed on her body.
Right off the bat, it says, "find your girl." You fucking bet I will find my girl on it. And so if you scroll down a bit, you get to see a handful of live sex cam previews for you to fap for a hot minute. Right then and there, SkyPrivate will state they have around 37,500 and more Skype models. Is Skype accepting models now? Nope. Let's get to that later. The options menu is as simple as it gets, and it's just above the boob of the model. It'll just state "learn more," "how SkyPrivate works," and my personal favourite, a bright blue button saying "live sex cams." Yep, that's what we're here for.
Upon clicking that bright blue button, you'll be redirected to a page where you'll be able to choose the exact person you're looking for. Whether you're looking for a man, woman, a couple, trans, the age, the person's ethnicity. Do you wanna see her videos, her online status, or her store? Most importantly, her price per minute. Nothing's tricky over here. Everything is spread out so easily like a woman's pussy. Click "apply filters" and you're good to go. But if you're not very particular, you can just scroll down, click a model, watch the preview, and decide whether you want some time with him or her or not. Pretty easy, isn't it? It's probably as basic as ABC.
Now going back to what was stated earlier, the answer is no. Skype is not accepting models to strip naked on cam. SkyPrivate is in fact a Skype plugin that allows live private sex video calls and prepaid shows. Now the keyword here is private because you'll be watching that drool-worthy live sex cam by yourself. Yep, alone. Just you and your girl fapping away through Skype. Sounds familiar? Yeah, I did that stupid thing years ago, too. Only this time it's a premium fapping session with SkyPrivate. There are several interactive toys available on SkyPrivate as well, such as Imtoy, Vorze, We-Vibe, OhMiBod, Kiiro, and Lovense. If you're not in the mood to go online and unzip your pants, you can read a few interesting articles as well on SkyPrivate's homepage. The titles displayed when I went on it were all good reads which is pretty surprising and useful at the same time.
Now whether you want to be a member or a model, there's 24/7 Help Support available at your disposal ready to answer whatever question you have about the site itself. The interface of SkyPrivate itself is pretty sleek so even if you spend the whole day being indecisive about which model to have a "meeting" with, your eyes won't be hurting afterward. Yes, I know you've been waiting for me to say this: creating an account is absolutely free. You'll only be prompted to pay if you selected a model and decided to have a one-on-one with him, her, or them. For easy choosing, you can just go down the footer, click 'model of the month' and you'll be able to see the model's preview video. There'll also be two available models of the month so you'll get to see two models at that. Easy choosing.
Apart from everything, it's basically smooth sailing from here on out. Get on the homepage, log in, choose from the models already displayed on the main page, and book your meeting. Easy as 1-2-3. Now you won't be annoyed with frisky commenters trying to out-type you with their crazy requests. No crazy ads, no sudden pop-ups that are incredibly hard to remove from the screen, and of course, that video won't be hanging or stopping so suddenly. Except if your chosen model's wifi connection is shitty, then that's just a pity. But of course, if you're getting this kind of five-star service, you best believe that you'll have to pay for this. Nothing in this world is free, buddy, and certainly not this good of service will be free.
Everything At Your Own Pace 
SkyPrivate, as convenient as you've read it in the earlier paragraphs, really considers its clients like family. Everything is available in one click, whatever mode of payment you want or have. As expected, SkyPrivate, as premium as it is, offers anonymous payments. Yeah, you don't have to defend anything when somebody finds out where you're spending your hard-earned money on. SkyPrivate has higher transaction volumes and offers faster crypto payments. In this age of everything done virtually, it's still a surprise that only a handful of sites offer this good service.
You might be wondering if you can create a free account, does that mean you can avail of the service for free? I'd have to stop your scamming fantasy there, bud. If you have a free account, you can freely view the previews of each model. Which, in my opinion, is already good enough fapping content especially if you're in a hurry. In my experience, one preview is enough to make you go haywire. But to find out there are 37,000 and more? Fucking paradise for free, man. It's like the Garden of Eden made better. But if you want to level up a little bit and enter the VIP room, here are some things to consider:
SkyPrivate accepts BTC (Bitcoin), ETH (Ethereum), LTC (Litecoin), and USDC (tokenized US dollar). They also offer models and studios bitcoin payouts if that's their thing, and if you ever want to be a SkyPrivate model. Now when it comes to members, here's the deal. I've stated this a few paragraphs ago but let me reiterate. Before choosing your desired model, you get to pick them from your own set of objectives. Whether you want a woman, man, couple, or trans, the person's age, ethnicity, and the like. You can also state whether you want the models to display their stores where you can buy their merchandise like a used panty or whatnot. After the general choices, you can go on and click advanced so you can choose the model's height, weight, language, body type, hair colour, hair length, eye colour, and breast size. Pretty amazing isn't it?
My favourite part is probably gonna be yours as well. Upon choosing your objectives for the model selection, now you can decide about their pricing too. Whether you want their services to be priced at $1 or $12, it's going to be up to you. Right now, $1 is the cheapest and $12 is the most expensive. The pricing will probably change sooner or later, can't tell. If you think the model gave an incredibly mind-blowing performance, you're free to add tips until your bank account runs dry. Pretty worth it to splurge on if you ask me. You're probably thinking the prices are too cheap for your liking, hence the models won't be able to live up to your expectations. Let me break it to you gently, buddy. The prices are per minute. It's going to be $1 per minute or $12 per minute. Not so cheap now, ain't it? If you want to choose from all of the models, their pricing will be conveniently placed on the lower right of each preview. It's up to you if you want to spend 5 minutes with them or 5000 minutes, as long as you have the funds for it.
Everything's going to be done conveniently at your own pace and at your own chosen price. Ain't that a good deal?
Privy Moments in the Sky
By now you're probably asking the question of why you'd choose SkyPrivate more than any other live sex cam sites available on the world wide web. Why not? This is one of the premium sites that will freely let you pay per minute, lets you choose your own time and pace when it comes to virtually fucking, and have a one-on-one with a hot babe of your choosing. I've said this a thousand times over. SkyPrivate gives you no competition, no annoying ads, and no distractions. Just a pure private time with the person (or people) of your choosing. Who wouldn't choose that? In a world of convenience, this lands in the number one spot.
Get a hold of some private moments in one of the best, longest-standing, and established apps out there. You already know your privacy is the top priority of SkyPrivate. All of these services are just the tip of the iceberg. I'd definitely say this is going to be a money well-spent, or well wasted if that's your kind of thinking.
Whenever you're ready to aim for the sky, buddy.
A different selection of live cam girls
A new way to experience live sex
Can be confusing for new members