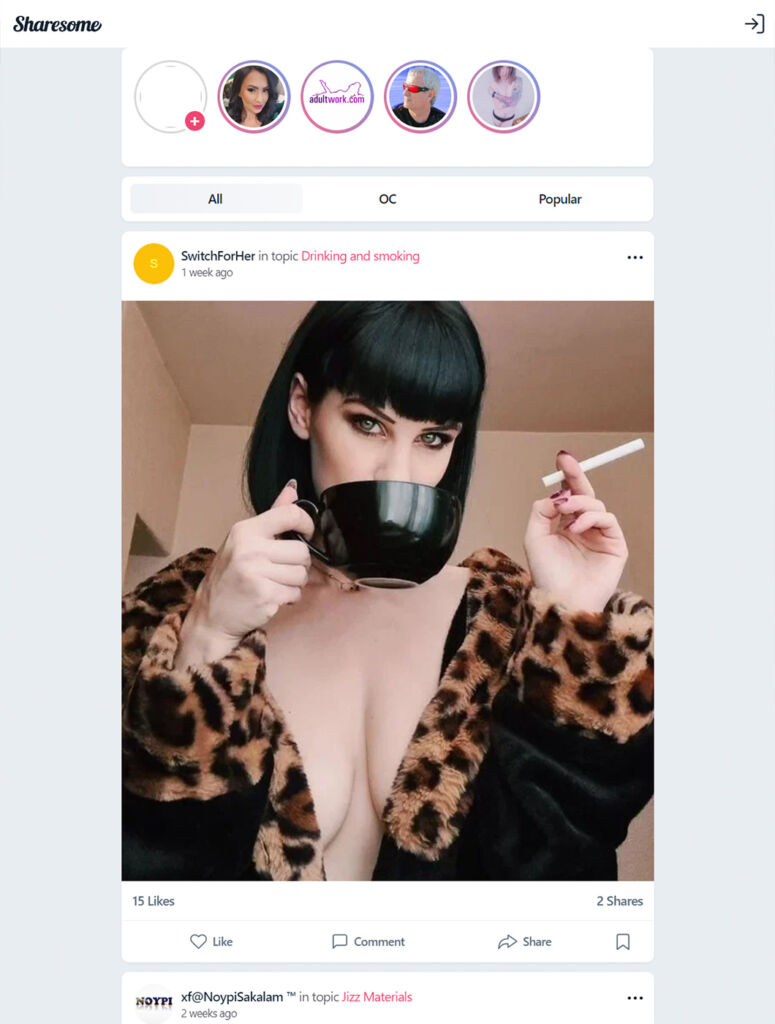 Is Facebook too basic for you? Here comes Sharesome. 😉
Is the virtual world of Facebook beginning to become too basic for you? Too many relatives, too many friends — we can't let out our kinky side there, am I right? Moving on, Instagram and Twitter seem to be becoming the same. With the world's population on a surge, best believe "basic" users will increase on the social media sites you once loved. You'll no longer be able to post thirsty pictures even on Instagram, and the horned-up accounts you once followed are being banned one by one. We can't blame them, can we? Those kinds of sites cater to everybody. 
Porn sites won't give you the same satisfaction anymore, nor do chat sites and live sex cam sites. So where the hell should you go? Lucky for you, you're reading the right review. Let me introduce Sharesome. It's the latest social networking site you need to get your hands on. And don't worry; you won't accidentally find friends and family here unless they're kinkier than you are. LOL. Sharesome is exactly what you think it is. It's a social media made only for porn lovers. You can follow, interact with, and view your favorite porn stars' private lives as long as they remain active on Sharesome. But who wouldn't want to not remain active here? *wink*
You could say Sharesome is a hybrid of Facebook, Instagram, and Twitter. But this time, Sharesome gives you the privilege of retaining your anonymity. You can follow anyone you drool over, like and share their posts, whether photos and videos and comment on their profiles, all behind the comfort of your device. It's pretty to use, too! Think about using your favorite social networking website. It's smooth sailing with minimal issues. Sharesome is the cloud nine of social media, and you can't tell me otherwise. Dive into the newest adult social media platform — the only site you'll need from now on. 
You can get a free account, but you can also get verified. 
Like all social networking sites you have joined, Sharesome is free to use. And no, there are no ads here. But only because most porn stars, models, and amateur wannabes are already promoting their content. So I guess that's where you'll splurge your money. If you want to be a Sharesome member, you'll have to think of a cool username that will turn heads. You've got to make the most out of everything, you know? LOL. Aside from generating a username, it would be best if you had a password, and you're good to go. 
Creating a username and a password will automatically give you a free Sharesome profile, complete with a newsfeed and the ability to browse and visit whoever catches your eye's profiles. Yum! And yes, that includes viewing hot and spicy photos and videos, too. Clicking on each porn star, model, or amateur's external link is free, but let me remind you, sometimes those links will redirect you to something that will require you to swipe your card. So, be careful! But there are a handful of things you will need a free account to do. Read on to find out. 
Having a free account on Sharesome gives you the title of a viewer. Yep, no touching, just looking! Having a free account means you won't be able to post photos of your own. Sharesome has an entirely different outlook on that. If you want to post your content, whether it's a photo, video, link, or whatever, you'll need to have a verified Sharesome account. Verified Sharesome accounts are usually what porn stars go to so they can sell content straight from their profiles. I reckon you're not going to sell, but if you want to, you can go ahead and make a verified advertiser account. 
Sharesome — is the only social media platform you'll need. 😋
Finally, here comes a space on the internet where you can let your hair (and cock) down! No discrimination, only a shit ton of horny encouragement. Sharesome is the place where banned internet porn stars flock to. They can sell explicit content here, post thirst traps for everyone to see, and hype people up for an instantly mind-blowing fapping session. But did you know that Sharesome has cryptocurrency? Yeah, it's called Flame Tokens, and you automatically get a free 100 tokens upon signing up on a free account. Flame Tokens are exclusive to Sharesome, by the way. 
Flame Tokens is the cryptocurrency used when you want to tip your favorite Sharesome porn star, purchase ads, or pay for explicit content. Sharesome created this cryptocurrency because Flame Tokens isn't discriminatory, unlike other billing options that tend to withhold porn stars' and amateurs' payments. It doesn't break the bank, too. Well, at least not yet. LOL. Check out the price points here: 
$5 for 100 Flame Tokens 
$50 for 1,000 Flame Tokens 
$500 for 10,000 Flame Tokens 
If you don't want to buy Flame Tokens, that's fine. Exist peacefully on your free account, and have the time of your life on Sharesome. This is the only social media platform you'll need from now on, giving in to your every sexual craving and fantasy, one yummy post at a time. *wink*