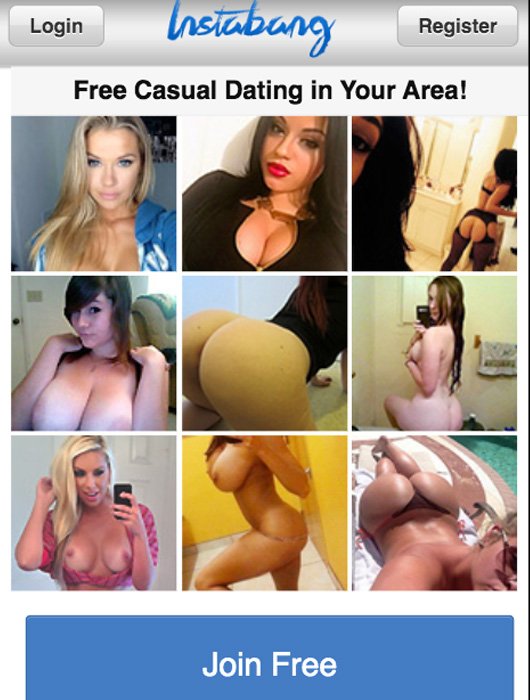 Sex dating sites are all the rage nowadays. But most of these so-called sex dating sites use the word sex in their description without really offering the real deal. Well, I've got some incredibly great news for you. InstaBang right here will give you the real sex dating experience. 
InstaBang promotes casual fucking, fuck buddy searching, and they also offer a way for you to release all your inhibitions. Well, you might also find "the one" here; who knows? This is one of the few sex dating sites that does its job well. They did put the "sex" in the phrase sex dating site. Read through this review to find out why.
Your usual sex dating site with a twist 😉
InstaBang lives up to its name. They shot to stardom because of their promotion that states this is the dating site you should go to to get an instant banging. I thought it would be something like Instagram, but boy was I wrong. 
This dating site is as straightforward as it can be. Instabang works like a traditional classified website, so there's nothing new here. What's their twist, you ask? InstaBang plasters a fuckton of x-rated photos all over their platform. Right off the bat, you can stroke your dick to naked photos of men and women that want to get down and dirty as soon as they can. I mean what I say. You can go ahead and have a website tour, and your eyes will be full of nude images of almost everyone registered on the dating site. 
Wide member reach to ensure you get laid.
As of writing, InstaBang boasts over two million users worldwide. Although men highly dominate this sex dating site, there are no women shortages reported so far. Most members are 25 to 34, meaning all you'll ever get are smoking hot bodies and mature, experienced throbbing cocks. 
I know what you're thinking. Most dating sites have a lot of fake profiles that catfish horned-up members. There's nothing to worry about in InstaBang. They made sure every member's profile was as authentic as possible. If the team behind InstaBang suspects your profile to be a fake one, they'll suspend it right away without any precautions. 
Reaching out is as easy as 1-2-3 
With sex dating sites like these, prospective members usually imagine it's way harder to navigate than the go-to dating sites that do nothing for them. InstaBang likes to beg to differ. Several features make the user experience as smooth as InstaBang wants it to be. Here are some of the features future members should look out for:
A news feed that allows members to post and interact with other members uploads
Send messages to other users for free
Get notifications on your favorite members' activities 
Add users to your Favorites 
Pretty much like Facebook, right? However, the only downside is that reaching out might become hard if you don't have a gold membership. Like any other premium sex dating site, you'll have to shell out a few dollars to ensure you'll get only the best experience. But don't worry; InstaBang ensures you'll get every bang for your buck! Now let's talk about membership plans and prices in the next section. 
Stop talking and swipe my damn card! 💳
Alright, chill the fuck down! We'll get there. Let's have to get this fact out of the way. So you already know that this is a sex dating site, and the people who go here wish to get laid, nothing more and nothing less than that. As if I didn't repeat myself a shit ton of times already. 
InstaBang knows how fucking annoying it is to not have your needs met when someone or something promised it. InstaBang promises to give you three months more for free, so you can finally find a fuck buddy that you've been drooling for. Anyway, here are the membership plans and prices that you can choose from:
$4.95 Gold two-day trial 
$9.95 Gold seven-day trial 
$34.95 for one month 
$69.95 for six months 
$119.88 for twelve months 
Doesn't break the bank, right? With InstaBang's high success rate, you'll be sure to get every banging for every buck you shelled out. That's not even a promise; that's InstaBang's given fact already. If you've had enough banging, you can always cancel your account with ease. 
InstaBang: your brand new go-to sex dating site
InstaBang is one of the best sex dating sites in the world. With extremely responsive customer support and an incredibly easy user interface, you'll never go wrong with InstaBang. 
You can reach out to other members far and wide (and nearby) and watch live streams of men, women, and couple models as they masturbate and do all sorts of things for your ultimate pleasure. 
Do you think it's too good to be true? Head on over to the website and see for yourself. Get the banging of a lifetime with just a few clicks in tow.