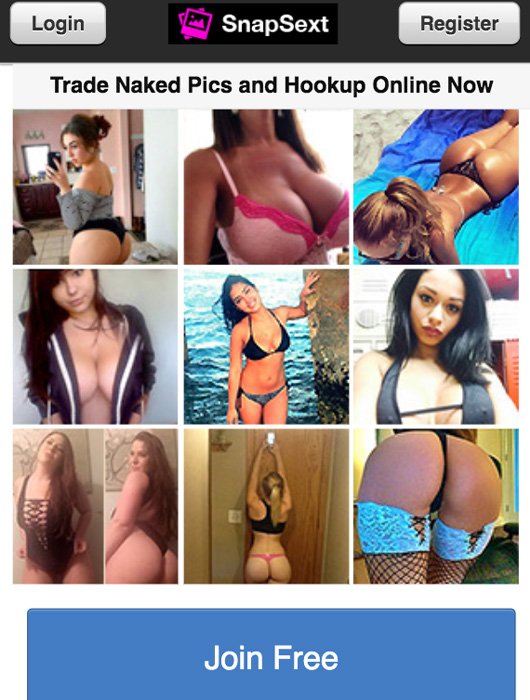 Remember Snapchat? That app introduced us to all the good things in life. It even took sexting to a new level with its temporary photo sharing feature. Who wouldn't want that? It doesn't pose a threat because the app deletes all the nudes you sent after a few seconds. Snapchat even sends notifications whenever someone screenshots what you've sent them.  
Everyone who uses Snapchat probably thinks of hooking up in their mind. Come on, don't lie! It's the most convenient app compared to Facebook, Twitter, and the most private one. However, as online dating apps started to gain momentum, Snapchat went deep into the woods, never to be seen again, taking that damn dog filter with them. I still have it on my phone, and I wish it functioned similarly. I'm sure you're also missing the good old days of Snapchat. 
Have you ever heard of SnapSext? It's the same thing! Except for this time, everybody's as straightforward as they can get. SnapSext is a dating app that lets you get down and dirty online before you get down and dirty in real life. Yep, that's right. That means you can meet each other if you want to, as long as they don't live miles away. Send nudes, have casual conversations, meet up and fuck, and so much more! Let's see what else this hybrid dating site has in store for us.
Diverse member community 👯‍♀️
SnapSext claims that they boast over 60 million members registered on their website. You know what that means. You'll never run out of options, even if you think you've scoured over your whole area already. Even during their downtime, they have thousands upon thousands of online members ready to unleash their horned-up sides to those they deem worthy of taking home and getting laid. 
This hybrid dating site is Tinder and SnapChat's offspring, giving you the best of both worlds. It'll allow you to find someone nearby and send Snapchat-like photos and messages to them until you decide to meet and fuck. However, this dating site features many twists and will likely hook you in.
SnapSext features that keep the fun going. 
Remember that glorious day when Snapchat decided to add video and voice calling features? Nobody dared to use it, not even those who were close enough already. I know that's the one thing dating sites lack and one that makes SnapSext one of a kind. 
SnapSext offers instant messaging and webcam chat options that keep the thrill going. If you want to take it to another level, test each other out in a webcam chat before meeting each other to make sure. That's one thing to know if you're getting catfished or not. LOL. 
Other than that, SnapSext also allows its members to upload private photos, just like how you all did with Snapchat. You can request a meet-up if you are determined to make it to the next level. Good luck from there!
Do I need to swipe my card or not? 💳
SnapSext requires a membership plan before you can experience all its glory. Don't worry; their prices won't break the bank. They also offer two kinds of trial options just in case you want to take a peek first before diving in. Here are the trial and membership prices you can choose from:
Trial:
$0.99 for two days
$9.95 for seven days 
Premium:
$34.95 for one month 
$69.95 for six months 
$80.04 for one year + six months free 
The prices are pretty affordable, and it fits all kinds of budgets. But what if you didn't get laid? Don't worry! SnapSext guarantees a refund in case your dick stays inside your pants. At least you got your money back.
SnapSext: the first hybrid dating site 
Ever seen a dating site that offers porn, too? Well, not porn from the members, if that's what you're thinking. Unfortunately, that's not the case. SnapSext displays a link that'll redirect you to a porn site in case you get bored browsing through millions upon millions of ladies and gents ready to get their pussies rammed and dicks sucked anytime soon. 
This dating site is one of a kind. If it can't give you the fucking of a lifetime, it'll surely give you the fapping of a lifetime. Don't pass on this one! You'll surely miss out.