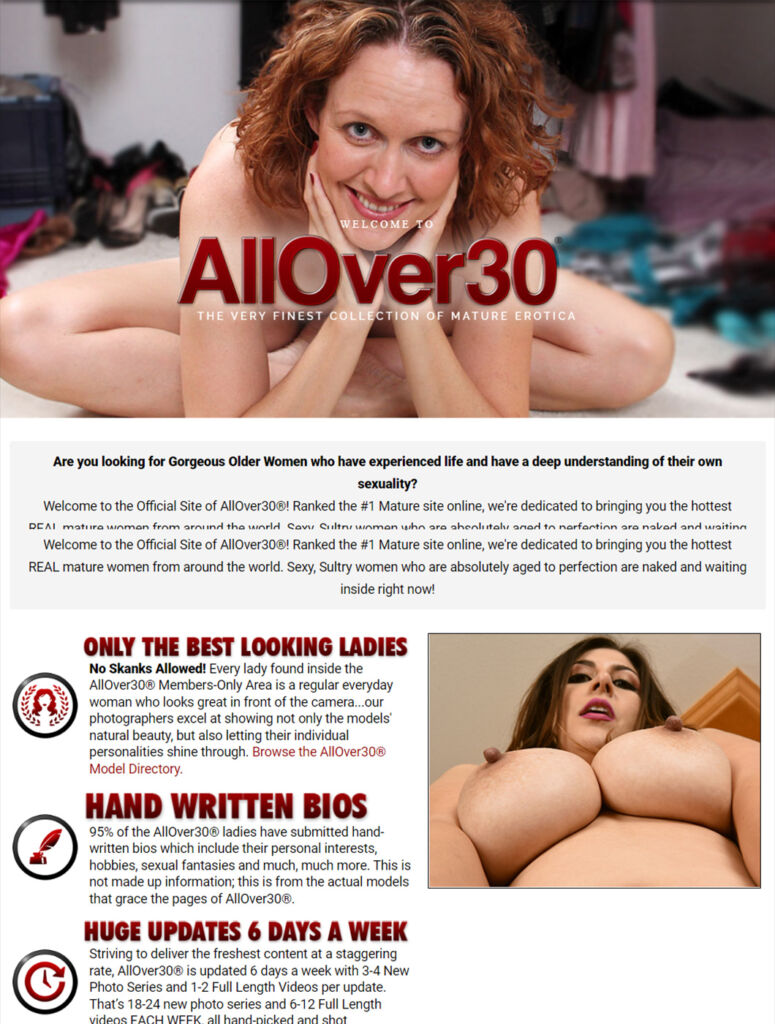 While experience really doesn't matter that much when it comes to porn, there are certainly times when I am more in the mood for some smoking mature beauties getting their love tunnels pounded instead of teens, and allover30.com is a decent site to find something like that.
Standalone site
Considering that the site focuses solely on mature ladies, one would consider that it is a part of a network that handles other niches, especially because it is so popular, but that is not the case. This site is one of the most popular sites out there that features only mature amateur women.
As I visited the site for the first time, I could immediately tell why it is so popular, because the landing page was truly fantastic.
The site is also available since 2006, which makes it quite old, as some would say OG, and when it comes to the things that registering for a membership features, boy does it look good.
Right off the bat, I have to say, because the site is quite old, the design so far looks fantastic and not outdated like most sites before 2010, even some of the most popular networks out there that are before that date look like crap, and this site definitely does not.
All mature pornstars look fantastic 🤩
Usually when people think about matures, they kind of come in a stereotype where they are just hot-looking moms with big jugs that bounce around during the slamming session, however, allover30.com features all kinds of smoking matures.
For example, there is Andi James, a lusty redhead Caucasian that has a big pair of natural tits, and from what I see on her profile teaser, she just loves to get shafted in all kinds of positions by a raging boner.
Melody Cumings is certainly one of my favourites from what I am seeing on the landing page. She is a stunning thirty-year-old ebony MILF that has a few tattoos, and a small pair of tits, but oh boy does her booty make up for the smaller knockers.
I could go on and on when it comes to models, but since there are over 1200 models, I won't go over all of them for the review…but during my private browsing, I definitely will.
Signing up is relatively easy
After almost busting a nut on the smoking MILFs on the landing page, I decided to finally register for the site, and see if it is as great as the rest of the internet says.
When it comes to sign-up options, I got pretty much exactly what I expected, which is a 1-month, 2-month, and a 3-month subscription option.
It kind of sucks that there is no trial that lasts for a day or two, but since the site is extremely popular, and it does seem to have a shit ton of content, I think these options are just about enough.
What I dislike about the sign-up page, is that the payment options seem relatively restrictive, as there are only Paypal and online checking. I do understand that this technically covers all options…but having more listed would be better, without any third-party bullshit, like Paypal.
Member's Area is great 👍
I really fucking hate it when the member's area bombards you with some shitty, ads that just want to squeeze some extra cash from their members. Like locking 4K access behind an extra paywall, even if the original membership says you get it by default, looking at your BangBros!
Luckily, this site has no ads at all, which is great. The only thing that could be considered ads are the "upcoming movies/videos/models" however, I personally consider this quite useful information.
What I like the most about the member's area, is that when I logged in, I could immediately see what was going on, such as the most recent updates and featured bonuses of the week, which I'll talk about more later.
Plenty of videos to check out
I mentioned at the beginning of the review that the site is quite old and that the things you get with a membership look quite promising. Well, I can easily say that they stay true to what they advertise before signing up, as there are over 6000 videos available.
Holy shit! That is a lot for a network, but this is a fucking standalone site, fantastic. 😮
It is important to note that because the site is old, the oldest videos are of standard quality, which is to be fair alright since they are from 2006. As I went towards the newer videos, they were all in full HD which means that the site followed the trends as they appeared.
With that said, it would only make sense that the newest videos are in 4K, and yes they fucking are. By checking out some of these videos in 4K, they looked so fucking good, that there were some moments that I just admired certain details instead of the action.
All videos are exclusive and downloadable
Something that anyone will appreciate with a paysite, and just me, is when the content is downloadable. If I wanted to, I could download all 6000+ videos and store it on my computer, tablet, phone, whatever.
Of course, I did not do that, since I prefer to stream videos online, which is also an option. Just having the choice, to download videos is fucking great, especially with exclusive content.
Galleries are also available 
I absolutely love when videos have matching photosets that I can download in a .zip file, and just browse through the fantastic high-res pictures on my computer.
Surely this is not something everyone is interested in, but some of the shots look absolutely stunning, and they make the already divine looking matures look that much better, so I would recommend checking them out.
Amazing upload schedule 😮
Most porn sites these days decide to upload once or twice a week, with a single video, however, when it comes to this site, the uploads come six times every week, that's fucking incredible.
Just knowing that I can reliably come to this site every day of the week and find something new to toss my boner to is a great feeling. I love when porn sites make it rain when it comes to content, and I am sure any other porn enthusiast feels the same.
Pornstars are easily identifiable 
I hate when porn sites have just a random thumbnail that is a certain point in the video, which is why I love how this site does its thumbnails. Identifying pornstars in the video are very easy, not only because their name was written in the video details and title, but also because their face is on the thumbnail.
The search and filtering options are also great, especially if you know what pornstar you are interested in.
Bonus content is exactly what members want 👌
Whoever signs up for a membership here is into mature beauties, and when it comes to the bonus content that is updated weekly, things definitely meet the standards that I have mentioned so far.
The bonus content is videos from some other popular mature porn sites such as anilos.com, and the bonus videos are just as good as the original ones.
Conclusion 
Hands down, this has to be one of the best sites revolving around mature sweeties, and I will definitely be checking it out from time to time personally when I am looking for mature action.
Because there is so much content, I am sure there is something for everyone, and with a great upload schedule, I am sure that you too will enjoy it if you like fantastic MILF porn.
Great design
Incredible update schedule
Lots of exclusive videos