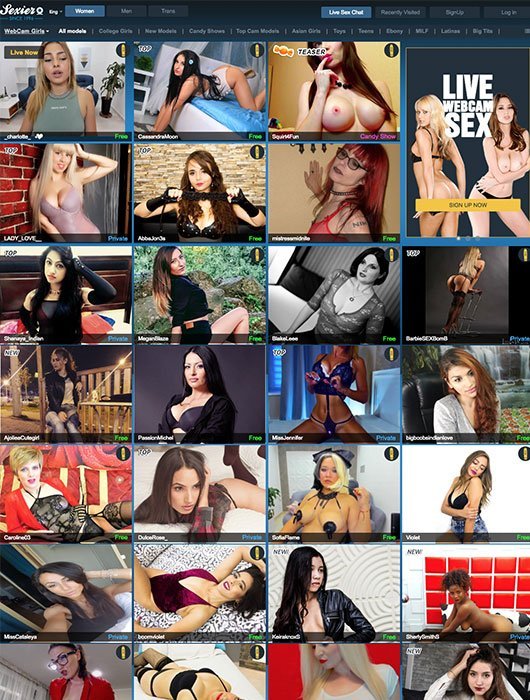 Welcome to the sexiest journey you'll ever embark on! 🤤
Nothing gets as straightforward as Sexier, the only website you should browse. And why did I say that Sexier should be the only site you should keep your eyes glued to? It's pretty simple, to be honest. As simple as their site name. But before we get into what Sexier is, what is Sexier? Now that's diverse and, to be honest, a little bit hard to get into. LOL. But first, Sexier is a twenty-seven-year-old website that's still up and running until now. We've got all of Sexier's teams, users, and members to thank for that. 
Now, to find out what Sexier is: it's a porn site, a live sex cam site, and a sex chat site all in one. That's how diverse it is. And yes, you can do all sorts of things on the site. Even if you want to model, Sexier will give you the keys, and you can do whatever you want with it. That said, you can say that Sexier is a very member-centric site. And yes, that also means what you see and get is one thousand times more authentic than what you can get for free or paid porn sites, cam sites, and more. 
Am I bluffing? Even if I want to say yes, the answer is no. Sexier is one of the older websites I've had the pleasure of reviewing. And let me tell you; it's on the impressive side. Most of the older sites have given up already, and some have become stagnant with old ass content that can only get a 90-year-old's cock straight up. I mean, that's how old school it is. But with Sexier? It only ever gets better with time. And more than that, it gets a million times better by acquiring new members all the fucking time. The equation is simple: new members = new authentic content. 
Everything under the sun, as long as it's related to fucking.
First things first: what do you want to do? Because Sexier has a hell of a shit ton of things for you to keep busy on. Think of Sexier as one hot babysitter who has got a billion activities in mind. Except for this time, everything's about fucking. And you'll be shocked to find what's in store for you. And for a price like what they're offering? Man, it's like getting the whole world right in your hands. And yes, everything is possible with Sexier. Even attaining your own deepest darkest desires can be done in a jiffy. Is it magic? No, it's Sexier. *wink*
The first thing that will catch your pervy eyes when you go on the site is its layout of live sex cams directly on the homepage. There are a lot of categories, but the sex cams on the homepage are randomized. And that means you'll be able to find transgenders getting hot and steamy, solo masturbators, couples getting horned-up on screen, and even models just killing their time. You can click on one, depending on your preference, and you're on the way to heaven. Or you can have a quick glimpse at the header and find the selection of categories there. Easy as 1-2-3, right? 
For the chatting part of Sexier, you can rest assured that you won't run out of chat mates. If they don't reply, carry on and find another one. Because there are 62 million fucking members on Sexier, why would you cry on one? LOL. You can join live sex cam chats, sex chats, one-on-one, group chats, private chats, cam chats, and more. Some options come at a price, but what's a small amount of money if you're going to get a premium experience day in and day out, right? If you're on the free side of Sexier, don't worry; there's still a general chat for you to join in. 
Ka-ching, ka-ching! 🤑
Let's talk about Sexier's pricing. At 27 years old, how much do you think they bill themselves? They're mostly a live sex cam site, so do you know what that means? Yep, that's right. It means you only have to buy credits on Sexier. Check out the credit pricing below:
$25 for 25 credits 
$50 for 50 credits 
$100 for 100 credits 
It's $1 for every 1 credit. LOL. Not bad for an established cam site with a good audience and even better performers, right? 
I haven't mentioned yet that the cam girls, cam boys, cam trans, cam couples, and more are mostly amateurs in Sexier. Although there are models, you can expect less synthetic plastic surgery-filled hotties, scripted moans, and more of what you've been drooling for.
Is Sexier worth the visit?
Is Sexier worth the visit? The answer is: definitely. This is one site that'll consume your time and money but for the better. Sexier allows meticulous fappers to go incredibly specifically with their choices and those mundane wankers to go into generalized versions. Everything's made easy for you here. You'll need a wallet with some cash, and you're good to go. 
Make sure you don't miss out on this old hidden gem! You might regret it if you do. *wink*