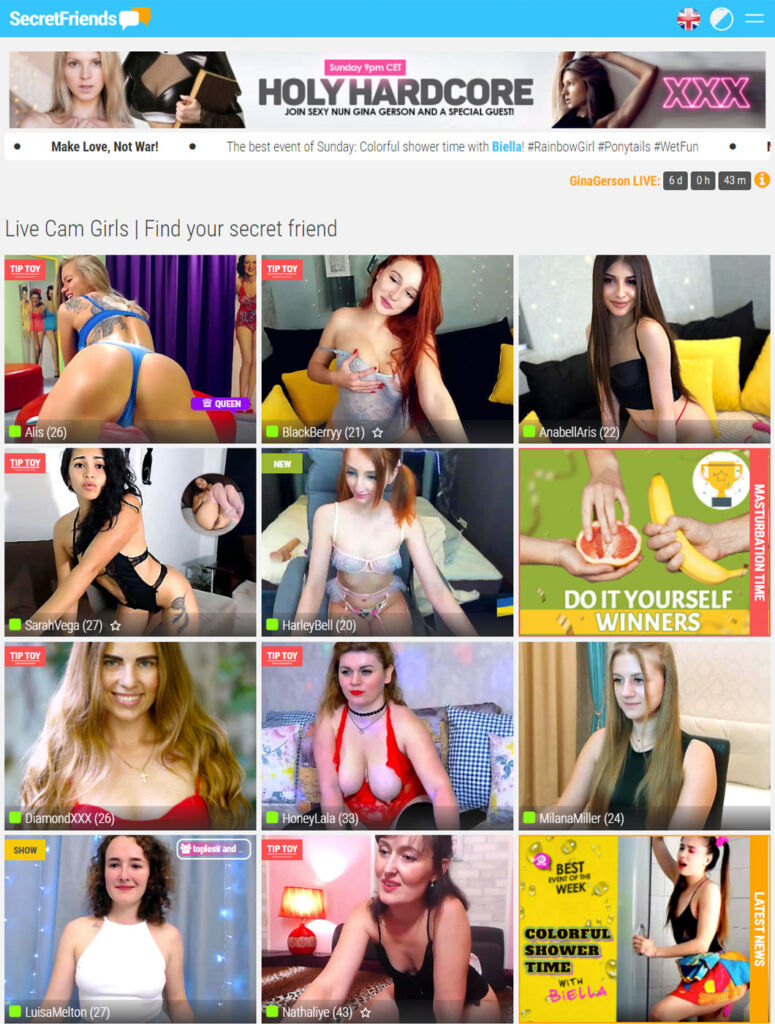 Has life ever gotten a bit gloomy and you've got no one to talk to about it? It's a good thing we have Secret Friends to go to whenever life gets rough. There's nothing that a good wanking cannot solve, and all the thrills of having it done under the sheets or quietly inside a room make it a thousand times better. Welcome to Secret Friends! 
I came across this site while looking for a live sex cam with a different approach. Sometimes all those traditional sex cams get a little boring, too, so why not look for something better? Secret Friends answered my question ever so swiftly. It has a different approach than most live sex cams out there, and it definitely gives off a better vibe than anything and anyone included in your roster of porn sites. Essentially, it's a live chat community that offers a pay-per-minute arrangement. Of course, it includes gorgeous naked girls! Why would I be on the site then if it's all bland and boring? 
According to their details, SecretFriends has been around since 2005. They only ever have hot and spicy European girls that follow every command of yours at a price. One of the things that set them apart from other similar offering sites is the fact that their girls love to talk. They'll definitely reply verbally with every chat you send, unlike other sites wherein you won't really see any action for a long while, and they won't open their lips unless they moan or drink or whatever. You can choose from cute girls to hot fucking girls, both sides of the spectrum are available. You can also have the option to talk to them for free or at a given price. But of course, if you want to have some private time, you'll have to shell out a few dollars or more for that. 
Secret Friends' videos are as authentic as they'll ever be. They are individually shot by the girls, so if you're looking for some professionally made and shot angles, I'm afraid this isn't the place for you. The fact that we can't choose the locations, whether it's a room, an office, a library, or whatnot, just proves how authentic our talking experience will be, as well as our wanking session if we ever choose to go in private with them.
What's Inside Secret Friends?
Is the secret safe to share? Of course it is! Spread the good word out that there's a way better live sex cam site that's yet to be discovered, though it's been around for quite some time now. That fact keeps me wondering why it's not as big as its other live sex cam site competitors when there's even a personal touch to SecretFriends.com. To each, their own, I guess. But what really is inside it? Is it really a best-kept secret that only the great ones know of? We'll see.
Secret Friends currently has 4,446 videos and the same number of photosets. Astounding? I think not. SecretFriends.com has been around since 2005, which means the number of videos and photo sets are just fitting during their duration in the interwebs. I'll admit, the website is a little bit hard to navigate since there are just too many buttons going around. Which one am I supposed to click first? Or maybe it's just me. 
Secret Friends does have ads lying around their website. No pesky pop-up ads, but there are those sneaky ads that get in line with the live sex cam previews and thumbnails, one might think it's also a thumbnail if they are dumb enough. They also have a somewhat annoying running text under their big ass banner which quite honestly, distracts my dick from getting hard like it's supposed to be. With 4,446 videos going live simultaneously and being updated in real-time as well, I doubt that we'll run out of sex cams to fap to. There are also 4,446 photo sets that'll keep us going and motivated throughout the day. 
Secret Friends' options menu is a little bit confusing, to say the least. The main options are located at the header, just beside the site's logo. This line contains the live button, the girls' button, the recordings button, the portal site, the events button, the news site, and a games button which will redirect you to another site, and the last one is the create a free account button. Obviously, the live button leads us to all of the ongoing sex cams at the moment, while the girls button just redirects us to a page full of Secret Friends' models and performers. It's a pretty random site, to be honest, but it does what it's supposed to do, display a site full of girls.
We can easily tell when someone's available or not just by looking at the coloured dot just on the left side of their name at the bottom of their photo, thumbnail, or preview. If the dot is green, that means you can join their room; if the dot is red, that means the performer is offline; and if the dot is pink, that means the girl you're drooling for is currently in a private chat and you won't be able to bother her not unless you're willing to pay to get in that chat as well. I'm not sure if it's disappointing or not, the fact that you can share private chats with another person. It's a bit bothersome for me, but hey, if it works for you then it works for you. 
Meanwhile, the recordings button will redirect us to a site full of replays of all of the performers' live sex cams. It's not categorized so you'll be faced with a disorderly view. You'll see solo performers, couples, trans people, solo masturbations, couples masturbation, or just a simple chatting recording which can be a little boring, if you ask me. But even if it's rumbled like that, there's still a filter feature just under the header of this site which lets you choose the model, the duration of the recording, and the price to watch it in full. That's right, if you don't have an account yet, you'll only be able to take a peek at the previews, lasting from a few seconds to a few minutes. 
The portal button, on the other hand, will redirect you to a Secret Friends page, but full of pornos from other sites such as Let's Go Bi, Club Sweethearts, Grand Mams, Color Climax, Elegant Raw, and Family Screw just to name a few. You can watch the full porno on SecretFriends, but you can also choose to visit the site instead and watch from there. Pretty fucking fantastic. Meanwhile, the events button lines up all the upcoming free events that we can all participate in, without even opening our wallets. This might be only a chatting live cam, a stripteasing one, or a full-on masturbation live sex cam. Nevertheless, it's free and all we have to do is wait for it to commence. Lastly, the new button provides a few articles about games, dildos, fruits, and basically anything under the sun that might catch your attention. Versatile, I guess? It comes from out of the blue, considering we're talking about porn here. It's still equally entertaining though. 
Now going back to the homepage, there's a slightly confusing way to filter all the live sex cams available at your disposal. Under their banner, you'll be able to see a few buttons, and one of them is the filters. Just click on it and it'll show you a few options like the hair colour, breast size, body type, and tags like natural boobs, sex toy, tattoos, and fisting, to name a few. Select them, click apply filter, and watch as the site organizes your preference for you. If you don't have a very specific preference, on that same line you can find some "teens", "MILF", "curvy", "couples", "tattoos", "tip toys", and so on. 
Secret Entrance to Secret Friends 
Of course, like most live sex cam sites, creating an account is absolutely free. That meant you can browse freely, and even watch a lot of the live sex cams that are for free, like the one I mentioned earlier. But, of course, if you want to go and have a more premium experience, you'll have to pay the price. 
Secret Friends currently accepts only two modes of payment: you can either pay via credit card or via PayPal, there are no other options. Similarly, they only have two kinds of membership plans for the ones who are willing to pay. The first one is for the monthly plan which costs £19.99 and the second one is for the annual billing which costs £119.88. Both plans are recurring and cancellable anytime you want. Of course, this price doesn't involve the tips, credits, and gifts that you might want to give to your favourite performer, so you'll have to shell out a few extra for that. 
…Or you know, you can just wait for the free live sex cams at their given schedule. 
Nevertheless, this is a good site that's one of a kind. Definitely not one of your normal live sex cams that just exist for the sake of masturbating. Who knows? You might even find a friend here, one that's smoking hot and knows you masturbate to her every waking moment. Give it a try and let's see where it'll take you. 
| | |
| --- | --- |
| Type of website: | Cam Site, Live Cam Network |
| Type of content: | Live cams |
| Main Category: | Live Cam Sites |
| Affiliate Program: | Pay Big |