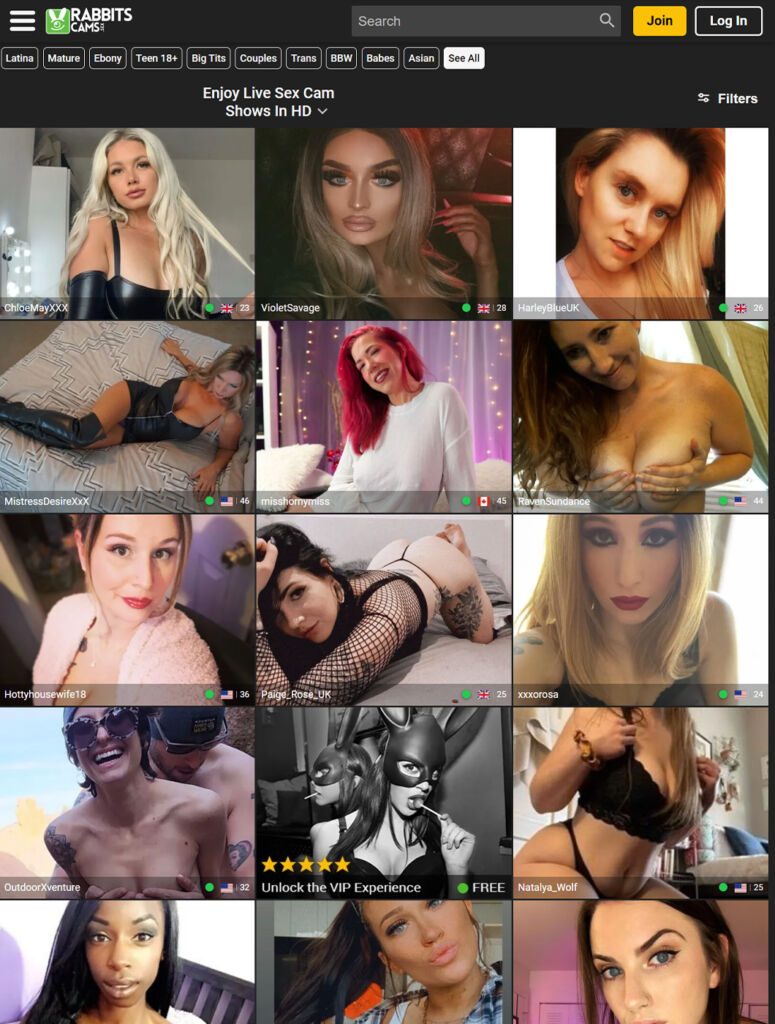 The wonderland you'll be dying to get in!
Rabbit's Cams — have you heard of it? It's yet another live sex cam site that offers a wonderful experience. Have you had a wonderful experience with live sex cam sites yet? Or did you only click from one live sex cam to another, hoping to find someone who strips and performs instead of the usual storytellers we see? Well, not unless we throw a few coins in there for a private show; now that's a different level. Live sex cam sites are always dreaded for their blandness. People will watch XXX films instead to get some real action. 
What makes Rabbit's Cams different? Nothing, I guess. It's another live sex cam site filled with thousands upon thousands of amateur and professional models. However, their ability to suck you in, like Alice in Wonderland's rabbit hole, sets Rabbit's Cams apart. Trust me; you're in for a ride once you get to the homepage. And not just a wild ride — you're in for a crazy fucking fapping session. Rabbit's Cams might be the live sex cam website that will finally replace that boring old free porn tube in your bookmarks. Are you ready to jump in? Prepare your lube and sex toys because you'll be seated before Rabbit's Cams for a long while. 
Is HD enough for you? 🤔
If you have ever stroked your cock on a live sex cam, you, of all people, should know that the quality of the show varies from one performer to another. It's not porn, you know. Also, the live sex cams are unfortunately not categorized from the lowest resolution to the highest. If it were, you would probably only visit the ultra HD section, ignoring the rest with low qualities. And the question still stands: is HD enough for you? With the rise of technology and incredibly high-tech smartphones, what will be the performers' excuses now, right? Yeah, I know your answer will be no. HD will almost always never be enough if there's something even better. 
Performers with low-quality videos cannot be blamed. They are probably shooting using their favorite gadget. And it's not the fault of the live sex cam site, too. However, one fact will lure you into Rabbit's Cam's hole: they only have HD up to 4K ultra HD sex cams. How is that possible? I have no idea. But it's an astounding thing to be able to do. Does that mean they have better performers, too? Well, I hope so. LOL. With 4K ultra HD, you'll see that pussy clearer than daylight! Mind you; you're only at the entrance of Rabbit's Cams rabbit hole. There's more in store. *wink*
A shit ton — quite literally. 
Alright, let me cut to the chase. Rabbit's Cams, as of writing, has about 22,596 live sex cams. Yep, I counted them myself, quite literally. It's not as much as other live sex cam sites, but it's more than enough to fuel your wanking sessions for your lifetime. Yes, I just said for your lifetime. And, of course, as you should, you should expect this number to increase daily because that's just how live sex cam sites are. During Rabbit's Cams downtime, you can expect at least a thousand live sex cam sites to get down and dirty simultaneously. 
Now, about the models… you can only choose between guys and girls. I know; it has to be something that Rabbit's Cams has to improve on. However, on the brighter side, Rabbit's Cams has an accumulated 10,000+++ men and women ready to materialize your hedonistic fantasies like it's their daily task. Expect at least a thousand of them telling stories, stripping, doing everyday tasks, and other miscellaneous things each minute of the day. Whatever you have in mind, these ladies and gents will be more than willing to spend time with you, whether free or paid. 
It's not exactly endless, but it's more than enough. 
How many categories are you expecting to fap to in a day? Not that it's anything of my business. LOL. I'm just checking because can you go through 81 categories in a wanking session? I don't think so. And yes, at the moment, Rabbit's Cams only has 81 categories, and they don't have equal numbers of performances under them as they should. As I said, it's not endless, but it's more than enough for your fantasies and cravings. 
Rabbit's Cams does have a few interesting categories. Some of which are:
Armpits 
China 
Findom 
Smoking
Pierced nipple 
Muscle 
There are more, but it's all on you to find out. Who knows, maybe navigating the categories page will give you your most-awaited ejaculation? It's pretty diverse here, and that's one of the edges Rabbit's Cams should be proud of. However, I hope they fill those categories without anything in them. 
Nothing gets easier than Rabbit's Cams. 
How do you find live sex cam sites? Do you think most of their interface is annoying? Sometimes I do. There are just a lot of things happening all at once, especially those live sex cam sites with previews as you hover your mouse pointer. Not to mention a trashy homepage interface. It's a fucking bother if you ask me. Why waste your time on a site like that, right? Those kinds of sex cam sites make porn seem like a fucking treasure. Well, we're just stating facts here. How about Rabbit's Cams? Will they be the same as those? 
Thankfully, Rabbit's Cams interface is a breath of fresh air. Their minimalistic homepage and other site pages are surely a halt, and their color combination of bright yellow and black, aside from their green logo, isn't exactly an eyesore. Rabbit's Cams' homepage is as straightforward and organized as possible. That way, you can browse the ongoing sex cams while browsing through the categories as you scroll. Pretty neat, right? The new models and gold shows are also placed conveniently on the left-hand side along with the categories. Your dick-stroking ratio will be a lot higher than your mouse-clicking. That's something you've always been looking for. 
Sex cams — are all the same. Is Rabbit's Cams an exception? 
Nope, sex cams aren't all the same. Navigating around Rabbit's Cams' site made it apparent. Although you can say it's somewhat of a boring sex cam site unless you start watching something, at least it's not loaded with all the kinky things a site owner can think of. LOL. Rabbit's Cams is as simple as it can get. No, seriously. As you scroll around, everything's direct to the point. There are even a few overviews and instructions at the site's footer if you want a quick read before diving into someone's pussy or cock. 
Can we say that Rabbit's Cams is an exception? It's the simplest live sex cam site you will ever find, and it has the hottest models and performers you'll ever set eyes on. Nope, I am not exaggerating. You should see for yourself. *wink*
| | |
| --- | --- |
| Type of website: | |
| Type of content: | Live cams |
| Main Category: | Live Cam Sites |