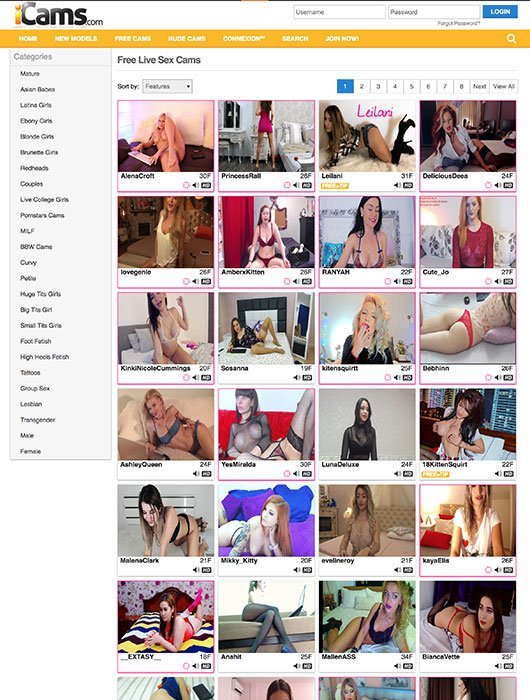 I heard you were interested in learning what ImLive.com is all about… Well, lucky for you, I have no better things to do, so take your time and enjoy my personal review.
As one of the oldest cam streaming sites out there, you must have heard about ImLive. The site was first launched in 2002, and it was one of the first sites that allowed the viewers to tip the sluts for sexual acts.
Since ImLive is a bit different, compared to other known live cam sites we know today, I am here to tell you everything you need to know about this place.
The design is just… weird
I know that they are one of the OGs, but they could have made their overall design a lot more relevant, or whatever the fuck.
You'll understand as soon as you check out the site yourself. I literally feel like I have been drawn back to the early 2000s since that is how ImLive.com first looked when it was launched.
I kid you not… I have been browsing these dirty cam shows for quite some time, and I know what the fuck I am talking about. However, do not take this out of context.
Just because their design is fucking horrible, does not mean that the shit they have to offer is not worth it. I mean, how could they be the OGs without having the fap-worthy content… right?
Over 500 girls to choose from
I am not sure whether that is a good or a bad thing, to be honest. Sure, the number 500 sounds generous, but at the same time, I've seen other cam sites with thousands of models.
Of course, there are over 80k models registered on ImLive, but usually, you will have about 500 models live at a time, and that does not really seem like much.
All kinds of sluts!
As I was browsing, and we both know I browsed a lot, I found babes of all shapes and sizes. I know I say that a lot in my reviews, but dammit, it's true!
I found skinny babes who loved to get naked and dirty, as well as chubby sluts who prefer to use their dirty toys to make themselves cum… there were also the curvaceous chicks who enjoy the softcore BDSM… etc.
I think you get the gist. The girls here are all different, from their looks to their shows and their overall personality. I think that is why ImLive.com is still up and running.
Dudes, couples, trannies…
I think that this should be implied whenever I talk about a better-known cam website. Of course, they fucking offer gay and straight male cams, and tranny cams.
You also have a section dedicated to couples who love to exploit their lovemaking for everyone to see and enjoy live. At this point, it all depends on what the fuck you were hoping to see.
Check out their profiles
I think that this should be fairly obvious, but you should check out the chick's profile before you actually check their livecam show.
Well, on ImLive you will get to see the slut's profile before you get to see her session, which is a good thing if you ask me. This way you know what the fuck you are getting yourself into.
Besides the usual information these babes like to provide, you can check out their usual turn-ons and offs, as well as their expertise and overall whatever the heck they like to do.
This can immediately tell you whether the slut you've chosen is the beauty who will make your dick hard or not.
You have to register…
While you could spend some time browsing through the cam shows that are free, you will not get much out of them unless you register, which is kind of shitty.
I've seen plenty of other webcam websites out there, that allow you to watch the hotties until they go to a private cam session, but apparently, ImLive.com is too good for that.
So, if you want to actually interact and ask the beauties to do something dirty or invite them to a private, you need to register and purchase the credits, aka the webcam currency.
I am just going to assume that y'all understand how this shit functions, so there is no need for me to explain the whole purchasing credits and that bullshit.
The usual memberships
Once you do register, you will be asked if you want any of the memberships, which will cost you… obviously. There is a bronze membership that anyone can get.
Then you have the silver, gold and the VIP membership, each having its own privileges. However, I do not really feel like talking about that shit as much, so if you are interested check out the site yourself.
Some pricy shows
While you have some live cam shows that are not pricy at all, there are others that cannot even be watched unless you first pay for them.
Not to mention that their private shows are pricey overall, and you will only get about 30 credits when you register… and that is nowhere near enough to make you cum hard.
On top of that, most of the shows will be of solid quality at best… so you are paying for great performances that are streamed in SD… so-so.
The interactive toys!
I was actually happy to see that some of the shows had interactive toys. I checked out a lot of girls, and actually, the majority of them had the toys included.
In case you are completely fucking clueless, these toys allow you to please the beauties with your credits. After gifting a certain amount, you can make her vibrator vibrate on a certain level, which is pretty neat!
Hot cam models love to get dirty!
The search options on this site will allow you to find whatever kind of naughty live cam show you are searching for. Their filters are rather simple, but they do the job right.
So, whether you are visiting ImLive.com in hopes to find hot sluts masturbating, dudes jacking off, or even trannies teasing, I am sure that the site will satisfy your needs.
Great search options.
500 models live (24/7)!
Lots of hotties, dudes, trannies, and couples.
No free chats...
Some pricey shows.