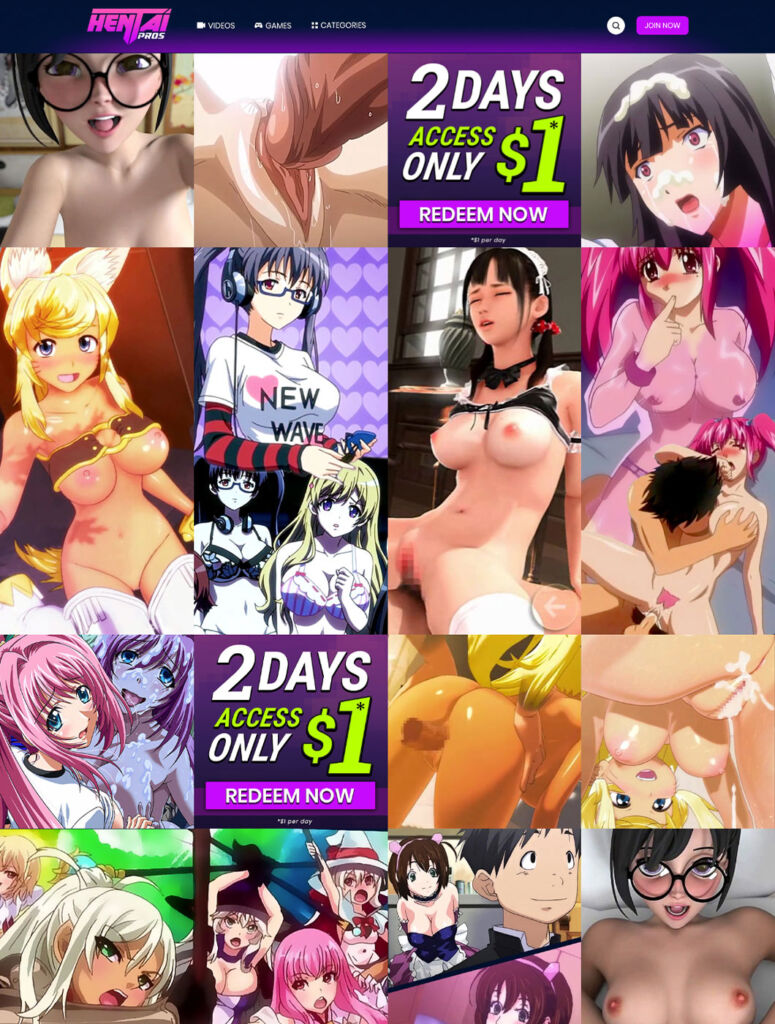 If you love watching anime, I'm pretty sure you've been on the lookout for the best hentai you can ever set your eyes on. There are tons of hentai porn sites, all offering the same thing: porn but in the cartoon version. Everything's wild, wet, and sticky. But there's always one disclaimer making our dicks limp as hell. All these drool-worthy hentai always make our fapping experience unsatisfactory by giving us censored scenes. 
I can see all my favourite anime characters moaning and fucking each other passionately. But those censorships kill the mood instantly. I never really cared so much about the different languages not having subtitles. But curiosity about wondering what those anime dicks and pussies look like without pixelation continues to bother me. I'm pretty sure I'm not alone with this sentiment.
That was until I found out about Hentai Pros. They're called pros for a reason. Hentai Pros will open a whole new hentai world for you, and I didn't see it coming. Hentai is hentai. Sure. Have you ever seen it uncensored? Has it ever given you variety? Hentai Pros will show you that there's more than just your favourite anime characters fucking each other's brains out. It's time you have a luxe wanking experience that won't make you squint, won't bring the mood down, and most importantly, won't make your dick limp. 
Exclusive uncensored hentai fresh from Japan
Hentai Pros take pride in a lot of things. Have you ever seen authentic hentai fucking? If your answer is no, I have to agree with you. We can't distinguish what authentic hentai is now, considering thousands of it are circulating on different porn sites. One of the things that makes Hentai Pros a pro is that their hentai comes straight from the land of the rising sun. 
Hentai Pros don't produce their batch of hentai fucking. But they do get it directly from the source. They're claiming that the sloppy, sticky anime fucking they release have never seen the light of day outside Japan. This fact makes their content as exclusive as ever. If you've ever fapped to one of their hentai pornos, you're one lucky motherfucker. But that's not all there is to it. 
Hentai Pros boasts of uncensored anime fucking. Finally! We'll all be able to fap peacefully, fully knowing what a cartoon dick and excessively dripping wet pussy looks like. No more pixelated scenes in the porno for all of us. You can now stream each hentai in full HD resolution without pixelation. Man, it feels nice to repeat that phrase. I know you're wondering if all of the hentai pornos are in HD without pixelated scenes, so I'll give you the answer. Yep, everything is uncensored; everything is in HD. If you're dreaming of fucking your favourite cartoon character, here's your chance to materialize that dream, albeit only watching it on your device. At least you can wank your dick to it in HD, right? 
Diverse content with various niches 
We often think of anime-style porn as something that's slightly monotonous. It's just two cartoon characters fucking, right? You're right, but you're also a little wrong. Hentai Pros will show you that it's not just an explicit version of anime. Hentai Pros boasts of a diverse porn selection with various niches available. Here's what's in store for you in Hentai Pros:
3D cartoon porn
Family taboo
Bukkake
Ahegao 
Fulfill your hedonistic pleasures with scenes such as schoolgirls getting fucked by their professors, threesomes with stepbro and stepdad, and of course, we can't run out of bukkake and ahegao. This is prime Japanese porn, and you shouldn't let yourself miss out on it. 
Every scene is as cartoonish as it can get. You'll find whatever kind of exaggeration you want in Hentai Pros' videos. Shitloads of cum can cover one hot busty character from head to toe, and expect each pussy to overflow with cum once these girls reach the peak of pleasure. You get over 268 videos with various storylines that keep you interested before the fucking takes place. Of course, their stash of hentai increases with one update every week so that you won't run out of explicit anime to stroke your dick to. Each scene lasts 30 minutes, leaving ample time for many things. 
Secure a seat in the front row by swiping that card 💳
All good things must come at a price. You won't be able to access Hentai Pros and get all its benefits without a premium membership. Trust me out on this one. Your sessions with the milkman won't be the same when you secure a front-row seat with Hentai Pros. Of course, some of Hentai Pros' features sound too good to be true. That's why they've included 2-day limited access for only $1.00, so you can get a glimpse of what it's like to fap to uncensored hentai fucking. 
As of writing, Hentai Pros has three kinds of membership plans you can choose from that are suitable to your budget:
$29.99 for one month (recurring)
$59.99 for three months (recurring)
$119.99 for one year (recurring)
Currently, they accept payments from Discover, JCB, MasterCard, and VISA through Probilling and Epoch. It's as secure as it can get and discreet about your explicit purchases. You don't have to explain anything to anyone. Nobody knows about your simple pleasures aside from you. Come on, swipe that card. You deserve that plush experience exclusively curated for your penis.
Exclusive hentai exclusively for you
You've stumbled upon this review because you know that you deserve to stop guessing what those cartoon cocks and cunts look like while in the middle of getting pounded. Hentai Pros is probably the only porn site that'll give you the best lone rangering session you could ever wish for. This is the porn you deserve, and you shouldn't let this opportunity pass. 
Not to mention there are no download limits once you go premium. Just like a true cartoon site account, you can even create a profile, customize your avatar, start collections, and access your exclusive content from anywhere. Oh, I think I haven't mentioned yet that all of Hentai Pros' videos come with English subtitles. Yep, you can follow that storyline with ease now. 
What else is there for you? 3D cartoon sex, many niches and diverse content, full HD resolution, and some hentai from the 90s. This is the fapping of a lifetime. Don't let this slide, or you might miss out on a life-altering experience — nope, no exaggeration there.