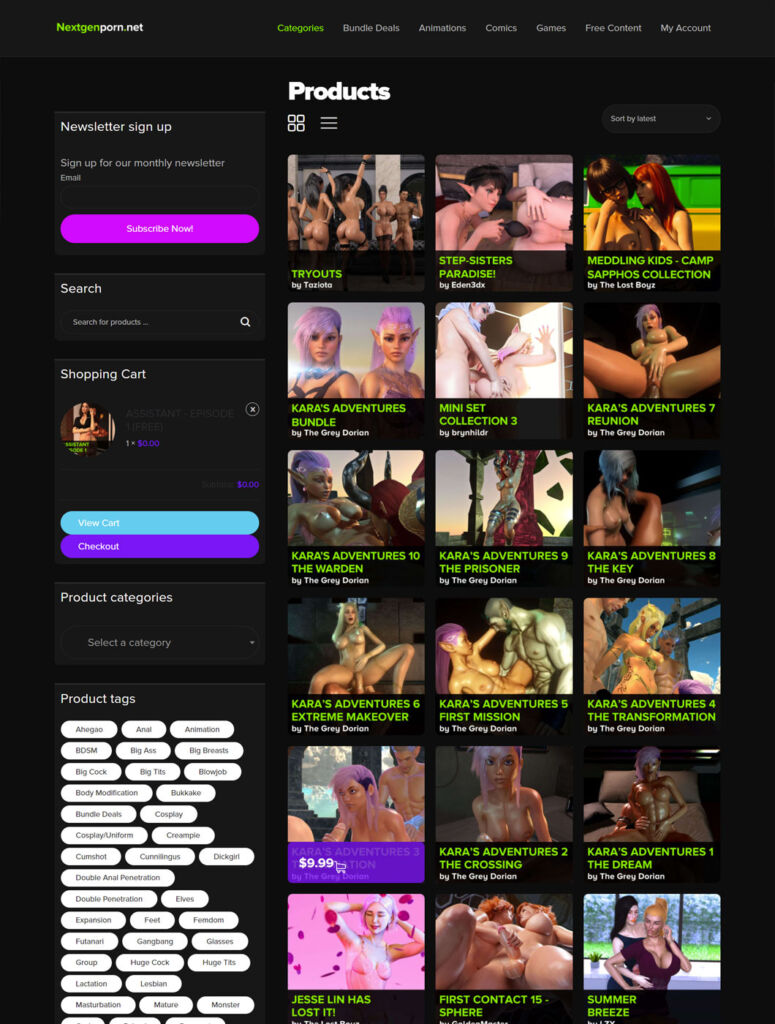 I always say welcome to this porno paradise, but this time I'll switch it up to welcome to this porno universe. Next Gen Porn gives you a whole new twist in this fucking scenario, you might even change your liking for fucking. Unfortunately for this case, it's going to be unattainable. So we better just sit back, relax, and get lost in our wild imagination for fucking. Get to see all these beautiful faces and otherworldly bodies that Next Gen Porn brings you.
Upon entering the website, it has a pretty direct to the point approach. I was greeted by a preview of a pussy dripping wet with pleasure, probably in the middle of a good fucking. Next Gen Porn has these big ass previews that will surely catch your attention and mess up with your curiosity. Of course it's all gonna be about fucking, but when I tell you this one's otherworldly, you better believe that. You might think that this one's for the nerds, and you're not wrong. But man, just try one video and I guarantee it'll mess up your world like it did mine. In a good way, of course. There are some porno performances that are just too plain for this website, and some so outrageous that you must watch it, but there's always a pretty good twist to it that can even make you fantasize about that exact situation.
Before you go unzipping your pants, you must know that this futanari paradise doesn't float everyone's boat, and it might not even be for the faint hearted, but if you're just too horny to look at the warnings, then go straight ahead and fap that dick to pieces.
Futanari Wonderland
For the anime lovers out there, this one's for you. Next Gen Porn really outdid themselves on this one, and I seriously applaud them for it. Personally, I don't have a liking for cartoon fucking, let alone futanari sex. But this one really caught my attention, and I'm not saying I like the effects or animation or whatever. Of course they have the good old dick inside pussy fucking, but they always include an absurd plot twist to it that you might even overlook in the title. You'll be able to see a ghost getting fucked by a horny bitch, or a space ranger 69-ing an alien. Anything counts in this magical world of fucking. Next Gen Porn really said that imagination is fucking endless.
The website itself is pretty basic and easily accessible. The color combination of purple and neon green does the job pretty well and doesn't intervene with the process of hardening my dick. The options in this one become a bit different than all the others. You'll still be able to access free content, but for the premium ones that you can find upon clicking the 'futanari sales' button, they come at a price. Then they've got the galleries for our busy horny dudes out there, an 'artist focus' button for when you just want to find out who made those drool-worthy animations, an 'interviews' button, and a button that leads directly to a collection of porn comics for sale.
The fucking scenes get pretty intense with lots and lots of throbbing dicks, dripping wet pussies, and inter-realm fucking. If you're up for reading some erotica, this is the right place for you. Activate your imagination with fairies fucking in the woods, aliens with humans, ghosts playing with a girl's pussy. The possibilities are endless, but sometimes they come at a price.
Sadly, as magical as it sounds, open sesame doesn't work on this one. Either you have to swipe that credit card, stimulate your mind with words, or get used to looking at photos. It's like I was brought back to the days of stealing Playboy mags from my dad's stash just to do a 5-minute fapping practice.
For those of you who got a lot of time up their sleeves, Next Gen Porn is the one for you. Sit back, relax, and get lost in this magical universe or multiverse full of diverse fucking more than you can ever imagine. For a few bucks you can buy stories and add it to your stash of erotica and hardcore fucking.
Next Gen Porn will truly give you an otherworldly experience no other anime fucking can ever give you. I'm pretty sure it's not for everyone, but everyone can get a free taste on it and see if it'll fit their liking. Hop on an explore the magical world of futanari fucking.
LOTS of 3D porn
Most of it must be bought
A really dated design and layout