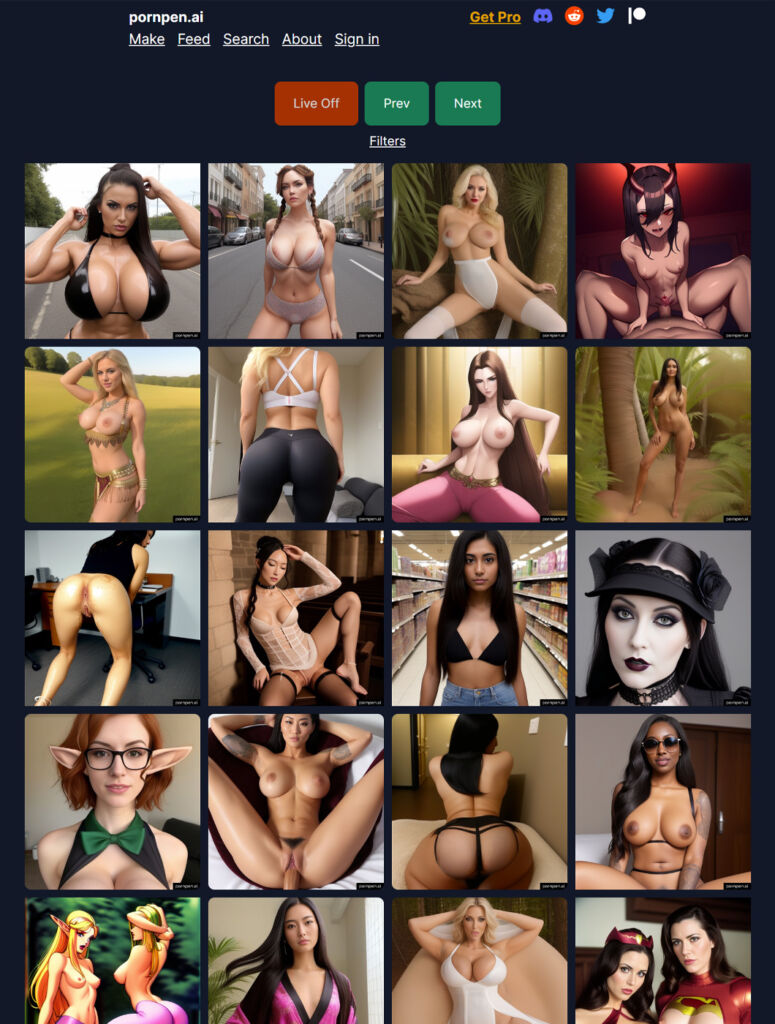 PornPen.ai — the place where all of your (wet) dreams will come true! 🤤 
Ever heard of an AI-generating website? If you haven't yet, here's your chance to get on one. PornPen.ai sounds like an artificial intelligence website only specifically for nerds with four eyes, but you can always join in on the fun. Besides, nothing's as technical as you think here. What do you think about it anyway? Are you seeing images of a website full of codes and stuff that never mattered to you? I don't blame you; ignorance is bliss. LOL. Kidding aside, let me welcome you to PornPen.ai. This is the only place where all your wet dreams will come true! 
First, before we dive in on anything, would you mind telling me about your wet dreams? Your carnal cravings? Your fetish fantasies? What's the least you like on a woman's body? What's the thing that you drool most about? Big tits, bouncy ass, tight pussy, a pussy in the middle of a creampie? Am I ticking some things on your checklist here? How about ethnicities? Do you have something in mind? What ethnicities make your cock as hard as a rock? Hmm, what if I tell you that you can combine all of that, in turn creating the woman of your dreams? 
What? Is that fucking possible? Okay, first, let me pick your jaw on the floor. When the shock subsides, you can move on. LOL. This trashy-looking website holds all your dreams and can make it possible in just a few clicks. I didn't believe my eyes until I clicked and fooled around, accidentally making the dream girl I never knew existed. Well, she exists only in my thoughts, not in real life. You get the gist. No porn star will match the girl you have made with your hands while holding the mouse. 
Wait, it's AI? Is it going to be confusing? I'm not techy enough for this. 
What the fuck is AI porn, right? Reading just the term might make you feel like you must go to college again. LOL. Or, you know, scour the internet to find the right thing to do. Do I need codes? Do I need to learn how to do photoshop? And the most important question of all: isn't AI dangerous? Well, AI, especially AI porn, isn't dangerous at all. And no, you don't need to go back to college, be a bookworm, listen to TED talks, and all that shit. You simply need to go to PornPen.ai. 
If you're still slightly confused, AI porn is a kind of deep fake that's so realistic even your mind will trick you into telling you that it's not a deep fake. Well, it is. You're going to be making a girl made up of other girls. That's how you will be able to arrive at your fantasy woman, man, shemale, or whatever. And don't worry honey; you don't even need to be techy to engage in AI generating. Just figure out a few clicks, and you're good to go. Chill out a little bit, okay? Now that you're less confused, we can move on to more of PornPen.ai. 
High-quality, HD, whatever you want to call it! 
Considering the images on PornPen.ai are fake, it looks like the real deal. The makers of PornPen.ai outdid themselves. This is one of the best AI-generating websites I have ever come across, and let's consider that they are just starting their journey to porn stardom, okay. Although some parts might be a little blurry or the person you have just made looks like a painting, the image is still enough to stroke your cocks. LOL. Though kidding aside, PornPen.ai serves some of the highest qualities in deep fake photos, and you don't want to miss out on it. 
Whether you call it high-quality, HD, or whatever, most of the images you'll see on PornPen.ai look so realistic you'd think it was snapped by someone else and just randomly uploaded on the website. You can browse through PornPen.ai's feed, tags, or the search bar to see what I'm talking about. Most of the AI porn we've all seen on free porn tubes looks like hentai screenshots. This time, they look like actual porn stills. And yes, you could say the images you will make are porn stills from the porno fantasies you've been curating. 
It's not unlimited yet, but the sky's the limit. 
You'll hit a dead end if you scroll down long enough on PornPen.ai. Their photo content is not unlimited, yet. Who knows? If you make more than enough, you might make it unlimited. LOL. But even though there might be a dead end, it's safe to say that PornPen.ai's ready-made content is already more than enough for you to fantasize about. Just by going on the feed, it's a frenzy already! Looking at the automatic slideshow of girls, guys, shemales, and more will make you drool nonstop, you might not move on from there. Although it might be too fast for your liking, though. 
If you are turned off by the fact that PornPen.ai's content isn't unlimited yet, you can always remember that when it comes to PornPen.ai, the sky's the limit. What do I mean by that? You can make as many girls of your dreams as you would like and even more than you would wish to have. You might even turn your back on real porn stars in the meantime. LOL. And when it comes to building these people that you are drooling over, you can make them into whoever you think they should be. They can be a friendly neighbor, a gamer, a performer, a slut, or just some relaxed naked person on the beach. 
From the vaguest ones to the most specific, they've got everything here. 
What kinds of categories are you used to browsing? Are you used to words such as men, women, MILF, shemale, homemade, etc.? Well, I don't blame you. The world of porn tubes has limited our minds to those words, and it's okay, I guess. But with AI porn, you will have to widen your horizons slightly. Don't worry; I don't mean that in the sense that you'll have to think of more words to describe the people you're going to make. The categories are ready for you; you must click on them and explore them. But good luck! It's a never-ending rabbit hole. 
Let's review a few of the tags you'll see on PornPen.ai. Let's start with the simple words first. You've got kneeling, Bulgarian, holding hands, feet, tentacles, camgirl, t-shirt, and more. Sounds a little bit boring, no? How do you feel about tit fuck pose, tit fuck view, clothing modifiers, streaming honey, Venice gondola, librarian mage, farmer's market, etc.? Now we're talking! I can't pinpoint the number of categories because they keep growing as you read, but it's nice to know that the sky's the limit and you can make anyone and anything you want! 
It's pretty basic, but it'll do.
PornPen.ai is one of the websites that have an incredibly boring layout. If you like judging the book by its cover, you might think that this one's going straight to the hell hole. But on the brighter side, PornPen.ai does have one of the easiest site navigation ever. I mean, you don't even have to look far and wide. All the buttons are located on the header, and the AI images keep piling up on whatever page you are on, even on the tags page, except on the 'make' page. It's too bland, but I guess it's the right kind of bland if you know what I mean. 
There's free and then there's pro, but there's also not much of a difference. 🤷‍♂️ 
Surprisingly, there's a pro feature on PornPen.ai. I thought everything was already made available on their free version. The pro is in yellow font color, is bold, and is underlined on the header, so it's pretty hard to miss. I don't think there's a lot of difference between the free and the pro mode. The free mode doesn't have any ads at all, which is great, in my opinion. Everybody loves an ad-free website! 
The pro mode allows you to generate AI images faster than the free mode and gives you the power to change specific parts of an image. But you know, if you're photoshop-savvy, you can do all that for free after downloading your image. And even if you're not, the free mode is more than enough for all of us. But you know, whatever floats your boat. PornPen.ai is one neat AI-generating website that should be in your bookmarks.