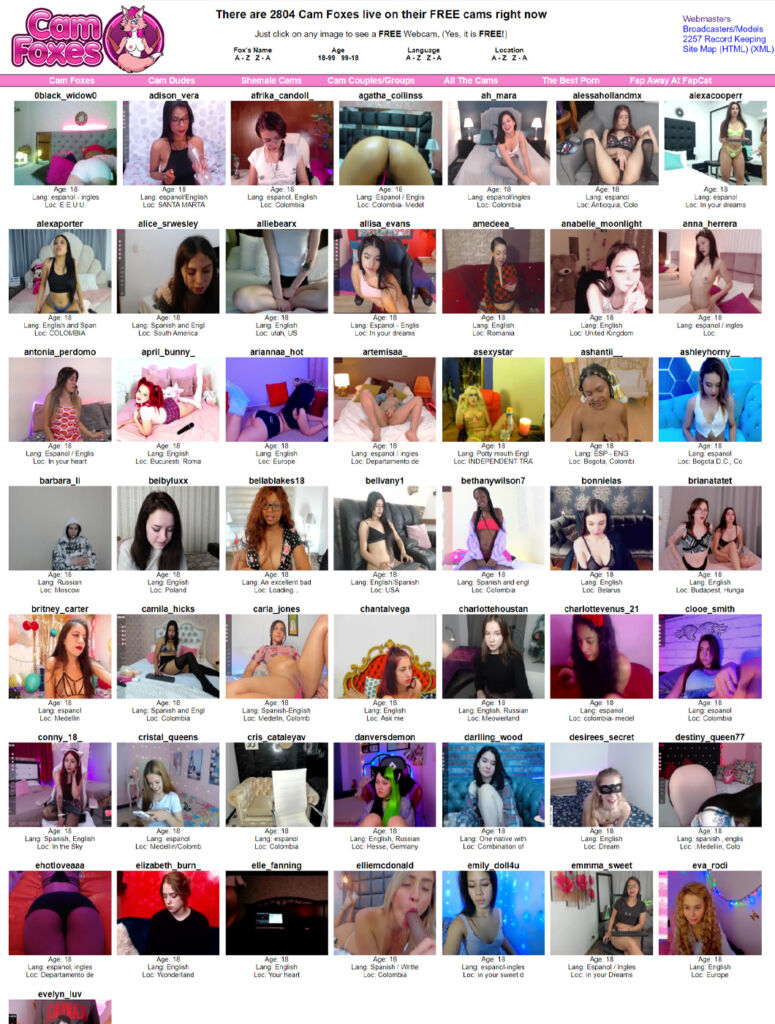 CamFoxes has got to be one of the biggest live sex cams archive there is. It's made up of a combination of both experts and newbies when it comes to their live sex performances, and it's a superstar in the making. I know there's nothing worse than missing out on your favorite fucker's live sex cam. Lucky you because all the babes are lined up in CamFoxes waiting for you to click on their recorded performances.
What's In It?
CamFoxes is pretty straightforward. When I say straightforward, I mean it in every way possible. The site's a newbie when it comes to the archiving game, but the content it already has is pretty impressive. CamFoxes doesn't host their own content, so they mainly archive the live sex cams coming from Chaturbate. We all know everyone who loves fapping loves Chaturbate. It's a win-win situation here without you shelling a dime or two for some much requested masturbation action. The site is pretty easy to navigate, though it's not quite easy on the eyes with the contrasting pink, green, and an all-white background. Nevertheless, it gives you everything you're looking for, and then some. This is definitely some good shit hidden in the bushes right here.
What initially caught my attention was the fact that there are absolutely no ads in this free site. I mean, that's a fucking gold mine over here. No costs, no ads, just pure fapping pleasure uninterrupted. Unfortunately, there's no search bar in CamFoxes, so you'll have to scroll endlessly on the front page until you find the chick/dude/trans/whatever of your fantasies. It takes quite an amount of time, and my dick did deflate a bit at that thought. But like I said, CamFoxes is a pretty straightforward website. So luckily, there are some quite specific choices already located in the options you can see in the header. Whether you're looking for 18-99 year-olds, whatever language, location, or whatnot you prefer, cam dudes, shemale cams, cam couples or groups, or all the cams available, you can conveniently find it and it won't go anywhere no matter how far you scroll down.
Let's Cut to the Chase
CamFoxes is a magical treasure chest filled to the brim with all the live sex cams of your favorite porn star, a newbie, or whoever makes your dick throb. Everything's basically for free, but you know, it's an archive, which means you're not gonna be watching those drool-worthy performances on the spot. Nevertheless, it still contains all the actions you'll be fapping for. When you click on a porn star or a live sex cam preview, it'll redirect you to the Chaturbate page of that live sex cam, and you can start wanking away to your heart's desires, or until you just run out of cum. There's also gonna be a pop-up preview of the cam that you chose, so worry not, it's not an ad. It's the live sex cam waiting for you on the other side.
If you're a bit of an adventurous fapper, you can even upload your content and earn some moolah from it, which is a pretty good deal for me. Whatever catches your best interest works. Everything on here is absolutely free, so I can't really complain. There's still a few improvements needed here and there. Bottomline is, it's free, it works, no spam, no viruses. Welcome to the fapping paradise, no entrance fees at all.
| | |
| --- | --- |
| Type of website: | |
| Type of content: | Live cams |
| Main Category: | Live Cam Sites |
Unique cam site
Loads of free chat rooms
Lightning fast navigation
Could use more live girls